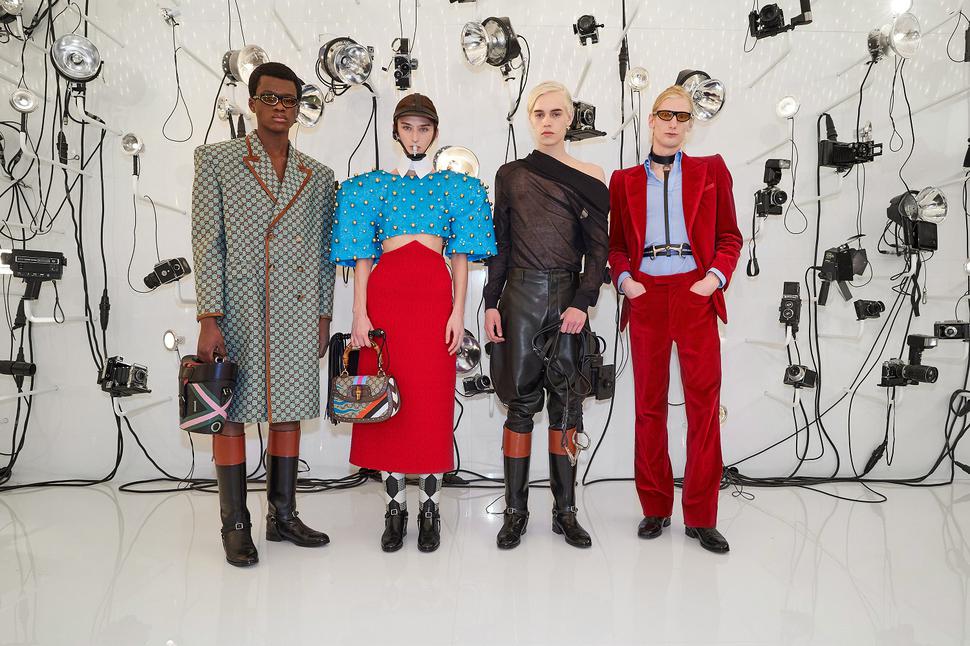 Gucci Aria Heralds 100 Years Of The Luxury House
To bring its aristocratic, celebratory new collection to life, Alessandro Michele and film-maker Floria Sigismondi co-direct a new film for Gucci's historic anniversary
Friday April 23, 2021
A centenary is a milestone for any business, but especially one in the fashion industry. Luxury brand Gucci has weathered two world wars, numerous crises, trends, and a dramatically shifting retail landscape.
Creative director Alessandro Michele has been at the helm since 2015, spearheading the varied tapestry of aesthetics and references, characters and misfts — he describes Gucci as "an alchemical factory" — that has shaped its indomitable new chapter.
Aligned with the house's birthday, Alessandros's new collection and film Gucci Aria are a celebration — both of 100 years, and the anticipation to soon be out in the world again once the pandemic recedes.
Alessandro looks to the house archives for key elements of the collection — paying homage to the "sexual tension" of Tom Ford's era at the luxury brand (a period that saw the infamous shaved "G" in the Spring 2003 campaign,) most notably with a reinterpretation of Ford's famous red velvet suit that is the first cab off the rank, and appears in several iterations throughout the show.
READ: Let's Talk About Sex & Fashion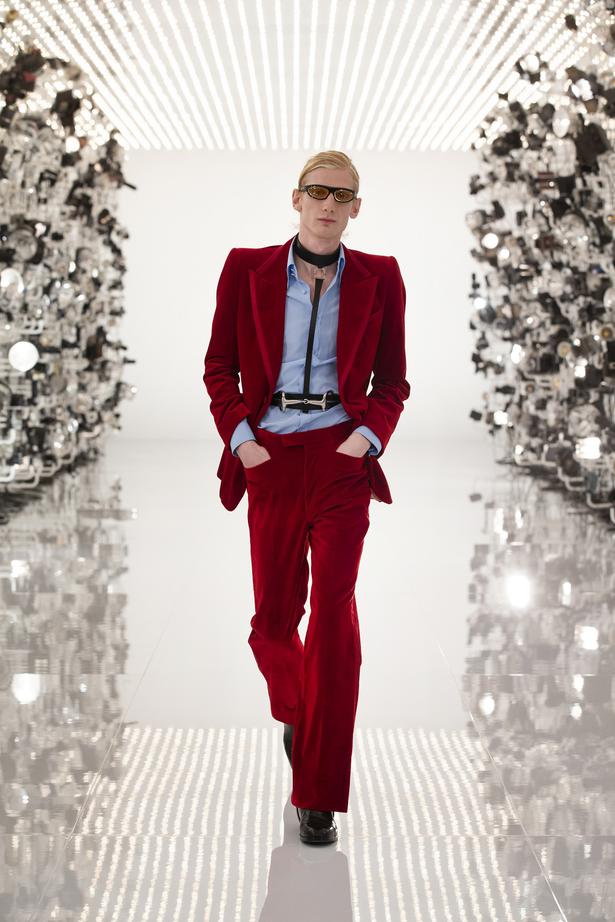 Photo / Supplied

The collection that follows that first nostalgic look encompasses equestrian-inspired elements, the sought-after linked G's of the house's monogram print, velvet, sequins, exaggerated proportions, some very covetable suiting in both 70s and 80s inspired cuts, and more velvet.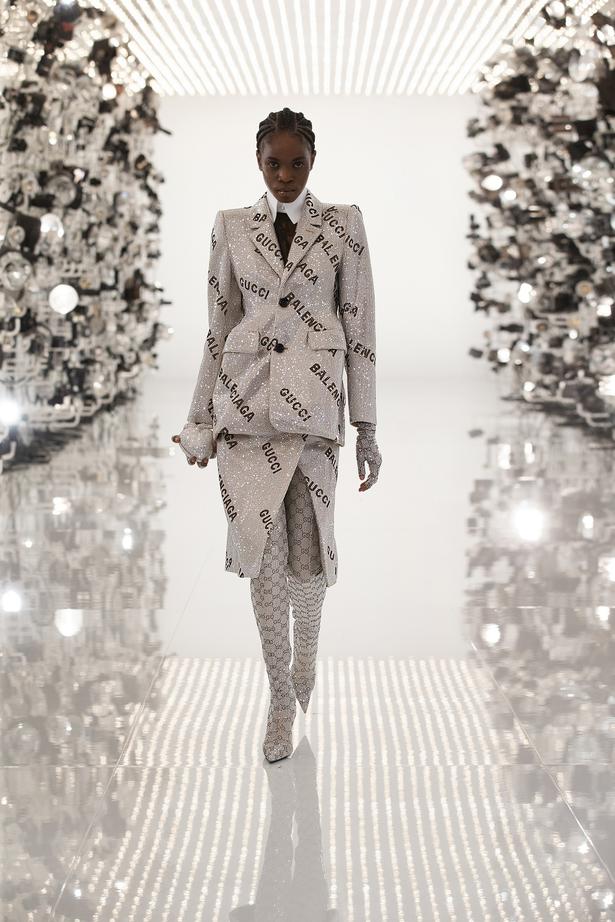 He also references Demna Gvasalia's work for competitor Balenciaga (both brands are owned by luxury conglomerate Kering) and the logo appears on several pieces in the range, alongside more subtle references to Gvasalia's sculptural hourglass tailoring.
READ: Balenciaga Among Luxury Retailers Set To Grace Auckland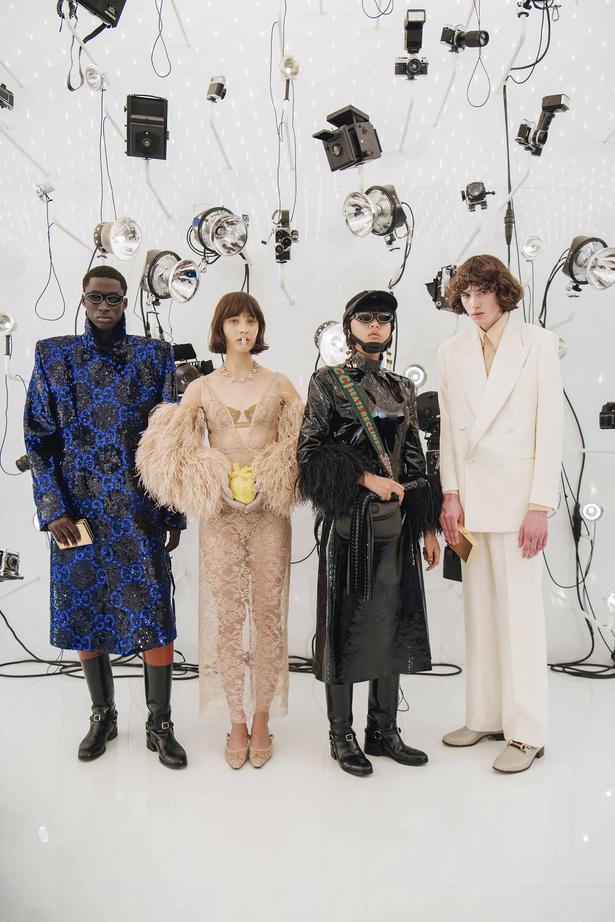 Once all those elements come together, the vibe is one of an aristocratic nightclub bacchanal, followed by a trip to the country house — pets included (the shoot was monitored by Bureau Veritas for animal welfare).
The collection is the first of two that Gucci will present this year, since streamlining its calendar in 2020.
READ: Gucci Initiates A Change of Direction For Fashion With Two Shows A Year
The range was debuted digitally, with a film dedicated to the collection — a collaboration between Alessandro and multi-disciplinary artist Floria Sigismondi (her oeuvre includes video work with Rihanna and David Bowie) — that follows their earlier work for Gucci Bloom and 72 Hours at The Chateau Marmont.
Gucci Aria opens on the Savoy Hotel, and then models walk, framed by flashbulbs, to a soundtrack that includes Rick Ross, Lil Pump and Bhad Bhabie. Confidence, luxury and sexual energy abound, and the excitement is palpable — even through a computer screen.
The digital era of fashion presentations is certainly more environmentally friendly than traditional runway shows, and Gucci Aria takes it one step further — certified by the global sustainable event management standard ISO 20121. This approach included rented elements, donating rather than discarding, and compostable catering. Working during the era of Covid-19 also means that all staff undertook testing, and the production team now includes a dedicated Covid safety manager.
Also part of the show rollout was the interactive, irreverent "GUCCIQUIZ!" that was sent to the brand's virtual guests, a collection of crosswords and puzzles perfectly attuned to current life, and to the luxury brand's unique outlook.
Share this: