Gucci's Subversive, Gender-Fluid Brilliance at Milan Fashion Week
Alessandro Michele sent out 105 looks in his first Gucci show to fully combine men's and women's wear at Milan Fashion Week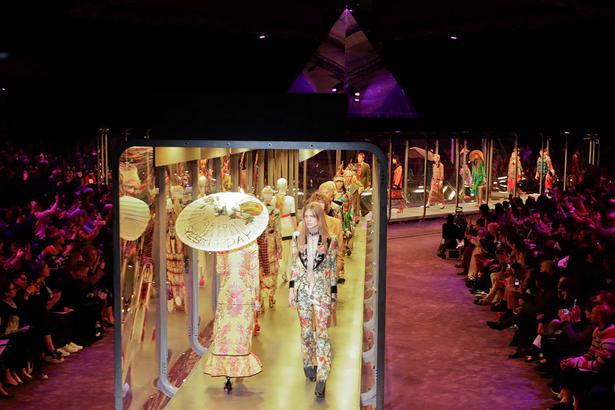 Thursday Feb. 23, 2017
The queues of people outside Gucci's stores around the world are clearly not just window shoppers. The brand recently opened a new 377,000sq ft HQ in Milan.
A former aeronautical factory built in 1915, it is now planet Gucci, complete with a studio for Gucci's resident graffiti artist, entertaining areas for clients, showrooms and 2000sq ft of catwalk space.
It's here that the revived economics of Gucci start. In yesterday's show — the first to fully combine men's and women's wear — Alessandro Michele sent out 105 looks.
That's prodigious by any standards, but when you consider that for Michele, each "look" comprises enough merchandise to fill a rail, you begin to glimpse some of the drive and, probably, obsession, of the seemingly mild-mannered designer.
"Yes, I'm crazy to produce so much," he says. "But a creative person doesn't always know where they're going. You have to follow wherever your inspiration takes you."
Michele's inspiration tends to lead to dreamlike interior monologues, with wildly commercial results. There was a jacket embroidered with the word "Sissinghurst", the garden Vita Sackville-West created in Kent.
The jacket worn by a male model (I think) with a tartan kilt and an overgrown bowler hat is typical of the way Michele cross-pollinates cultures and historical eras.
So, too, is the gender ambiguity. Was that a girl or boy wearing a lavender velvet jacket and green flared trousers? Who cares? While women have been happy to shop in the men's department for decades, men are increasingly browsing the women's section.
Almost every taste is catered for in Gucci's collections these days, including the deviant: chain mail masks, men in heels and scoop-fronted Lurex catsuits. Michele's taste may seem sweet, but it's seasoned with subversion.
More conventional — relatively speaking — was a Tattersall checked jacket with a ruffled, floral-print maxi skirt, padlocked belt, silk-scarf-print T-shirt, lace-up sandal-boots, embellished bag, Japanese parasol and decorative knuckle dusters and nose rings. That is one outfit. A filigree-green Lurex dress that took 10 days to make (the saucer-sized yellow silk roses on its hem took another week) was another.
Michele called the latter "LA Renaissance style". It looks whimsical and eccentric. It, or something similar, will probably be at the Oscars on Sunday.
Two years after his transformational debut, Gucci is still hot. On the 9.20am flight out to Milan yesterday, the one with all the fashion press, models and retailers on board, I counted 17 pairs of Gucci shoes. If you can keep them interested, you're halfway there.
— The Daily Telegraph
·
Share this:
More Fashion / The Latest