Your Guide to NZ Fashion Week 2016
The trends, collaborations and collections to watch out for this week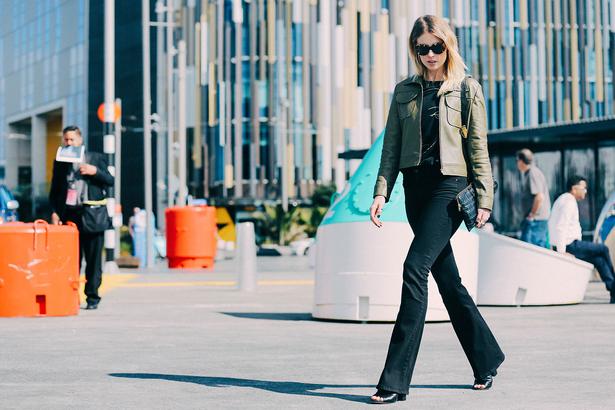 Sunday Aug. 21, 2016
BRINGING BACK THE GLAMOUR
From Mongolian fur to full-on sequins, we can't wait to see what design duo Harman Grubisa do next. As the recipients of this year's Mercedes-Benz Presents accolade, they will no doubt open NZFW on Monday night with a bang.
COOL COLLABS
- Last year, spatial designer Angus Muir was behind Sean Kelly's mirrored runway installation — this year he will create a light installation for Stolen Girlfriends Club on Wednesday night. Artist Michaela Van Der LAAN has also customised a number of shoes and garments for the brand's in-season show, which is inspired by Kurt Cobain's personal diary.
- Salasai will collaborate with Taylored Architecture Studios and up-and-coming furniture designer Anthony Robertson, to create something incredible for their installation and exhibition on Tuesday morning.
NEW BEGINNINGS
Last year, there was the usual speculation that it could be New Zealand's last fashion week, as the event's founder Dame Pieter Stewart announced she was looking to take a back seat role. She has since sold 50 per cent of the company to three new investors, who have come on board as partners: Lance O'Grady, co-director of fashion-focused digital agency Pocket Square, and Vinny Sherry and Anna Hood, co-directors of communications and event management agency Campbell + Co, who have been involved with NZFW for many years. We look forward to seeing where they will take Fashion Week next.
TREND SPOTTING
Expect to see these street style trends outside of the shows:
- The 90s and 00s are still dictating street style looks, from choker necklaces to coloured, tinted glasses. Think Levi's jeans and throwback youth brands such as Fila, Dickies, Champion and Vans.
- Wearing your jacket like you hate it is having a moment — sloped off the shoulders but still clinging on with at least one arm.
- Off-duty athleisure is still big ... expect it to go one step further this year, with tracksuit pants likely to be spotted.
READ: Remember These Noughties Style Icons?
SHOP THE RUNWAY
Designer Turet Knuefermann will present her latest range on Thursday, with the chance to shop the collection following the show. Her Fanshawe St store will be open from 12pm for the public to order garments from the new collection, straight from the runway — reflecting the international "see-now, buy-now" trend.
EXHIBITIONS AND INSTALLATIONS 
• New Zealand Post, which is a major partner of Fashion Week this year, will have an installation set up in the main foyer of the Viaduct Events Centre, with past and present postie uniforms on display.
• Salasai will hold a live installation and exhibition with a focus on the re-launch of the menswear side of its business. Expect familiar faces Ngahuia Williams and Jasper Seven to feature in the installation.
READ: Meet the Viva NZFW 2016 Team
WELCOME BACK
After a five year hiatus, World returns to the NZFW runway with two shows at Fashion Weekend. The last time the brand showed at Fashion Week in 2011, it was the most watched collection in NZFW history, screened live as the finale episode of New Zealand's Next Top Model. "It was the most watched show ever, I think it had a live audience of about 1.1 million," says World director and designer Benny Castles.
This year, the brand will present its in-season spring collection on Saturday night — with some extra surprises. "We are also putting together a number of looks and pieces that we will just be showing on the runway," says Benny. On Sunday night, World will collaborate with hair salon Ryder. "They came to us with a concept which we thought was really special and will be presenting 10 looks — they are going to be extraordinary."
SHOP: Cool Shoes for the Front Row:


MOVE IT
This year will be all about moving images — from Snapchat to Boomerang, Instagram Stories and even old fashioned videos. We'll be getting creative, from the front row to backstage, so make sure to follow us on Snapchat and Instagram (NZHViva).
PARTY TIME
Once the shows have wrapped, it's time to celebrate with a good ol' party. Huffer will close Fashion Week on Thursday night with an after party at its Queen St basement headquarters. It has been the brand's workroom for the past 19 years, and following Fashion Week the team will move to Britomart. They'll farewell the space with a big send off, including stages set up for at least five bands to perform.
HOT! TALENT!
It's definitely the year for emerging designers to be in the spotlight, with Wynn Hamlyn, Eugenie, Penny Sage, Jarrad Godman and Kharl-William Wirepa all presenting their first solo shows. Emerging stylists are also shining bright this year, from our own Viva editorial assistant Danielle Clausen styling Wynn Hamlyn's Tuesday show, to Tau Subritzky, who will be styling Ovna Ovich's collection as part of the K Rd Presents show tomorrow night. Sebastian Hunt and Dylan Richards, who work with Kanye West and Kim Kardashian in Los Angeles, are back in town and will be styling the Stolen Girlfriends Club show on Wednesday night — expect lots of leather, denim and Vetements-influenced attitude.
BREAKING THE RULES
We can't give away too much, but expect some off-schedule action this Fashion Week. In past years, brands like Miss Crabb, Little Brother and Mala Brajkovic have cheekily held shows or parties away from the official NZFW schedule. Expect more of the same this year...
Share this: