Would You Dress like Gwyneth Paltrow?
With her new Goop Label, Gwyneth Paltrow shows how 'laidback luxe' should be done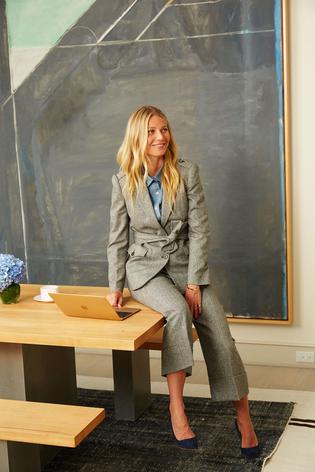 Since launching lifestyle site Goop in 2008, Gwyneth Paltrow has tantalised readers with a stream of occasionally beguiling but more often bemusing glimpses into her life. The site has featured recipes for homemade pumpkin-seed milk and Paltrow's favourite "elevating adaptogenic latte" alongside recommendations for vagina-steaming and aerial yoga - to hilarity among Gwynnie-watchers.
And now - far from the erroneous rumours earlier this year that she was walking away from her site - the Oscar-winning actress is betting that women will want to refresh their wardrobe alongside their next gut-cleanse kit. So this week she introduced Goop Label, a line of "carefully crafted essentials" based on pieces from the 43-year-old working mum's personal wardrobe. Think low-key basics that give the appearance of working-on-anyone, but probably work best on a gym-honed, edamame-fed Paltrow, to be fair.
"I wanted to create product that is incredibly high quality and delivered at a great value," Paltrow said, adding in typical gobbledy, er, goop: "I think there's a huge white space in the market for luxurious ready-to-wear at a direct-to-consumer price."
Goop started as a newsletter in which she could share personal travel tips, recipes and shopping finds - anything that would "nourish the inner aspect", as the tagline promised. Her informal style and unparalleled access proved compulsive, and it now has over three million subscribers. Never afraid of featuring something polarising (a $15,000 vibrator?), it's always clickable. It has helped that, over time, many of Paltrow's more fringey-seeming recommendations - juicing, cupping, cleanses - have entered the mainstream. So what can we expect of her sartorial offering?
Her latest charge to Gwynethise the masses will see a very limited number of pieces land on goop.com every month. The first "drop" of items are typical of her laidback-luxe style: a grey tweed blazer with matching wide-leg culottes, for instance, and a chambray denim button-down shirt.
READ: Health Trends to Know About
The idea is that each piece comes with a back story (presumably because shopping is also to be seen as a journey to inner nourishment). The Pattner Peak Lapel Blazer is a belted, single-breasted grey tweed blazer with flap pockets and subtle epaulets. It's named after Goop's head of collaborations and based on the design of one of Paltrow's favourite jackets. She wears it with the coordinating Eliza Wide Leg Culotte, and in her "design inspiration notes," says: "I'm a real suit girl, and September, to me, connotes getting back to work and buckling down."
All Goop Label items are produced in Italian factories used by brands including Azzedine Alaia and Proenza Schouler. They are ordered by the dozens rather than the thousands, and once the pieces are gone, they won't be restocked.
"It's a clever way to launch," says Emily Gordon-Smith, head of fashion at Stylus, the innovation research and advisory firm. "The limited drops and the idea that it's focused on key items that are going to work really hard for you are going to be big news." And, so far, it seems to be succeeding. The Elise Chambray Button-Down shirt, admittedly the cheapest design of the bunch, sold out less than 24 hours after it went online.
It proves that while it's easy to ridicule Gwyneth's "working mum" goopisms, an army of women out there want to look like Paltrow at any price. And in a way, it makes sense. Her stockpiles of denim cut-offs, blazers and simple dresses help create the kind of easy wardrobe most busy women hanker after.
"The chambray shirt is precisely what I want to see from Goop's fashion line," says Sarah Bailey, editor-in-chief of Red magazine. "That American laid-back luxe is exactly what you want from her. It's easy to forget what a savvy business woman she is. I spoke to her about her plans to launch apparel at the beginning of the year. 'Sell the way women want to shop,' she said. 'When it's July and I am buying a thick cashmere sweater, that kind of takes the fun out of it.' How true."
How Paltrow will fare against other celebrities who have moved into creating fashion lines is anyone's guess. Victoria Beckham has certainly made a success of it. "There's always room for celebrity collections," says Gordon-Smith. "From what we've seen, this product seems to have been put together with integrity. There's definitely going to be a market."
Goop Label isn't available outside the US yet, but if you like these pieces, watch this space.
THE NEW RULES OF DRESSING ACCORDING TO GWYNETH
Choose a colour - one colour
Far be it from Paltrow to go for crazy prints or colour-blocking. She's much more likely to choose a dress or separates in a single, solid colour, which packs a punch in photographs.
Sky-high heels or bust
From the red carpet to cooking demos, when Paltrow wears heels she makes them really high.
High necklines go with high hems
When she wears short dresses, Paltrow picks styles with more modest necklines; low-cut dresses go with floor-length hems. It's all to balance the skin. Apparently.
If you've got it...
Few women acknowledge how hard they work to maintain their physiques as openly as43-year-old Gwynnie. So you can be sure that when she opts to show some skin, she knows she looks good.
When in doubt, try a jumpsuit
Because you can have too many perfect fitted dresses and grey tweed suits. Paltrow mixes things up with designer jumpsuits. Like the cookbook says, it's all easy. Well, if you're Gwyneth it is...
- The Daily Telegraph·
Share this: