Why Harman Grubisa Is the Hottest Label in NZ
Harman Grubisa is this year's recipient of the Mercedes-Benz Presents accolade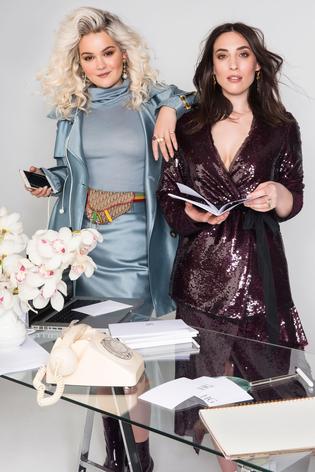 When they have reason to celebrate, Jessica Grubisa and Madeleine Harman book a table at Prego.
Whether they are marking their first boutique opening or debut Fashion Week show and recent nomination for the International Woolmark Prize, the Ponsonby establishment has become the "go-to celebratory restaurant" for the designers behind label Harman Grubisa.
Today, they have another special occasion to celebrate. The pair — business partners and best friends — has been chosen as this year's Mercedes-Benz Presents designer, the prestigious accolade that recognises the best and buzziest fashion designers here and overseas. The award and sponsorship deal will see them launch New Zealand Fashion Week in August, with the Mercedes-Benz Presents Harman Grubisa show on opening night.
Joining the list of past local and international recipients — including Kate Sylvester, Trelise Cooper, Toni Maticevski, Kym Ellery, Carolina Herrera and Derek Lam — is "quite overwhelming but so exciting", says Jessica.
"We have always had an ear to the ground about Mercedes-Benz Presents, here and internationally," continues Madeleine. "Maticevski's show at Mercedes-Benz Fashion Week Australia in May was fantastic, and we watched Ellery go through it the year before. It's all of these people who we admire and appreciate."
We're lunching at Prego, sitting outside on the terrace on a Friday afternoon with an espresso martini (Jessica's usual celebratory order) and glasses of Italian rosé. The occasion probably couldn't get more fashion if we tried, but these two savvy young women are far from the stereotype of an Auckland fashion luvvie.
Glamorous, yes: Madeleine, the impeccable, thoughtful brunette in a wool camel coat and Helmut Lang heels; Jessica with her blond curls and embellished Prada sunglasses and brogues, spirited and direct though no less insightful than her counterpart. Singularly striking, it's amplified when the two are together — and they often are — all strong eyebrows, amazing hair and sassy repartee.
Their enthusiasm and talent has quickly seen Jessica and Madeleine become two of New Zealand's most exciting designers. "They are, no doubt, one of New Zealand's most promising design duos," agrees Mercedes-Benz New Zealand general manager Ben Griffin, of the brand's decision to select them.
"Jessica and Madeleine have created a beautifully classic brand in Harman Grubisa. They create elegant and timeless pieces with a unique luxury feel — a parallel we see with our own brand," he says. "What sets them apart, in addition to their design and business skills, are Jessica and Madeleine's infectious enthusiasm, passion and commitment to doing things differently."
For the luxury car brand to select relative newcomers — the label is 2 years old; the pair themselves just 26 and 27 — also says something the speed of Harman Grubisa's road to success.
"I honestly think it says a lot about Mercedes-Benz," says Madeleine of being chosen. "They recognise the best of the best: the forefront of technology, innovation, with their product, The fact that they see that in us, as a relatively new brand, I commend them."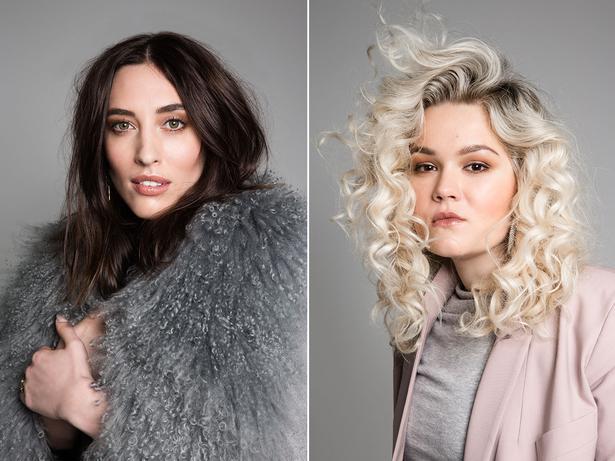 It isn't surprising. Local fashion media have loved the brand from the beginning, thanks to the girls' sophistication and combination of interesting silhouettes and fabrics, stand-out pieces — perfect for fashion shoots, magazine covers, Instagram — and premium quality. This is as far as you can get from a printed T-shirt (although they have done a slogan tee — in sequins, mind — for their next collection).
The duo may still be young, but they design for women: smart, playful, empowered, complicated women. A woman who wants a purple Tibetan fur stole hanging next to her classic wool camel coat.
It helps too that not only are Jessica and Madeleine extremely personable, they are hardworking, humble and hilarious. Photographer Russ Flatt has worked with them since the beginning, shooting every lookbook and campaign, and has watched them progress and settle into their unique design aesthetic. He puts their rapid success down to, in part, personality.
"They are both really smart and incredibly hard working, and they play to their strengths. They have an amazing knowledge that spans popular culture, fashion, art and music," he says. "And, they are really nice human beings."
They both still work on the floor of their Jervois Rd boutique, dealing directly with customers (their studio is upstairs).
"We're designers because we love women," says Jessica. "Having the store has given us an amazing perspective on who she [our customer] is, and we're lucky to have that. We meet her. I mean, I knew it would make us more in touch with our clients because we literally can touch her."
They opened the store last year, just six weeks before their debut NZ Fashion Week show and less than a year after they had launched. They had a retail outlook from the beginning, launching "in season" with an e-boutique but always with the plan of opening a physical space. That reveals the business savvy behind the creativity.
"It did all happen quite quickly, but we did want to be direct to market," explains Madeleine. "We very much knew what it was that we wanted to create.
"Before launching we spoke to a lot of different people; business people in our lives, people who we met through university who had more accountant-focused roles. We did it, not necessarily 'the right way', but we did the cash flow reports, forecasts ..." she says. "We were really challenged on who was our market, how are you going to reach them? Obviously with any product that's a key thing; but with fashion, it's asking: are you going to wholesale, or focus on retail?"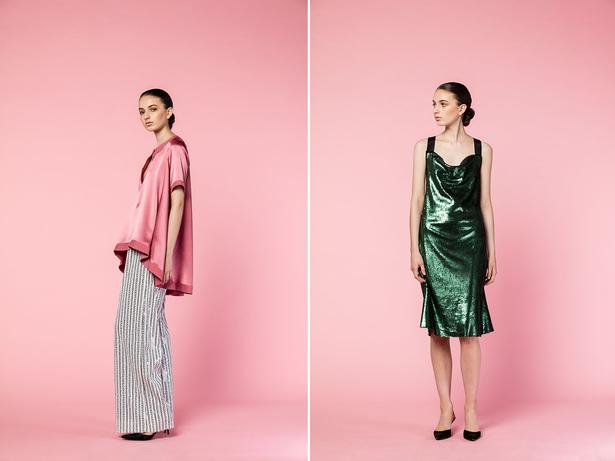 Their NZ Fashion Week debut last year was a classic runway show that quietly stole the show: no bells and whistles, no epic backdrop, no dramatic runway choreography, no gimmicks. The clothes were as slick as the production, with Gwen Guthrie's sassy anthem Ain't Nothin' Goin' on but the Rent opening the show — helping to cement their brand ethos of empowerment. Backstage, show instructions to models declared: 'I am the leading lady. I buy my own diamonds. I pay my own bills. You're gonna need a J-O-B if you wanna be with me.'
Viva fashion editor Dan Ahwa was struck by the show's confidence, writing at the time that it was, "sexy power dressing done right — a promising direction from such a young label." And, of course, there were those furs.
"I remember the music. I remember the fluffs," Jessica reminisces. "I remember being so organised that an hour before show time, everything was done."
"Extreme nervous energy," recalls Madeleine.
"I remember the first beat of the opening song dropped and my stomach dropping; then turning and looking for you," Jessica says. "I remember a lot of proud tears backstage afterwards. It was a whirlwind."
This year's Mercedes-Benz Presents show will be another step up for the pair, opening the event on Monday night and helping set the tone for the week. The duo won't give anything away, but Jessica says they have already found the perfect opening song and promises, "It's going to be beautiful".
Jessica and Madeleine combined their surnames and launched Harman Grubisa in 2014. They met while studying fashion at Whitecliffe College of Arts and Design, bonding during late nights sewing with Gossip Girl playing in the background on Jessica's laptop.
"We're really different in a lot of ways, and a lot of people are like, 'how does it work!'" comments Jessica, who grew up in West Auckland. Now, she says she can't imagine her life without Madeleine. "I'd say we are family."
"I think that it came down to work ethic and we got along really well so working together was hilarious," says Madeleine, who had grown up in Central Auckland (her father is John Harman, former breast surgeon and founder of St Marks clinic). "It was also a respect for each other's talent."
She never wanted or planned to have her own label, whereas Jessica was the opposite. "But I always wanted it with someone else — because I knew that the best labels were teams. And everything's better at the top with someone else!"
After graduation, they each went their own way for a bit. Madeleine lived overseas for two years, working in sales in New York for the prestigious trend forecasting agency Edelkoort Inc, before moving to work under Emma Fletcher, the creative director for the label Tocca.
Meanwhile Jessica worked — hustled — simultaneously as assistant fashion editor at Black magazine, a freelance stylist, in retail for World, and as a design assistant for Adrienne Winkelmann where she "handsewed anything and everything".
"I loved working for her — no other workroom here I think, would offer the same insight into tailoring. I don't know anyone who handsews as much."
Adrienne was a notorious perfectionist — Jessica remembers being tasked to cut a pair of pants from a difficult micro-fibre. "If it was even 2mm off, she'd throw it in the bin and say 'start again'. I did it for two weeks, cutting the same pair of goddamn pants. You definitely learned old-school."
It was after moving into a workroom design assistant role at World that Jessica was offered a role with Australian designer Alice McCall, which would have moved her to Bali.
She turned it down, Madeleine moved home from New York, and the pair officially registered their company in early 2014; launching their debut collection six months later.
That range boldly set the tone for their brand: grownup, clever, uncompromising on quality. An abstract watercolour print of a naked woman's back showed the pair's droll wit, while an all-over metallic fringed sequin skivvy hinted at their maturity and confidence. Seriously, what young designer here launches their first collection with so many sequins?
Glitz returns for their new spring/summer collection, in store at the end of August: a wet-look sequin cowl-neck dress in shimmering white-pink, white sequin palazzo pants and jacket, and an insanely beautiful maroon sequin skirt suit. "I'm Croatian," jokes Jessica. "I'll put sequins on anything."
Blame it partly on the sequins, but the pair has injected some much-needed glamour into the local industry, which at times can seem frightened of being seen to care, to dress up and make an effort. Their's is a cool, young take on glamour so rare here.
Jessica says it's not conscious — "it's not like we're designing and asking, 'is this glamorous'" — but Madeleine agrees that it is a unique perspective. They seem momentarily stumped when asked what they define as glamour.
"It's being well put together, right?" asks Madeleine. "To me, it's that you don't look like everyone else. A lot of fashion at the moment especially with fast fashion, it's very much, 'what are these guys doing? Let's do that'. There's a real homogeny around it, and everyone can start to look the same.
"To me glamour is that person that says, 'I don't mind going to the supermarket and standing out, I don't mind looking different'. That doesn't have to mean that she necessarily has to wear sequins, it just means she wears something well."
"Glamour is not caring what other people think," remarks Jessica. "So many people I meet, especially young women in their 20s, really care what other people have to say about their outfit, their shoes, who says what. It's having a confidence.
"If you think of the most glamorous women in the world — Monica Bellucci, Sharon Stone — they walk into a room and it is confidence. They know who they are."
Share this: