Hatmaker Lindsay Kennett's Star Quality
Local hatmaker Lindsay Kennett is now the subject of a new book by co-author and close friend Hilary Hunt. She tells Rebecca Barry Hill about the late milliner's star quality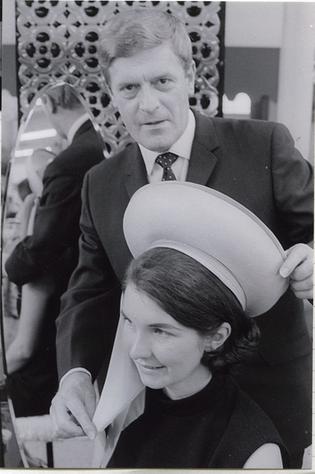 Before Lindsay Kennett died in July, aged 88, his good friend Hilary Hunt made him a promise. They'd spent the past year regularly meeting to capture his life's story, the details of his illustrious hat-making career and the period of New Zealand history in which he flourished. She felt she owed it to him that the resulting book, A Passion for Fashion: The Life of Master Milliner, Lindsay Kennett should be an elegant hardback.
Elegance defined Lindsay's work. Though he never wore one himself, he supplied New Zealand women with hats for many years, during his heyday from the 1950s to the 70s. His career took off at warp speed when he was chosen to assist the British Royal milliner Aage Thaarup prior to the 1953-4 royal tour to celebrate Elizabeth II's coronation. Import restrictions meant Thaarup was unable to bring his own hats so Lindsay was asked to create hats from his designs for the dignitaries and society ladies who would be meeting Her Majesty.
He was equally motivated by his passion for his craft, one that saw him supply several of the country's department stores, as well as retail through his own Parnell salon.
Hilary, an education consultant originally from England, now based in Queenstown and Dunedin, was introduced to Lindsay nine years ago when she was involved in a film project about hats of the 1920s. They hit it off immediately, bonding over their shared love of opera and classical music, Hilary impressed by her friend's knowledge of the arts.
"He'd astound me. We'd go to the opera and he'd say 'that's about so and so'. He'd know about it before we'd even been. Lindsay was a film buff of extreme proportions; he saw all the films, especially during the early days of Hollywood when they employed top designers. He saw everything that moved, he followed fashion, magazines, the fabulous styles copied from stars of the 30s and 40s."
They also put on several hat shows together, including a retrospective collection inspired by styles that span a century, as part of iD Dunedin Fashion Week, raising funds for the Dunedin Public Art Gallery.
"He went into overdrive, making new hats, revamping old ones. They had fabulous detail, everything was made with the old sewing machine, no staples or glue. They had to be perfect. He knew it was his absolute last bash."
When the film project fell over, Hilary volunteered to co-write a book with Lindsay about his life and life's work. They spent many hours together, with Lindsay often quipping they'd have to draw the curtains in case of what the neighbours might think.
"He had personality plus, he was a charmer, a great raconteur. As a speaker, you'd have to rein him in — he was interested in everything. He never went far but he looked at everything, he was passionate about many things."
Hilary's dual residences made for a serendipitous base for her research. In Queenstown she was able to visit Lindsay's early childhood haunts and the many photos of his work at Arrowtown museum; in Dunedin she got a sense of where Lindsay spent his last 26 years.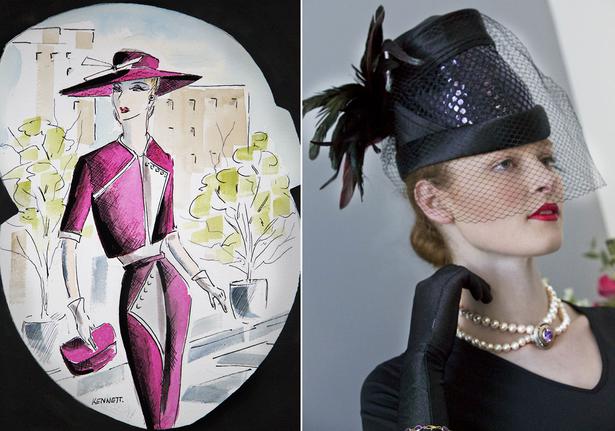 The book covers his early years growing up in Glenorchy then going to art school in post World War I Dunedin, where he took drawing and illustration classes and studied copies of US Vogue. His work as an illustrator, drawing ladies with cinched, wasp-like waists and elongated bodies was so popular that fashion manufacturers regularly asked him to design for them.
But it was his work as a window dresser for Wellington department store Kirkaldie & Staines that led him towards hat-making. He'd already cut his teeth in the fabric department at Arthur Barnett in Dunedin before moving to Wellington, where he won the Helena Rubenstein prize for best window design.
It was an inspirational time for the budding milliner, who soaked up the city's emerging coffee-house scene, and the exotic hats imported from London. Lindsay eventually presented his own designs to the department store, who took him on board as a milliner straight away. He later moved to Auckland and worked as Smith & Caughey's window dresser, making hats in his spare time. The royal career boost came just three years into his hat-making experience.
"He was only 25," says Hilary. "He worked himself to the bone to finish all the hats in record time, he did everything that Aage wished, and it created his base of huge business."
Afterwards, Thaarup offered Lindsay a job in London which he declined. He was just starting out with his salon and felt it was not the right timing. It was an astute decision. A year later the royal milliner went bankrupt. Rather than expanding his Parnell business, Lindsay gave up his salon after five years and for the next 15, ran spring and autumn shows in department stores around New Zealand.
"He felt that all hats should be accessible to women, he wanted everyone to be able to wear them," Hilary explains. "He never made a fortune, he never charged exhorbitantly."
He also turned down a job offered to him by the head of the David Jones department store in Australia, having heard by then of whisperings of an impending hat crash. In the 1960s, it did eventuate, pillboxes and berets eclipsed by the fashion for voluminous hair-dos. But Lindsay had been smart in that he never gave his affinity to one store; instead he was a contributor to many.
"He had such a large personal private clientele who were faithful to him in the crash, they didn't shop around. It meant he was able to keep going until he was ready to retire at the end of the 80s."
• A Passion for Fashion: The Life of Master Milliner, Lindsay Kennett, as told to and written by Hilary E. Hunt, $59.95, published by EHN and Smith Publishing.
Share this: