Pastels, Petals and Pinkness at Rodarte
Haute couture week begins in Paris, with a markedly different look to previous seasons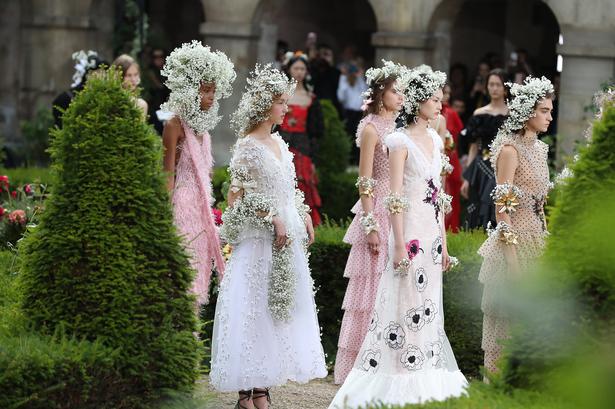 Monday July 3, 2017
Haute couture fashion week began in Paris on Sunday with a markedly different look to previous seasons. There were still layers of sequins and waterfalls of tulle cascading from models' Giacometti-like bodies on the catwalk, but many of the staggering creations came from outsider brands who were new to the schedule.
The most significant incomer was Rodarte, a label that sits on the arty edge of the highly commercial American ready-to-wear industry and is much loved by celebrities including Kristen Dunst and Natalie Portman. Previous collections have been inspired by Japanese horror films and S&M, and fabrics are burnt and distressed, or dip-dyed and decorated with crystals, or splattered as if with blood, before being sold for four-figure sums.
The show took place in the 16th-century cloister of the Port-Royal Abbey, a crumbling square around a lush, overgrown garden, which is now a hospital. It took its inspiration from the eerily beautiful venue, and from Robert Altman's impressionistic film 3 Women, in which a female cast teeters on the edge of madness in a Californian desert town.
That film's pretty colour palette – blue and pink pastels – could certainly be seen in the collection, while its Californian roots could be seen in the preponderance of leather. There were white perfecto jackets with white trousers embellished with pearls and white off-the-shoulder ruffled tops fashioned from thick, undulating rolls of leather that looked like a leftfield take on Dolly Parton's Vegas tour wardrobe.
There were classical gown shapes – a corset and flowing skirt one might almost imagine being worn by Marie Antoinette – and a couture-appropriate attention to detail, as when a model stalked down the catwalk in a long, ruffled lace dress, revealing a deep V back intricately covered with purple crystals.
There were flowers everywhere, used in ways that went beyond prettiness. Some models dragged bunches so big they looked like witches' broomsticks on the floor behind them, while others had blooms arranged into shrug-like creations that were draped across their arms, or wore halos of white flowers around their faces.
The models finished the show standing still in the middle of the garden in a rather spooky tableau. Afterwards, Kate Mulleavy, told journalists that she and her sister and co-designer, Laura Mulleavy, were determined to create clothes that make people think, "and not just make pretty dresses".
Rodarte was just one newcomer to haute couture on Sunday. Fellow American brand Proenza Schouler also joined the schedule, while Peter Dundas – the former Pucci and Cavalli designer who create the famous gold fertility goddess gown worn by Beyonce to the Grammy awards when she was pregnant with twins – used the first day of couture to launch his own collection.
Haute couture gowns are dresses that only the stupendously loaded could afford to buy and yet haute couture has a ripple effect beyond the wardrobes of the super rich. It is a dizzying study in ambition, innovation and technical skill; an exercise in branding and a reliable source of frocks that will end up on the backs of A-listers at award ceremonies.
A big proportion of the customers were from China. The region's most famous couturier, Guo Pei, showed for the fourth time on Sunday. In the west, Guo is best known for the frock that launched a million memes – Rihanna's so-called "omelette dress" which the singer wore to the 2015 Met Ball.
There was nothing as eccentric on the catwalk on Sunday, however. Instead Guo explored the history of haute couture in a collection of gowns with impressive structure, such as a shimmering, pale-pink mini dress with a skirt that appeared as though blown, like a bubble, into a perfect sphere. There were staggering fabrics, too, used for a gunmetal grey gown which appeared to move when it caught the light – an effect that looked like petrol in water.
Notes distributed at the show said that the collection had been inspired by "sincere reverence" to the golden era of haute couture which "is getting increasingly strange to us day after day". The notes added: "Industrialisation and fast fashion drifted us away from the most beautiful crafts and that elegant gorgeous era."
Share this: