Hedi Slimane's Debut Collection Has Blown Up Celine, But To What End?
The new creative director imposed his signature style on the 70-year-old brand — but without fresh ideas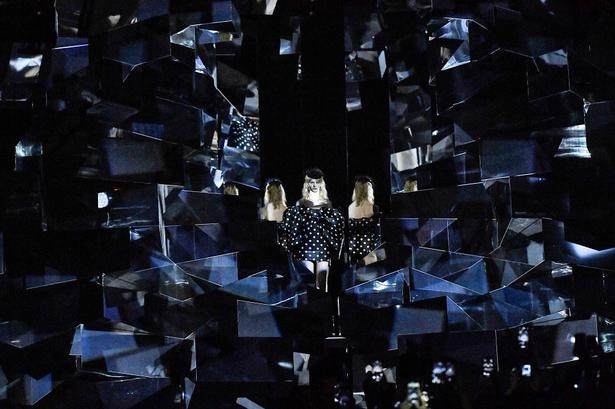 Monday Oct. 1, 2018
Hedi Slimane has obliterated Celine — at least the version of the brand that most people have come to know, the one focused on hyper-discreet minimalism with a hint of cool-girl flair.
For his debut at the house, the new creative director replaced its award-winning aesthetic with the Hedi Slimane signature style, driven by youth culture, indie rock and sulking adolescence. It is the style that he brought to Saint Laurent and nurtured at Dior Homme. In a single evening, he has blown up everything that Celine was. Flushed it clean. His name might not be on the label, but in every other respect the brand might as well be called Hedi Slimane.
READ: What Exactly Is Saint Laurent Saying About Female Sexuality & Empowerment Here?
The spring 2019 runway show Friday night began with the sounds of a single drummer from the Republican Guard tapping out a percussive rhythm at the end of a darkened runway at Les Invalides. Normally tasked with protecting heads of state and guarding important public buildings, this loan drummer signified the stature of the French brand founded in 1945 by Céline Vipiana and her husband Robert. A light screen flashed with the image of a shattered mirror and the cubist reflection of a young woman in a black-and-white polka-dot dress could just barely be made out.
Yes, something important had just been shattered. To what end?
Slimane is a designer who reaches deep into the culture, tugging on all sorts of strands from the world of music and art for his inspiration. Yet at a time when so much is roiling the culture, both politically and socially, Celine doesn't reflect any of that. It doesn't hint at the rise of women's voices or the growing political power of youth. In a show titled Night Journal of Paris Youth, his runway did not reflect the diverse mix of people that one regularly sees on the streets of Paris.
For a designer who is so good at upending the status quo and agitating the gatekeepers (at least those in fashion), his work here is cautious. It's familiar. Slimane has created a safe space at a time when a rebel yell would be welcomed.
READ: Meet Riccardo Tisci, The Man Causing A Stir At Burberry
When that first model appeared on the runway, she was wearing a little black pillbox hat with a tiny flourish of netting. Her dress looked like an enormous bow: a fluffy black clamshell of a dress covered in white polka dots. She was followed by skinny young man with a blond bowl haircut. He was wearing black sunglasses and a slim black suit with a white shirt and skinny black tie. They looked like a more polished, grown-up version of the idealised youth that have long populated Slimane's runways. Now, instead of looking as though they have stumbled in at dawn from a night of debauchery, we have caught them on their way out for the evening. They'll be indulging in bottle service rather than shots, sitting in the VIP section instead of standing in the general admission mosh pit. They will be adulting.
The 96-piece runway collection was almost entirely black and white except for a single glittery red mini-dress, a bright green cocktail dress and occasional flashes of silver and gold. Slimane also included several bomber jackets with elaborate, colourfully embroidered patterns created by artist Christian Marclay.
Slimane's tailoring is sharp but not severe. He crops his trousers at the ankle for women. And with the menswear, which he launches with this collection, he shortens several of the jackets to the waist and creates a long lean silhouette with others. And while there wasn't an overt display of gender-blurring on the runway, much of the suiting and the outerwear, in particular, would look at home on anyone, however they might identify.
READ: How Ralph Lauren Has Defined Fashion For 50 Years
Though Celine has had other designers since its founder, including American Michael Kors, it was Phoebe Philo who transformed the brand in the modern era. She had a keen understanding of women's lives — well, some women's lives — and what they needed from their clothes to make those lives a little less complicated.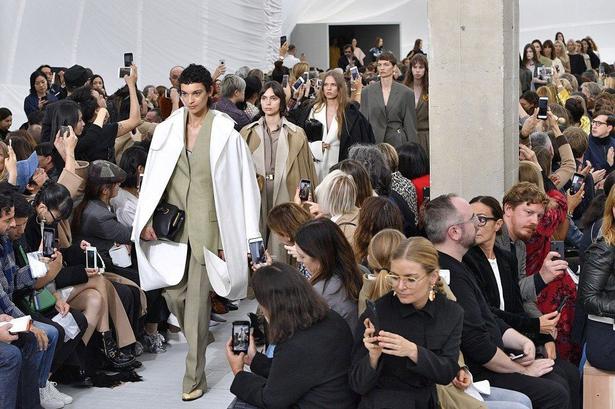 Slimane doesn't seem particularly interested in addressing the mundane issues in a woman's life. His fashion is not here to solve your problems. Save your problems for your therapist. His designs are about his vision. They are not welcoming. They exist behind the velvet rope. They are the after-after-party.
As a lead-up to the new Celine, Slimane redesigned the brand's logo, which essentially meant removing the accent. For weeks, he has been teasing the new collection on Instagram with pictures of his first handbags for the house and photographs of young, androgynous models staring into the camera and looking vaguely dissolute.
READ: 'Outside There Is A War,' So Dior & Gucci Offer The Fashion Equivalent Of Self-Care
All of which is to say that Slimane had prepped and taunted his audience, cranking up curiosity and expectations. So a crowd of onlookers turned out to watch the comings and goings. Some 60 musicians were in his audience, ranging from Lady Gaga to members of Daft Punk and Franz Ferdinand, along with the actress Catherine Deneuve and designers Karl Lagerfeld and Virgil Abloh.
Ultimately, the clothes at Celine are a continuation of what Slimane was doing at Saint Laurent — a style that proved to be lucrative for the house. During his tenure there, Slimane generated double-digit, year-to-year growth. But nearly two years have passed since Slimane left Saint Laurent. In that short time, the fashion industry has changed and so has the broader culture.
Slimane has held his ground.
— The Washington Post
Share this: