Augustine Dipping a Toe Into Footwear
Augustine designer Kelly Coe's charismatic personality is reflected in her debut collection of footwear, Hey Monday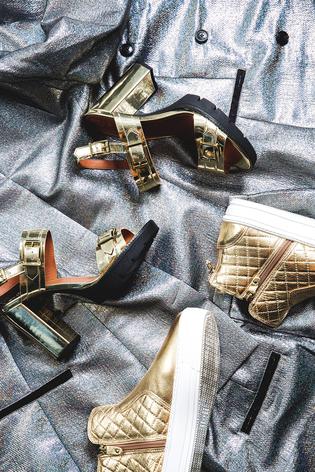 Kelly Coe, the charismatic designer behind fashion label Augustine, is dipping her toes, literally, into a new pair of shoes — from her debut collection of footwear, under the name Hey Monday.
With an intensely loyal client base and avid social-media following, the time was right for the designer to explore the world of footwear, complementing her fashion collections for the new season.
"We have a store full of sequin skirts, printed pants, print tops and colourful fabrics as well as more simple pieces, and every day I was being asked by my customers where my shoes came from," Kelly says.
"This told me there was a massive opportunity waiting for a hero shoe label to offer something different and unique to Kiwi women, so we travelled to Brazil, found our wonderful supplier and unleashed Hey Monday."
READ: You Need These Pink Boots
The collection covers off casual sneakers, summer sandals and party platforms in an array of bright colours, sequins, leopard prints, embellishment and notably metallic — gold, silver and pretty rose gold. "The collection is named Hey Monday because we want to look at Mondays differently. We want to see them as a fresh start, a new week."
The collection is priced from $169-$239 and will debut at the Augustine show at New Zealand Fashion Week next Saturday, and available to purchase from September 10.
Visit Augustine.co.nz
Share this: