'No One Thinks About You As Much As You Think About Yourself' — Holly Rose Emery On Her Newfound Sense Of Self
After soul-searching and taking time to reset, she's harnessing the self-assuredness that can only come with experience as she prepares for her next adventure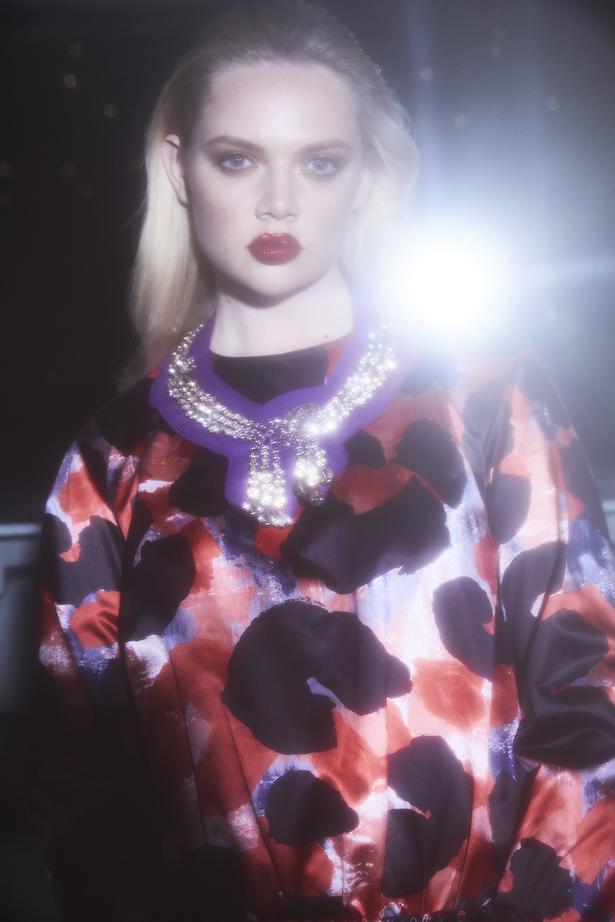 Saturday Aug. 21, 2021
Here are some facts you need to know about Holly Rose Emery.
Joining the ranks of a handful of New Zealand models who have managed to crack the tough veneer of the international modelling industry (Rachel Hunter, Kylie Bax, Ashleigh Good, to name a few) Holly Rose has seen and done it all.
At 16 she debuted on the runway as a Prada exclusive in 2013. Next to a beauty campaign or a cover of Vogue, it's the modelling equivalent of an Olympian's first gold medal.
She went on to walk the runway across several seasons for fashion heavyweights Valentino, Armani, Chanel, Marni and more.
While Holly Rose was being fitted in haute couture by the late Karl Lagerfeld and his atelier at Chanel, her friends back at Diocesan School for Girls were traipsing between classes in striped blazers and culottes.
"When I left home at an early age I was thrown into an entirely different reality — a lot faster than most people were."
On her 17th birthday, she was photographed by Australian Vogue for its (now defunct) sister title Miss Vogue.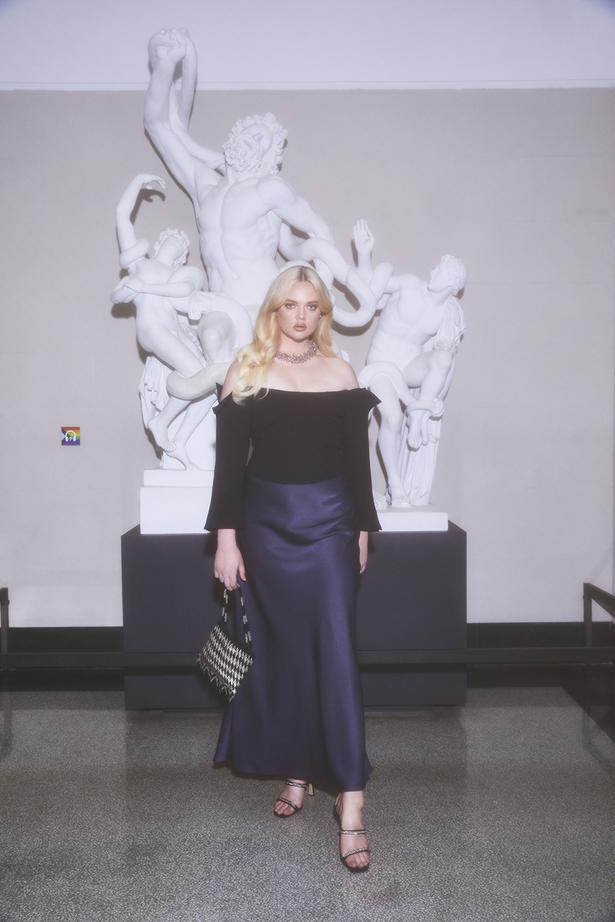 She's appeared in countless magazine editorials and covers, working with some of the world's revered industry professionals including i-D Magazine, Harper's Bazaar and Vogue Germany.
Her fast trajectory to the top just shy of her 18th birthday is a controversial by-product of the fashion industry's unhealthy obsession with youth — propelled into a world most teens aren't mentally and physically equipped to adequately deal with.
"I had about 10,000 followers on Instagram in 2014 — which was pretty weird and unheard of," Holly Rose remembers.
READ: New Zealand Model Holly Rose Emery & The Perfect Body Myth
This issue is Holly Rose's fourth Viva cover, on sale a day after she turns 25. The self-confessed old soul is in a happy and healthier place now.
"I've always been told I was an old soul. I'd love to say that comes from reincarnation. My whole life I've been an observer. Growing up, I was always surrounded by adults and in adult situations. I always felt like an outsider rather than trying to fit in."
We joke about her deadpan sense of humour. A private Instagram account where she indulges her love of ironic licence plate numbers comes up.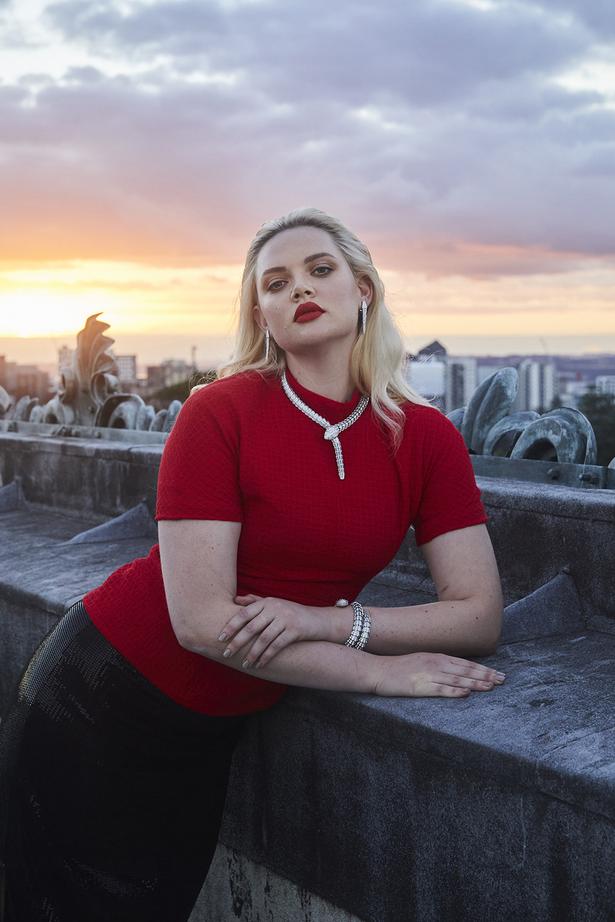 "It's my longest-standing hobby. I started it in 2018 when I first came home and I thought it was hilarious. I've also started getting submissions — everyone knows me as the licence plate girl," she says, laughing. "One of my favourites is HER ASS. I found that on a walk during lockdown last year and thought 'I don't know what you're trying to say with that, but it's brilliant'."
In 2017 she returned closer to home, travelling between Australia and New Zealand. After years of balancing a successful modelling career with the very public (and problematic) scrutiny of her body — a 2012 Stuff article touted her as the "next big thing", painting her then 36kg weight loss as a sign o"self-discipline and focus".
In 2020 for her third Viva cover, she knew the time was right to discuss her experiences, reclaiming agency over her body and redefining her narrative in the process. "I've never been diagnosed, but I had an eating disorder, I would say," she explained at the time. "I struggled a lot with that. I guess at 16/17, I didn't love my body or I wouldn't have starved it or forced it to do things it didn't want to do."
Looking back at that moment, Holly Rose recognises it was necessary to be able to move forward. By default, she became a beacon of light for those struggling with their own body image issues, relating to the pressures Holly Rose had gone through.
"The moment I felt like it was okay to discuss this openly was the moment I fully accepted that this was who I am," she says matter-of-factly. "It took me a lot of therapy and work to get over the fact that no one was actually thinking about my body as much as I was thinking about my body.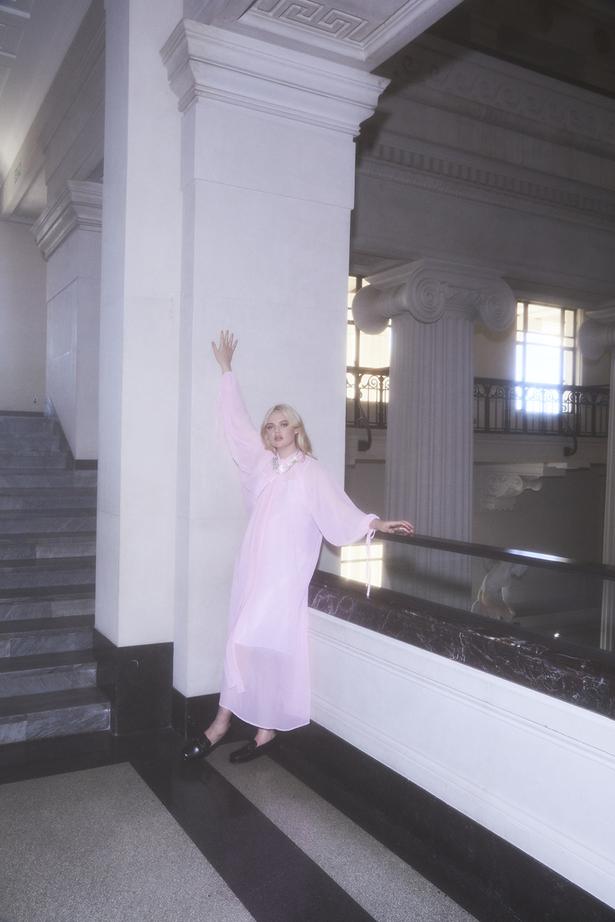 "Publicly it was known that I lost a lot of weight when I was younger, and I built a lie surrounding that. I then had to backtrack and actually speak my truth. It was a lot. But it's such a beautiful story and so many people have experienced similar things. All of us experience issues of insecurity about ourselves. If I can share my story and it can help someone — I think that's beautiful."
The Viva story from 2020 was a pivotal moment that came off the back of an Instagram post by her local modelling agency, N Model Management, in which Holly Rose shared a portrait of herself accompanied by a heartfelt caption.
READ: The Staying Power Of Top Models Ngahuia Williams & Vinnie Woolston
"I've taken my body through a roller coaster ride over the past 10 years," she wrote, "and as much as some of that trauma lingers I am so grateful to have experienced what I did. I'm so appreciative for all the lessons I've learned and for the new opportunities that have opened up to me. As much as I continue to struggle with myself and my body for the most part I'm really proud to occupy this space and of how far I've come."
Having spent a great deal of her formative years having other people project their ideas on to her, she's selective about the jobs she gets booked on now and what they mean to her, preferring to work with teams who like to collaborate.
In the lead-up to our cover shoot, discussions were made with Holly Rose and her agent around the look and feel of the shoot, giving her the opportunity to collaborate and prepare for the day — right down to a discussion around her distinctive brows, which were given a glamorous makeover by global senior artist for M.A.C Cosmetics Aotearoa, Kiekie Stanners.
"She gave me my brows back!" Holly Rose smiles. "I started bleaching my brows when we went into the first lockdown last year, and it just sort of stuck and I always thought it was cool, but it was fun to experiment with makeup again for this shoot."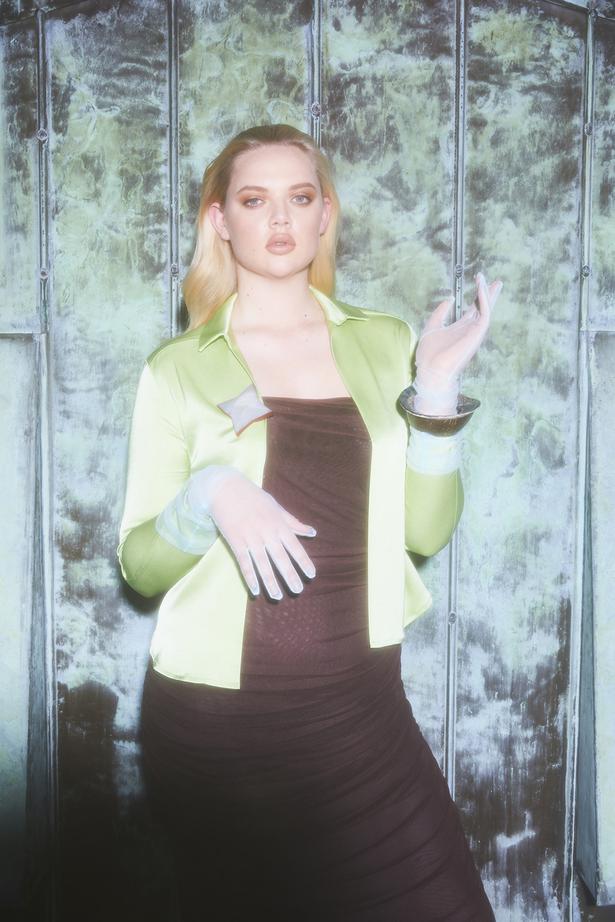 Recently returning home after a stint in Sydney, Holly Rose splits her time working and mentoring rising models on the board at N Model Management, alongside its director and one of the country's most recognisable modelling faces, Ngahuia Williams.
"I love passing on all the knowledge I've accumulated over the years and to be able to help younger models get a foot in the door. It's important for them to understand they have their own authority in this industry and they don't have to bend to what other people want them to do. They should feel comfortable and secure. Ngahuia has helped me grow so much, and being able to watch how she operates is such an inspiration," says Holly Rose. "We have incredible chats about the industry we've grown up in and how we can progress further forward with that."
In January, the agency declared it would no longer be including model sizes on its model profiles. Should a client request to book talent, they would simply need to ask a booker. "Removing sizes from the website was a no-brainer," says Holly Rose, who understands those pressures more than most people. "We don't think size is important. The models we have are all cool in their own individual and unique way."
While there's still progress to be made when it comes to promoting healthier bodies in the fashion industry, we've come a long way from the 90s waif.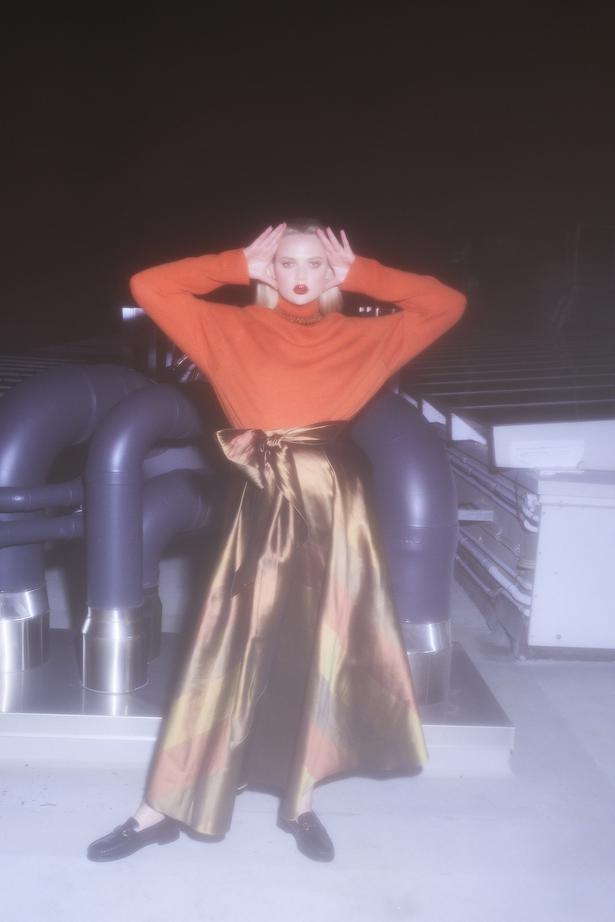 Wixii jumper, Liz Mitchell skirt, Sebago loafers, vintage necklace from Liz Mitchell. Photo / Mara Sommer

"I feel like there is progress," she says carefully, "but there's also very superficial progress. You see the campaigns, the magazines, and they're using curve models and models of colour — but it's disheartening to see that behind the scenes it's still very whitewashed, or ranges don't go to certain sizes. There are still a lot of stores that don't sell a range of sizes, which I find bizarre. I feel like it is important to keep having these conversations, to keep things progressing and to keep it in front of people's minds.

"Compared to Sydney, New Zealand is a lot more progressive. We're willing to foster cool individuals. I see the diversity in Huffer campaigns and Ruby using more curve models. We don't take on board those things that used to be "industry standards" — we're pushing forward, which is so nice to see."

VIVA TALKS PODCAST: What Is It Really Like To Be A Model? An Inside Look At NZ's Modelling Industry

Over the past two years Holly Rose has gradually rebuilt her confidence in modelling as part of her own personal healing. This season she features in local campaigns for Wixii and Paris Georgia; and of course as Viva's cover star.

"I remember when you guys first asked me about it. It made me want to come home from Sydney even more. Viva has supported me throughout my journey. I feel very privileged and beyond grateful."

As the sun sets and we precariously manoeuvre around the rooftop of the Auckland Museum during our cover shoot, it's apt that Holly Rose's next chapter, both personal and professional, is marked with joy, optimism and of course, good music — because getting back into the groove always requires a great soundtrack. Holly Rose's go-to songs include 'Slow' by Kylie Minogue, 'Teardrops' by Womack & Womack, 'Bliss' by Th' Dudes, 'Voulez-Vous' by Abba and 'Superstylin' by Groove Armada.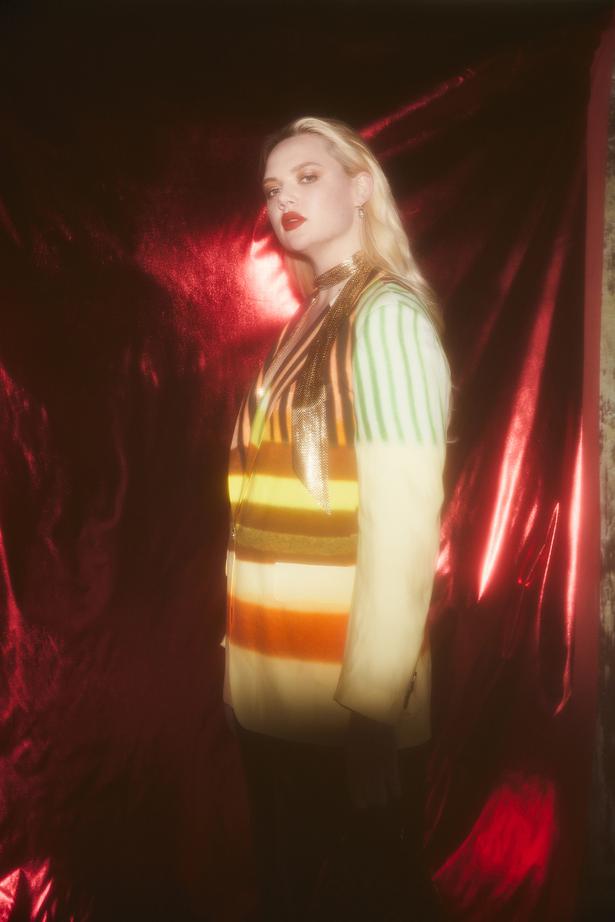 Dries Van Noten blazer, Vintage Whiting & Davis mesh scarf from Welcome Back Slow Fashion, Sofia Tekela-Smith Manihiki baroque cultured black pearl and sterling silver earrings. Photo / Mara Sommer

"A dream night out for me is a spontaneous night," she adds. "So many times I've gone out to have dinner, and it turns into drinks, and we end up going to a gig or a club and we're dancing, and then you get home at 3am. And you're like 'wow! Unreal'."

But if there's one thing keeping her mood high, it's her newfound sense of self.

"One universal piece of advice I take on board is no one thinks about you as much as you think about yourself. Your perception of yourself is only a fraction of who you truly are. Embrace the person and the life you want to live and be grateful for all the moments; the ups and downs. It's what makes life special."

Stepping out into the darkness in a gold lamé gown, it's clear Holly Rose's star is still burning bright.

Makeup / Kiekie Stanners for M.A.C Cosmetics. Hair / Michael Beel. Photographer's assistant / Josh Stezo. Fashion assistant / Annabel Dickson. Security supervisor / Tony Finlay. Red Badge supervisor / Diane Morrow.

With thanks to Andrew Wright, Bex Martelletti and the team at the Auckland War Memorial Museum Tamaki Paenga Hira. Collection accessories accessed with the support of Grace Lai, curator of Applied Arts & Design, conservator Ian Langston and collection care manager Alicia Taylor.
Share this: