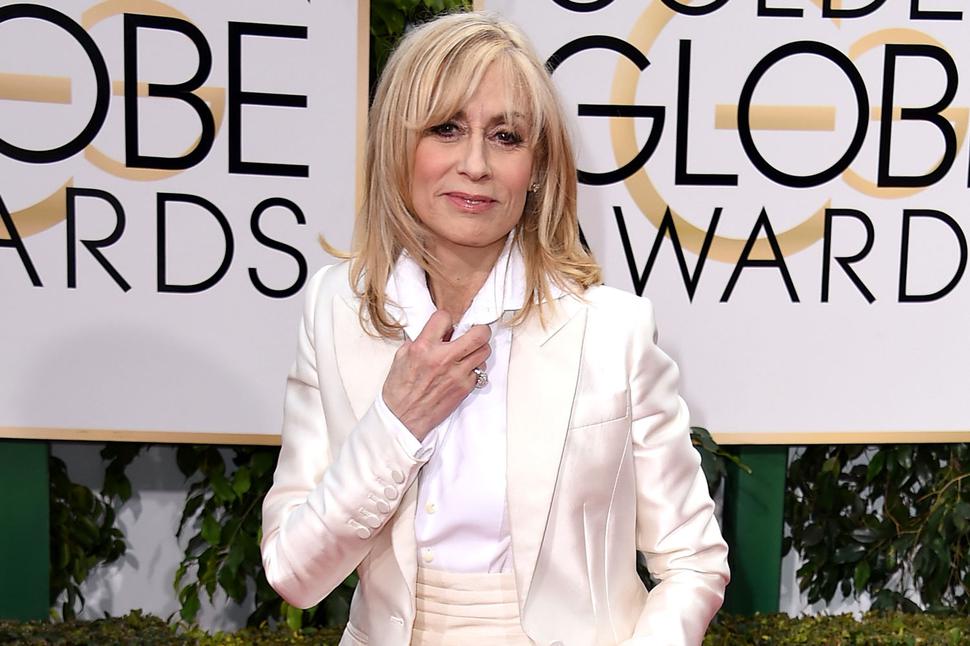 Hollywood Is Finally Celebrating Older Women
The Golden Globes' red carpet was awash with older actresses showing individual flair and style
Tuesday Jan. 12, 2016
Kate Winslet was so convinced she wouldn't win a Golden Globe on Sunday night that she'd booked a massage to ease her nagging neck pain immediately after the ceremony in LA. She had to cancel it. Instead, the 40-year-old picked up a Best Supporting Actress award for her role in the film Steve Jobs.
"I have been doing this for 23 years now," Winslet said of her win in a category dominated by old-time actresses. It was proof that while Hollywood has traditionally honoured youth, the tides are slowly turning towards experience. "Cate Blanchett has been doing it for probably longer, actually - and look at Helen Mirren and Jane Fonda, these wonderful women that we are so fortunate to stand alongside and learn from still," Winslet continued. "It is incredibly exciting to have that array of skill for all of us to be inspired by."
Winslet was right to celebrate the fact, because it seems there is finally a richness of roles available to older female actresses on screen. And we should all celebrate the knock-on effect: a red carpet that's more interesting thanks to women who are bringing the same individuality that's characterised their careers to their sense of style.
GALLERY: The Coolest Looks from the Golden Globes 2016 Red Carpet
Carol co-stars Rooney Mara (30) and Cate Blanchett (46) are a case in point, both choosing blush-pink gowns for Sunday's ceremony. Mara, whose signature look is always ethereal and edgy, appeared in a ruffled bias-cut style from her go-to label, Alexander McQueen. In a barely there shade of nude, the beautiful, antique-looking gown was pared down almost to the point of invisibility. By contrast, Blanchett wore an intricate, pale rose creation from Givenchy Haute Couture - a Twenties-inspired caped style with shimmering fringing alternating with semi-transparent panels. Exquisitely complex and esoteric, and a world away from the easy-to-read flesh-flashing gowns of younger starlets, the choice of dress tells us something about Blanchett herself. (Capes, the ultimate in scene-stealing fashion drama, were big with the 40-plus set at this year's Golden Globes.)
"Cate and her peers are proving that women in Hollywood today, in their forties, are smart, sexy and principled - to be admired not only on a superficial level," Morag Ross, Blanchett's make-up artist, told The Telegraph. "The fact that Cate continues to look assuredly glamorous, elegant and stylish on the red carpet demonstrates that it is possible to have a full career, a family and carry on displaying both brains and beauty as a mature woman."
No one demonstrates this better than Dame Helen Mirren. The actress has stated in interviews recently that she doesn't like the word "sexy". But when the 70-year-old appeared on the Golden Globes red carpet, it was a struggle to come up with another term.
Wearing a figure-hugging mesh-panelled black dress with plunging sweetheart neckline by Badgley Mischka, which perfectly showcased her age-defying hourglass silhouette and impeccable sense of style, Mirren blew kisses to waiting fans as she walked the carpet. Accessorised with her platinum bob tucked behind one ear and $1 million-worth of Harry Winston diamond jewellery, it showed that Mirren possessed perhaps the most important trait for any red carpet dress: confidence.
Of course, the idea of going big or going home is easier when you're a Hollywood actress who's had time to develop a relationship with a fashion designer who knows how to make a woman of any age look red-carpet worthy. Witness Julianne Moore, who took Tom Ford, the designer of her blue sequin gown, as her date down the red carpet.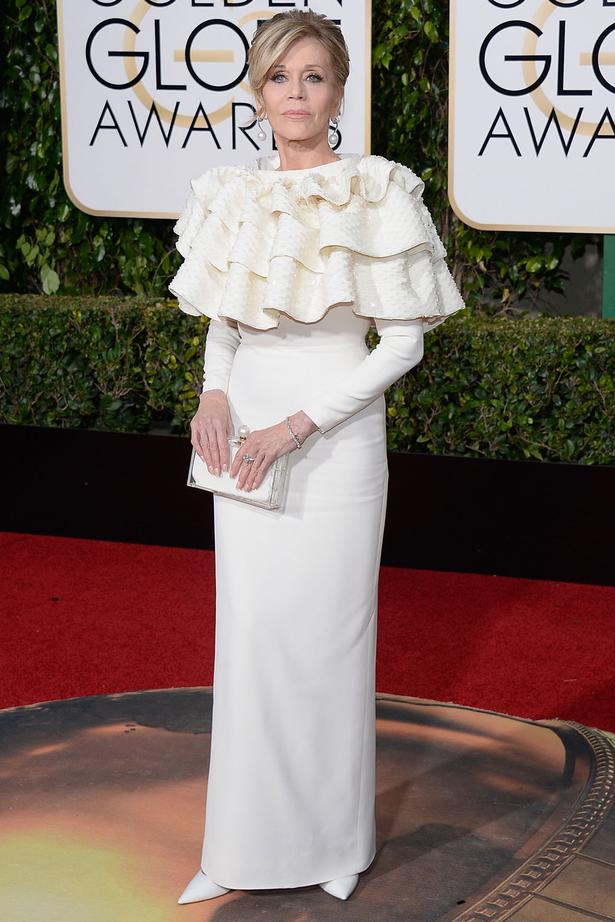 You can only "go big" when you're not afraid to take a fashion risk. Jane Fonda, nominated for best supporting actress in a motion picture for her role in Youth, wore a couture creation by white-hot label-of-the-moment Yves Saint Laurent.
The dress, a chic, long-sleeved cream column, dominated by a waist-length capelet of gigantic ruffles, was soon hitting the "Worst Dressed" lists worldwide, and was even decried by Vanity Fair as "pastry-like".
But her stylist Tanya Gill insisted that this is not something that bothers her - or Fonda. "At the moment in Hollywood, significant roles are being given to older women; they are collecting accolades and gaining steam on screen as well as on the red carpet," she said of dressing 78-year-old Fonda for the 73rd Golden Globes. "Designers around the world are very enthusiastic to dress and adorn these [older] women who define stardom," Gill says. "Age is never a consideration for me when dressing Jane Fonda, as she truly masters every look she wears. It's about an attitude and having the confidence to wear whatever you want."
Of course, risk-taking is undoubtedly more appealing when you have already built up a back catalogue of award-ceremony looks. For the new starlet who fears this might be her first and last appearance, a more timeless gown may, understandably, be the dress she wants to be remembered by.
But this is not to say we should ignore the stylings of the newest generation of actresses. Jennifer Lawrence, 25, in fire-engine red Dior couture, Brie Larson, 26, in gold-beaded Calvin Klein Collection, and Kate Hudson, 36, in glittering, pink-beaded Michael Kors Collection, all brought the glamour in cutaway or cropped ab-flashing evening gowns; clearly, stomachs are the new sexy.
Meanwhile, newcomers Lily James, 26, and Saoirse Ronan, 21, both wore quietly chic takes on the classic white Greek-goddess gown - by Marchesa and Saint Laurent respectively.
But for the older actress, age brings experience as to what works on you, and on the red carpet. And confidence. Lots of confidence.
Take Taraji P Henson, 45, accepting her first Golden Globe for Best Actress in a TV Drama for her role as ball-busting Cookie Lyon in Empire, also wearing white - an ultra-tight Stella McCartney strapless gown with train. Henson looked fiercely modern (and sexy with it), but she also brought a sense of power and attitude with her to the podium.
Not only did Henson snarl a very Cookie-like "Get off my train" as her dress was stepped on for the second time at the podium (a gif went viral on Twitter within minutes), but she refused to rush her acceptance speech: "I've waited 20 years for this! You're going to wait."
As Orson Welles once put it: "Style is knowing who you are, what you want to say, and not giving a damn."
— The Daily Telegraph
Share this: