The Online Jewellery Store You Need to Know About
Auckland-based creative Kayla Jurlina showcases a rare collection of vintage earrings on Homage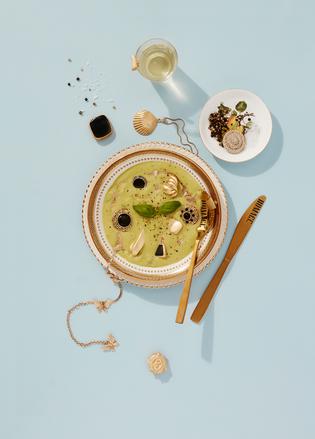 The snap of clip-on earrings was a familiar sound during the late 80s and early 90s, and now a vintage treasure chest of costume earrings, from that era, worn by broadcasters and glamorous actresses on the TV series Gloss has been unearthed by 24-year-old Aucklander Kayla Jurlina. The collection of over 400 sets of earrings has instigated the launch of Homage, a curated online store which launches today and supports a series of stylised imagery that highlights Kayla's creative spirit and love of fashion, food and art. These elements will form the basis of a special invite-only exhibition at Gus Fisher Gallery tonight.
Having grown up and been inspired by her childhood and Croatian family ("My father's side is Croatian and my mother is Kiwi so it is never a quiet household," says Kayla. "And family time is always based around a dinner table."), Kayla's love of fashion led her to a job with fashion designer Trelise Cooper for seven years. As the designer's right-hand woman, she worked across styling, sourcing fabrics and overseeing the label's diffusion line Coop.
Today she's excited about her new creative chapter with the launch of Homage and the concept of something constantly evolving, inspired by nostalgia and giving products a new lease of life for another generation.
"The spark of this idea was when my mother-in-law Judith Slane held a workroom sale at the end of last year," she explains.
"She bought an existing business called Glitz Collections in 1981 where she designed, imported and manufactured costume jewellery plated in gold and silver in Auckland. Among her creations were items sourced from Paris, Italy, America and Australia."
READ: Why Vintage Jewels are in Vogue
What is the concept behind Homage?
Homage houses different creative projects for brands to team up and work together on. It is project-based as I feel I'm not ready to commit myself to just one thing; I'm in an experimental and creative phase of my life where I want to explore outside the structure of fashion. I'm enjoying creating something of my own and that I can make the rules for.
This first phase will highlight these amazing earrings, with the hope the project moves on to other collections from my travels — whatever sells will sell; then once the time is up I'll move onto the next one. It's also a tribute to the amazing women that have paved the way for me and my generation. One of my youngest memories was my mum doing housework wearing oversized 90s earrings and jewels. It was the same with my baba [grandmother].
So I started to brainstorm how to share this without using a lookbook or a fashion show. I wanted to do something different, something fun and new. I wanted to pay respect to the earrings and to my family and that is how I came up with the name Homage. When I think of my family, I think of food so it was only natural for me to shoot the jewellery actually in food.
What do you love about earrings?
I love the empowerment you feel when you put on a pair of earrings, especially these pieces. I feel an instant satisfaction that I'm dressed up enough; and because I know they came from the 80s and 90s when power dressing was influential.
What inspires you?
Colour is really inspiring to me as you will see across the website and the imagery for Homage. Working from home has been a huge influence to my inspiration and I'm inspired by cooking and the idea of working and living in one place. This is where I had the idea to do a photoshoot featuring myself around the house.
I am so used to designing where it is about storytelling in clothes, this new project, however, allows me to tell a story through graphic design, social media and branding. I suppose it is inspiring to create your own story, your own journey.
Tell us more about showing the earrings in a highly stylised way with food?
I started this project at the end of April, so it has been a four-month process. For the print series I hand-painted the background colours, sourced antiques from all over Auckland, and used my own collection from the South of France.
I wanted to feature food that reminded me of my childhood and also food that looked decadent. I worked with a graphic designer to make my own Homage packaging, from Homage Chex to Homage jam and peanut butter. My sister Rose was a huge help to me, painting backdrops and playing with the jewellery collection to capture the perfect picture.
I teamed up with Shadowlands photography who I believe are the best at what they do. They helped make everything look perfect even if it was moving a glass 1cm over. I wanted to convey a sense of sophistication throughout these prints. These accessories carry nostalgia relatable to all. I wanted to create something where people smiled as they looked at a print.
Where did your love of fashion come from?
I ask myself every day before I get dressed 'Who do I want to be today?' I like to dress to the occasion, if it's a business meeting or a fashion event or even doing errands. I think of how I want to be portrayed, how people will remember me. Style is an expression of your personality.
What do you hope people will be inspired by with Homage?
I hope people are inspired to rummage through their mother or grandmother's jewellery box, pull out the treasures of their past and pay homage to them by wearing these. I want this project to connect with people through bringing a nostalgic feeling to each and everyone who comes across it. It will be experiential, from beautiful photography through to nostalgic products expressed in a non-traditional high-end format.
• See the full range at Homageonline.co.nz and follow Homage on Instagram @homageofficial
Share this: