Hosting a wedding flower potluck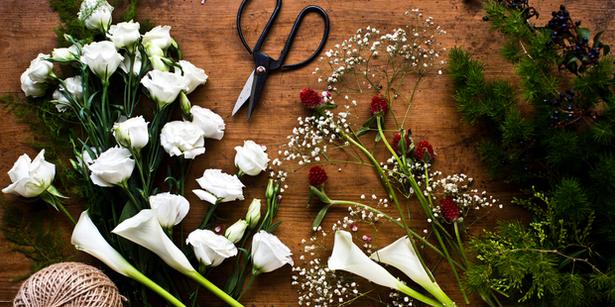 Wednesday March 26, 2014
Savvy, stylish brides are indulging their inner florist with a floral potluck the day before the wedding. This simple BYO event offers a fun and collaborative way of making your own wedding party bouquet.
We talk you through the process:
On the eve of the big day, host an intimate soiree, and ask each bridal party member to bring a bunch of flowers or greenery. Think outside the square - twigs, berries and luscious leaves all work a charm, as do simple flowers like daisies and hydrangeas.
You can find your offering anywhere - your own (or your mother's) garden, foraged from the forest floor, or bought fresh from the market. Different tastes and sources should make for a wonderfully eclectic selection.
Gathering completed and guests assembled, lay all the flowers out on a table or floor space with the essentials, scissors, jars or vases of water, and twine, then get everyone to pick and choose their own posy. You can focus on a theme, or go all-out with one of every kind, keep it simple, or go wild and rustic.
Tie your bouquets with ribbon or twine, and keep in water overnight. The gorgeously unique creations will each have a personal touch, with the added bonus of being affordable.

For more DIY inspiration, see our interview with florist Vic Brotherson here.
Share this: