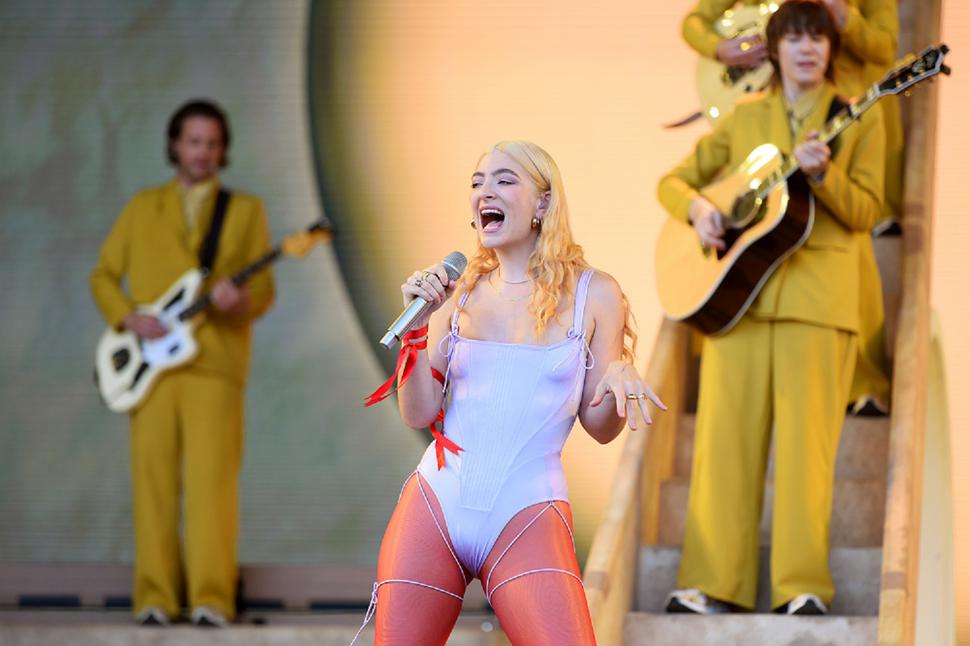 Hot Take: Your Fashion & Beauty News Refresher For The Week Of 27/06/22
From Glastonbury to Paris, here's the latest fashion and beauty news you may have missed
Monday June 27, 2022
Lorde's statement-making performance at Glastonbury
Making an appearance on the final day of Glastonbury in the middle of the European leg of her Solar Power tour, Lorde delivered a stunning performance with newly blonde hair. Featuring a cameo appearance from Clairo and Arlo Parks singing Stoned at the Nail Salon, our Viva Magazine - Volume Seven inaugural editor also called out the US Supreme Court over its ruling on Roe v Wade.
"Welcome to sadness," said the singer on stage. "The temperature is unbearable until you face it. Wanna hear a secret girls? Your bodies were destined to be controlled and objectified since before you were born. That horror is your birthright. But here's another secret. You possess ancient strength. Ancient wisdom. The wisdom that has propelled every woman that came before you. That wisdom is also your birthright. I ask you today, make exercising that wisdom your life's work because everything depends on it. F*** the Supreme Court."
READ: Lorde On Life After Death, The Weight Of Expectation & Whether There's Utopia In Her Dystopia
Olivia Rodrigo and Lily Allen perform Fuck You
Also at Glastonbury Festival, 19-year-old US pop star Olivia Rodrigo invited guest star Lily Allen on stage where the pair performed Allen's 2009 hit Fuck You. The two musicians and style favourites united in a special performance castigating the US Supreme Court decision to overturn Roe v Wade, allowing individual US states to ban access to abortions.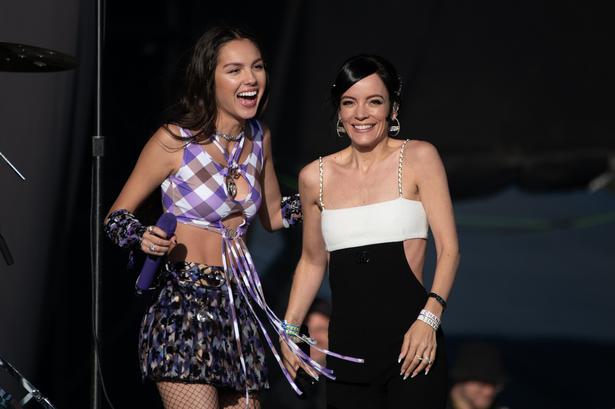 On stage, Rodrigo said, "I'm devastated and terrified. So many women and so many girls are going to die because of this. I wanted to dedicate this next song to the five members of the Supreme Court who have shown us that at the end of the day, they truly don't give a shit about freedom. The song is for the justices: Samuel Alito, Clarence Thomas, Neil Gorsuch, Amy Coney Barrett, Brett Kavanaugh. We hate you! We hate you."
Lourdes Leon wore a printed jumpsuit to close the Marine Serre show
French-Belgian designer Marine Serre, who won the prestigious LVMH Prize in 2017, showcased her latest collection in Paris on Saturday as part of her spring/summer 2023 presentation, held at a track field runway.
The sportswear-influenced collection featured cameo appearances from a range of artists and athletes, but it was Madonna's daughter Lourdes Leon who closed the show that was the biggest surprise. Among the invited guests of stylists, media and influencers, 900 tickets were also given out to the public on a first-come-first-serve basis via online reservations. "It is crucially important for Marine Serre to be truly inclusive, guaranteeing that our designs and experiences are accessible to all", the label said in show notes. Will the independent designer, who celebrates six years in business, be up for a top job at one of LVMH's prized luxury houses in the near future? Watch this space.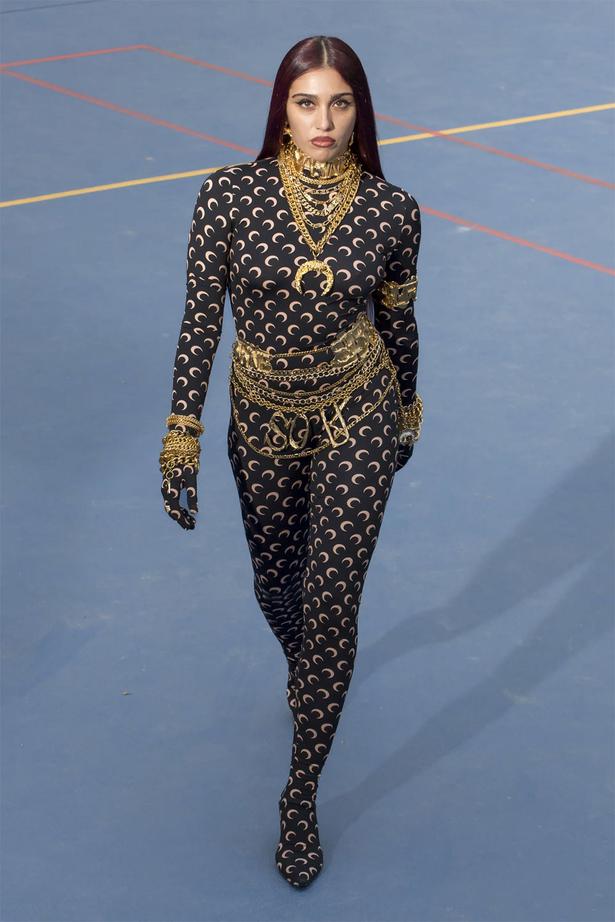 Lourdes Leon walks for Marinne Serre's spring/summer 2023 show in Paris. Photo / Supplied

Lizzo's graphic manicure is an homage to Black liberation

In commemoration of her third annual Juneteenth fundraiser, the holiday that serves to honour the freedom and heritage of African Americans being lifted from slavery, Lizzo donned an impactful manicure that highlighted pan-African colours — green, yellow, red and black. The About Damn Time singer posed for a series of photos captured by photographer Bonnie Nichoalds, in which Lizzo shows off a geometric manicure created by nail artist Eri Ishizu. The brief was simple: highlight the hues that represent pan-African pride and culture — and the execution was flawless. 

On display on her ring finger was a green base with a red heart outlined in black, while other nails featured alternating triangles from base to tip. The fundraiser aims to raise awareness of and financial support for Black-owned businesses and organisations, and this year alone the star managed to raise just shy of half a million dollars. 
Another picture from Greta Gerwig's forthcoming Barbie film has surfaced
Camp, fun energy makes its way to our screens in the coming weeks with Greta Gerwig's live-action interpretation of the world's most famous doll, Barbie, played by Margot Robbie. As official photos have been trickling on the internet in the past few weeks, a new image popped up over the weekend of Robbie and leading man Ryan Gosling who plays Ken, both sporting complementary fringed Western outfits.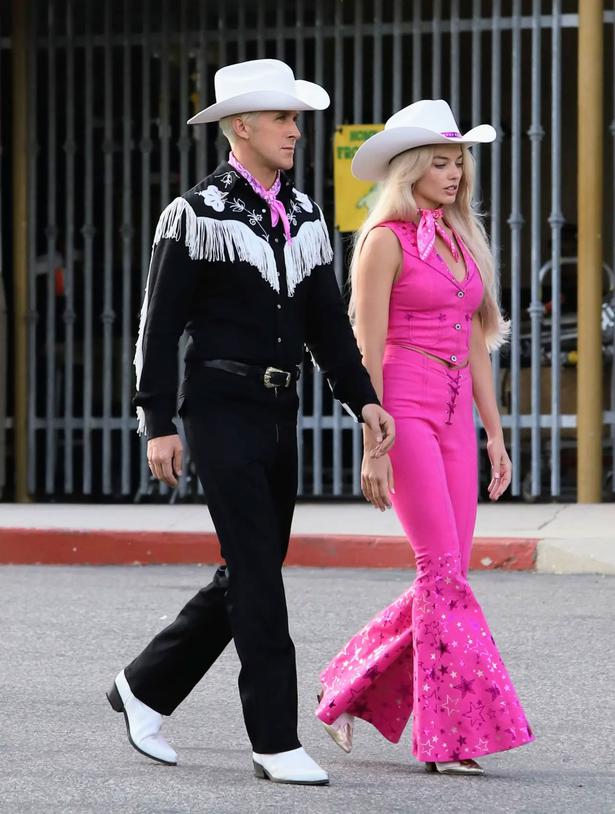 Ryan Gosling and Margot Robbie as Babrie and Ken. Photo / Apex, MEGA

The Duchess of Cambridge is immortalised in paint wearing a Vampire's Wife dress

The Duke and Duchess of Cambridge were painted for the first official painting of the couple by award-winning British portrait artist, Jamie Coreth. Wearing a shimmering Vampire's Wife Falconetti dress from Susie Cave's much-loved label, and a pair of Manolo Blahnik's iconic Hangisi heels in emerald, Coreth explained the painting was a chance to showcase a truly modern Royal couple.

"It has been the most extraordinary privilege of my life to be chosen to paint this picture. I wanted to show Their Royal Highnesses in a manner where they appeared both relaxed and approachable, as well as elegant and dignified. As it is the first portrait to depict them together, and specifically during their time as the Duke and Duchess of Cambridge, I wanted the image to evoke a feeling of balance between their public and private lives."
No easy Rhode for Hailey Bieber
In last week's Hot Take, we announced the launch of Hailey Bieber's much-anticipated three-part skincare line, Rhode. But according the legal documents obtained by E! News five days ago, the 25-year-old is being sued by a fashion label of the same name, which was first established in 2013. 
The trademark infringement complaint was filed by Rhode co-founders Purna Khatau and Phoebe Vickers in order to protect their minority-owned business, which was formed in a New York apartment almost a decade ago. It has since amassed 200K Instagram followers and been worn by the likes of Beyonce and Tracee Ellis Ross. The filing also revealed that Hailey attempted to purchase the fashion label's brand name four years ago, which was denied at the time. Hailey's team has been approached for comment. 
Gabrielle Union slays at Milan Fashion Week Spring/Summer 2023
In between attending shows with her husband Dwayne Wade, Gabrielle Union wore not one but two show-stopping hairstyles that would put even Rapunzel's enviable tresses to shame. 
The first was chunky cornrows created by hairstylist Issac Poleon, who braided six separate sections of Gabrielle's hair, which started off small before becoming thicker and tapering off to tips that sat just above her knee. Tamed baby hairs and cornrows typically go hand-in-hand, but Issac eschewed tradition and left Gabrielle's baby hairs to do their thing. 
The second was a low, super long ponytail with a surprising finish: a pretty pouf that sat at her waist. Created once again by Issac, the pouf's sizeable circumference was a fun, creative take on a classic twisted pony. 
Watch Gabrielle's glam team get to work below. 
Share this: