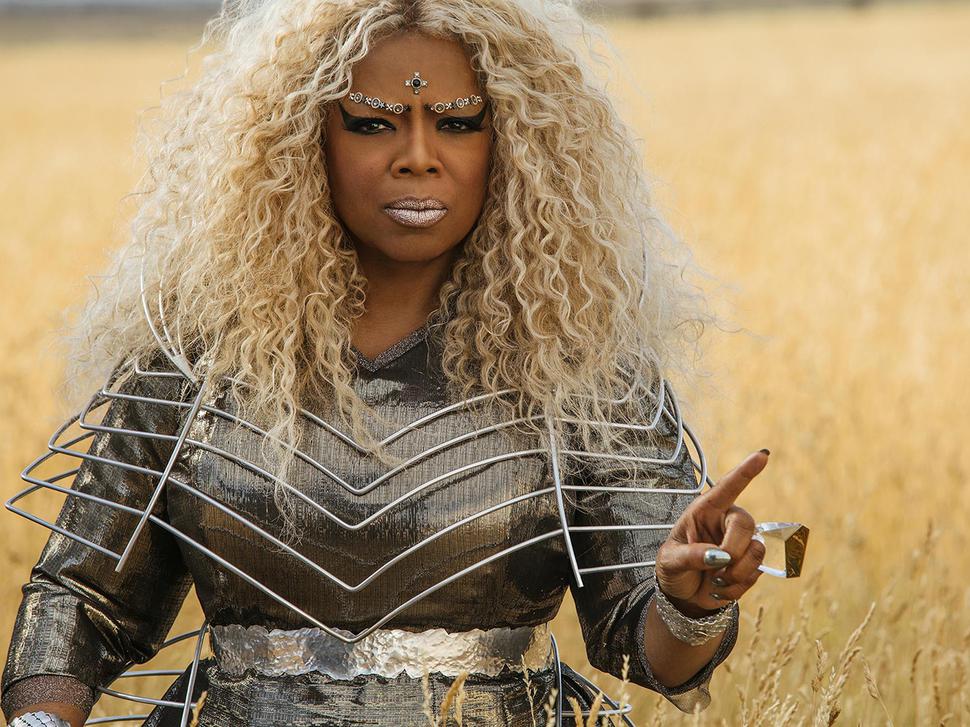 How 'A Wrinkle in Time' dressed Oprah, Reese & Mindy
The costume department behind the film's elaborate looks, heavy makeup and big hairdos
Monday March 12, 2018
It's fitting that Oprah Winfrey plays Mrs Which in director Ava DuVernay's new adaptation of A Wrinkle in Time. The character's mystical abilities match the media giant's level of influence, creating an overall air of power that the film's costume designer and makeup team worked together to reflect.
"Her wardrobe was fantastic, and we pull from the wardrobe," LaLette Littlejohn, head of the makeup department, said of Winfrey's costumes. "We tried to make her look as strong as possible."
READ: How Lady Bird Dressed to Win Five Oscar Nominations
Mrs Which and her fellow celestial beings - Mrs Whatsit (Reese Witherspoon) and Mrs Who (Mindy Kaling) - lead 13-year-old Meg (Storm Reid) and others on a journey to rescue the girl's scientist father (Chris Pine) from evil otherworldly forces. The three Mrs Ws dress in elaborate outfits with heavy makeup and big hairdos, each look representing their respective personalities and origin stories.
It's better seen than simply described. Here are some of their most fascinating looks, and the inspiration behind each one.
Oprah Winfrey (Mrs. Which)
This look, one of costume designer Paco Delgado's favourites, elicited gasps when Disney released the first trailer back in July. Mrs Which appears as a shimmering light most of the time, and Delgado drew from abstract ideas like volcano explosions and depictions of galaxies to capture that energy while dressing her human-like form.
"It was a lot of metal and silver - all these things that reflect a powerful woman," he said. "We tried to put some sort of fibre-optic (fabric) in some of the dresses to make them glow and leap from the inside."
READ: Fashion Designers Who Became Directors
Derrick Rutledge, Winfrey's personal makeup artist who also worked on the film, designed rhinestone eyebrows for each Mrs Which ensemble. He created them by setting metal pieces and jewels from a craft store on lace, choosing tones that complemented Delgado's designs. Each set took about an hour and a half to make.
"I always started with the left eyebrow, and once that was done," he explained, sighing, "I'd say, 'Now I have to take a little break.' And then I would do the same for the right eyebrow." The idea behind this cage-like structure - which Delgado described as "almost like armour" - came from hoop skirts, undergarments women wore in the 19th century to maintain the shape of their dresses.
"Why don't we put that on the exterior?" Delgado recalled thinking. "If we do that, and in metal ... it would be like a protective garment. Mrs Which's shiny makeup was inspired by her celestial nature, as Littlejohn meant it as a nod to a shattered star. "That's why her eyebrows were rhinestones and everything was glitter," she said.
READ: Cleo Wade: Voice Of Her Generation
This look was special for Rutledge, who had always dreamed of working on a fantasy project. He used silver loops from his late mother's charm bracelet to create the eyebrows. "I wanted it to be something that was sentimental to me," he said, "that made it feel like she was part of this movie."
Mindy Kaling (Mrs. Who)
Kaling plays Mrs Who, a scholarly being who often quotes famous thinkers and literary works because she finds it hard to choose her own words. Delgado viewed her as a "super librarian of the universe," and her garments reflected this worldliness.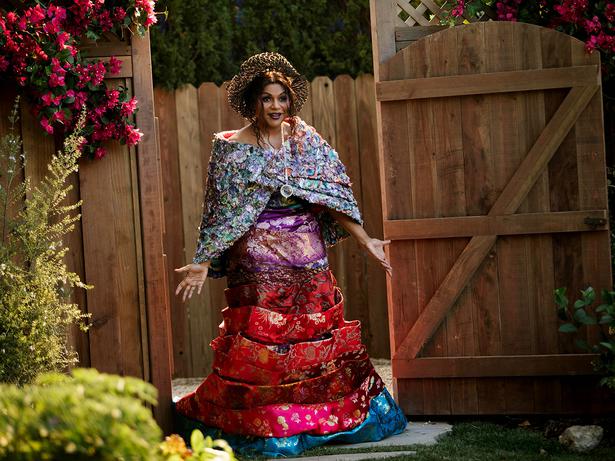 Mindy Kaling's character Mrs Who has an intricate hairstyle and quilted clothing. Picture / Supplied to the Washington Post by Atsushi Nishijima for Walt Disney Pictures

"Japanese ideas or South American embroidery or African prints were basically the idea," he said. "All these different cultures in the world that she knew so well." It's not unusual to see Kaling in crazy prints. Her character on "The Mindy Project," which wrapped in November, notably wore vibrant outfits that matched her personality.

READ: Dries Van Noten's Fashion Magic In Paris

"The mixed patterns and bold colours had become synonymous with Mindy's look," the show's costume designer, Salvador Perez, told Vulture in October. Mrs Who's makeup is more subdued than Mrs Which's. Her painted lips, mascara-heavy eyelashes and rosy cheeks contribute to a doll-like appearance, not unlike the collectable Barbies modelled after the extraterrestrial trio.

That was the intent, according to Littlejohn, who said Mrs Who's expressive nature led to close-up shots of her reciting poetry to Meg and her companions, brother Charles Wallace (Deric McCabe) and friend Calvin (Levi Miller). The makeup team opted for a not-so-jarring look, one that would endear the young trio - and audiences - to the character. "So I said, a doll," Littlejohn explained.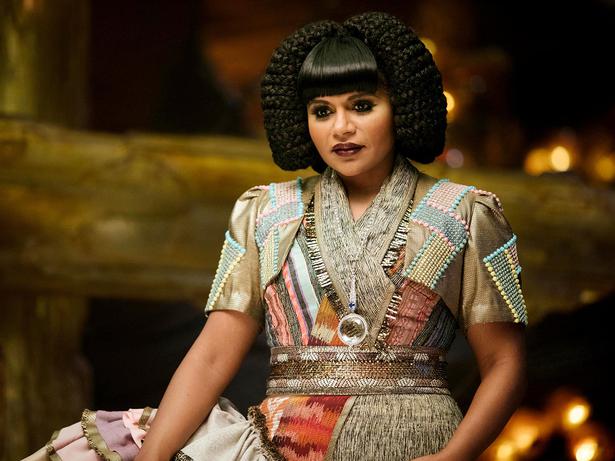 The makeup artists wanted to give Kaling's Mrs Who a doll-like appearance. Picture / Supplied to the Washington Post by Atsushi Nishijima for Walt Disney Pictures

Mrs Who's intricate hairstyle, designed by stylist Kimberly Kimble, mimics her quilted clothing. DuVernay values coherence, said Littlejohn, who also works with the director on Queen Sugar. "She knows exactly what she wants," she added. "Everything had to blend."

Reese Witherspoon (Mrs. Whatsit)

Mrs Whatsit, the youngest of the three Mrs W's, is also the best at interacting with the children because of her motherly nature. She transforms into a fantastical winged creature on the planet Uriel, and her dresses were therefore made of lighter fabrics like silk.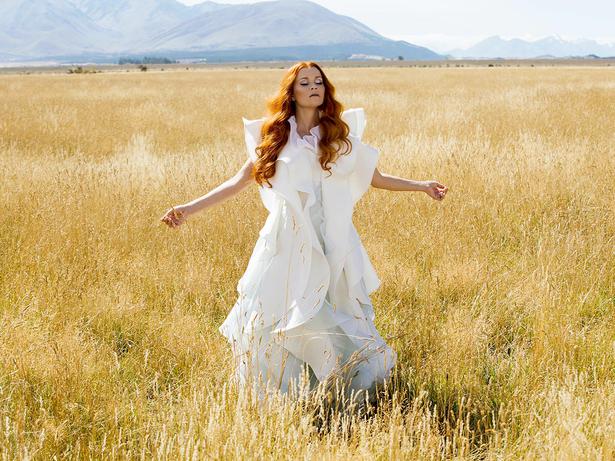 Reese Witherspoon's colours were kept consistent, pairing metallic green makeup with a seagreen-toned dress, and gold with a plain white gown. Picture / Supplied to the Washington Post by Atsushi Nishijima for Walt Disney Pictures

"When she moved, everything moved with her in the wind," Delgado said. "I was looking up images of the tails of goldfish and how they were waving with the water, and butterflies and flowers." Despite the eye-catching, fiery hue of her hair, Mrs Whatsit's makeup is generally limited to shimmery lips and matching eyeshadow. But Littlejohn kept colours consistent, pairing metallic green with a sea green-toned dress, and gold with a plain white gown.

READ: Elizabeth Arden & Reese Witherspoon March On For Women

Delgado said he worked closely with Littlejohn and Kimble to coordinate the looks. "I changed things because of what they chose for styles or colour for the hair," he said. "I'd come back with costumes, and they'd say, 'Oh, you have all these ideas, why don't we do this?' We had really, really nice continuous feedback between the three of us."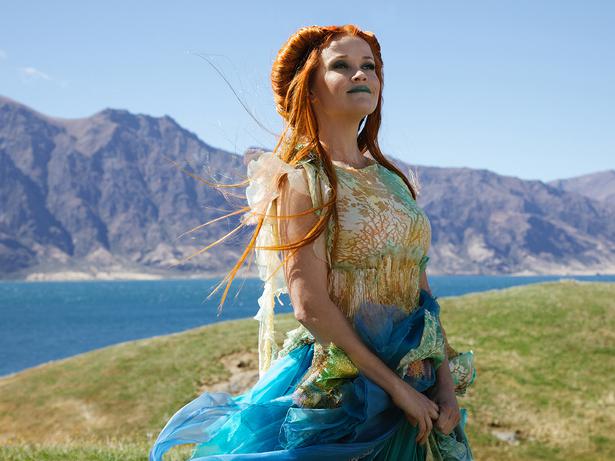 Witherspoon's Mrs Whatsit is known for her motherly nature. Picture / Supplied to the Washington Post by Atsushi Nishijima for Walt Disney Pictures

The settings influenced their decisions as well. Meg, Charles Wallace and Calvin follow the Mrs Ws to a number of planets, each one distinct in its appearance and mood - and their looks had to fit them all. "I didn't want you to be shocked by their faces going into the planet," Littlejohn said. "I wanted it to be a smooth run, where your eyes flow - like art."

— The Washington Post
Share this: