How Instagram Has Turned Everything into Art
Instagram has allowed luxury brands to sell not just clothes, but a whole lifestyle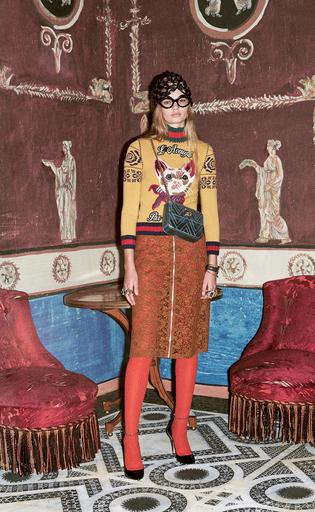 Fashion is no longer just about beautiful clothes. It's about beautiful lives. The new Gucci campaign asks that we pay as much attention to the fringed sofa as the model standing in front of it. Eastern rugs, lush upholstery and palm fronds that photobomb each shot — these are the symbols of a life lived decadently. Fashion does not stop at the heel of a shoe.
Last summer, fashion editors gathered in Cambridge to view the new collection from J.W. Anderson. For his presentation, Anderson had chosen Kettle's Yard, home of the late Jim Ede, Tate curator and collector of young artists, such as Henri Gaudier-Brzeska and Joan Miro.
The conversation lingered on the role of fashion. Clothes can never be art, said Anderson: "because we've created a culture where they're extremely disposable. But they can contribute to a beautiful life." Models in Bridget Riley-esque prints walked through a house decorated with… stuff. Bowls, sculptures, pebbles, paintings. The careful, colourful ephemera of good taste. Ede would have killed on Instagram.
This is where today's fashion focus on lifestyle is most visible. Fashion is not just skirts and shoes — it's the home you wear them in. Our attention to detail — the details that stand for acquired good taste (a knowledge that Phoebe Philo first championed the palm leaf in Céline's A/W11 campaign) — is broadcast and consumed on Instagram, where the everyday is suddenly art.
READ: Instagram Tips from The Design Chaser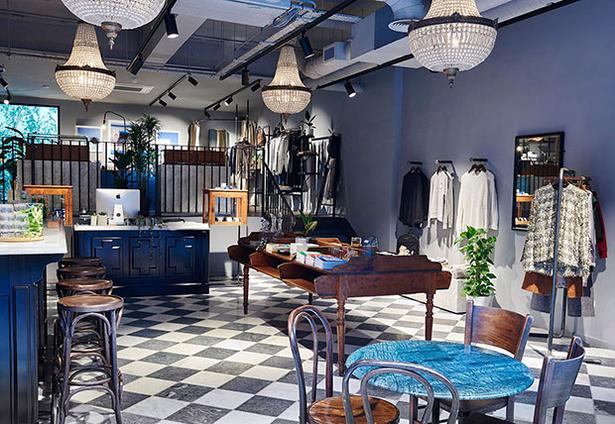 This comes at a time when many brands are having to deal with a crisis in luxury fashion. Burberry and LVMH both blamed last year's stock market collapse in China for a sharp slowdown in sales. Considering that about 30 per cent of luxury sales come from Chinese spenders, this has impacted massively on brands. Hence, perhaps, their move towards more accessible objects, and into our homes.
If you're not going to buy the £3000 (NZ$6400) dress, maybe the £20 bowl will do. It's another "entry point to their brand", says Daniela Walker at trend forecasting agency the Future Laboratory. "Brands represent who we are as a person, so we want to see them reflect our ideals across a range of products."
We expect more from a brand than just a nice top. Because of their social media presence, we take brands to bed with us, we scroll through them on the bus — we have a newly intimate relationship with them. And they're cottoning on. "Having a good coffee and buying a succulent while you're browsing for clothes is part of making a statement: 'This is who I am, these are the things I like, and the brands I like will like them, too'," says Walker.
Redchurch St, north of Shoreditch station in East London, has evolved over the last five years from grimy backwater to a sort of bearded Bond St. There's an Aesop and an APC, and just over the road from Shoreditch House is Modern Society.
Owner Nazifa Movsoumova, who opened it in October, doesn't like the term "concept store". This is a shop. But it is also a cafe. And a gallery, of sorts, and also sort of a florist. There are ceramic cups for £7 and coats for £1,000. Everything is lit with the kind of sunshine you only really find in other people's holiday photos.
I take a seat. She crosses her legs, feet sockless in Gucci loafers, and tells me what she wanted to build. A place where you can feel things. A place offline. "I want you to come in and have an experience, make a memory." A place that is, she says, "in 3D".
The sense you get, when sitting here among the art and plants, is that you have gatecrashed someone's Pinterest. Here is the distressed dark wood, the Japanese porcelain, the deceptively flattering dress. "Nobody," says Movsoumova, leaning in as if sharing a secret, "nobody 'wakes up like this'. So I've gone around the world finding these designers, these ceramics, so you don't have to."
READ: How the Berlin Look Came Back In Fashion
Here you can recreate this aspirational life, down to the marble floor, for around £250 — everything is for sale. In the window, plants from London-based florist Grace & Thorn rustle slightly as a customer enters. "Instagram has given rise to the fashionable plant as a social signifier," explains Grace & Thorn's Nik Southern.
"People Instagram their cheese plants like they would a new handbag, and some plants are more fashionable than others! Right now, we are seeing fiddle-leaf figs rise in popularity, which could be linked to the appearance of one in the HQ of Céline.
"We know that as soon as a designer features a plant at a fashion show, such as Raf Simons with bluebells at Dior, it will become the must-have — we get people tagging us in photos as soon as this happens so we know what to expect!"
A short jog away, in the space adjacent to the Ace Hotel, echoing the Bloomsbury Group's Omega Workshops, Jonathan Anderson has opened J.W. Anderson's Workshops, where he will invite kindred spirits to work with him on experiential projects. His new collaborators range from ceramicists to singers, the first being Spanish magazine publisher Luis Venegas. Next door is That Flower Shop — tiny succulents spill on to the pavement.
This need for urban greenery, Movsoumova believes, is another reaction to our lives online. "There is something soulless about being on the computer all day, which is part of why we desire things like juices, organic foods, and yes, plants." We want to feel surrounded by nature, by beauty, because of the gaps in our tech-filled lives. And the role of fashion, she says, has become to "sell into a space where something is missing". All we need is to be shown the way.
— The Observer
Share this: