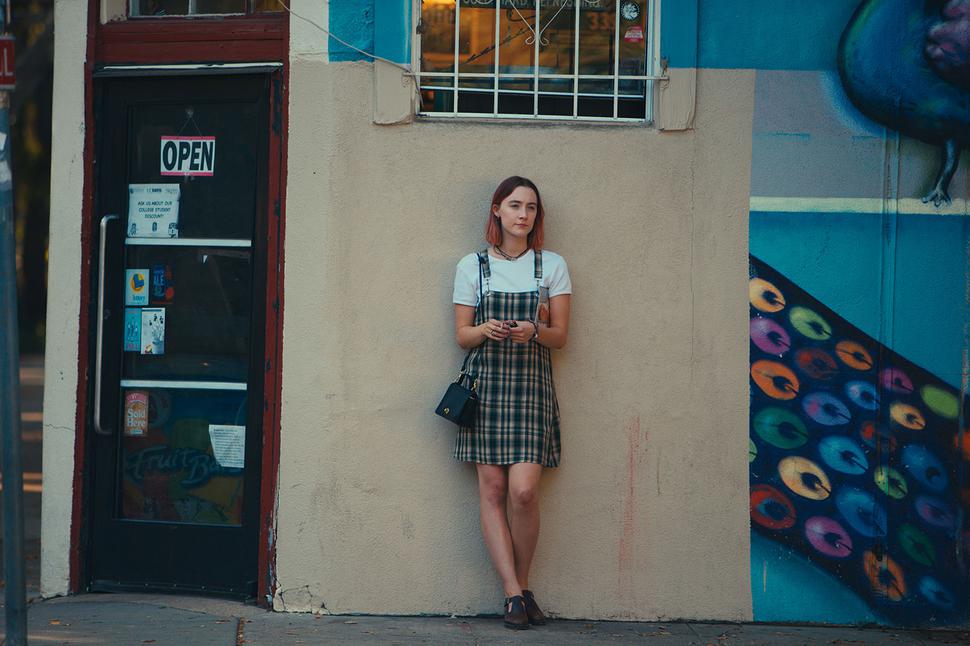 How Lady Bird Dressed to Win Five Oscar Nominations
The film's costume designer, April Napier, shares her Hollywood wardrobe secrets
Wednesday Feb. 14, 2018
Laced in black Oxfords, wearing high-waisted jeans and a white-buttoned shirt, when costume designer April Napier first met Greta Gerwig, the director and writer of the film Lady Bird, she knew immediately it was meant to be — Gerwig was dressed exactly the same.
"We had found each other," laughs Napier, who immediately landed the job which has won her a nomination at the Costume Designers Guild Awards, alongside a host of accolades including the five Oscar nominations the film has received — among them, Best Director, Best Motion Picture and Best Actress.
The coming-of-age tale follows 17-year-old Christine McPherson, played by the ethereal Saoirse Ronan, who insists on being called Lady Bird, through her high school senior year. It's loosely autobiographical for Gerwig who, like her heroine, grew up in Sacramento in the 2000s, and provided a treasure trove of references for Napier.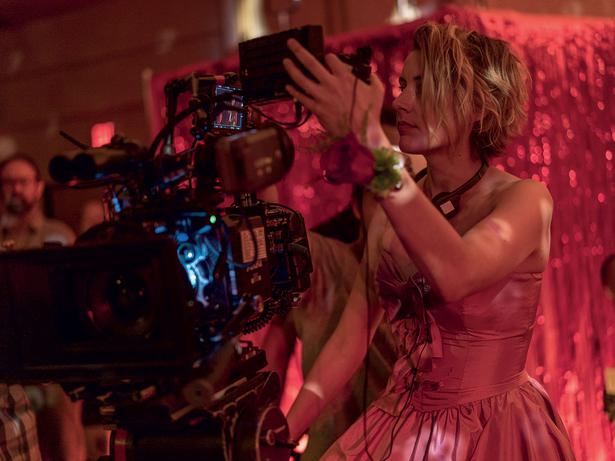 Lady Bird director Greta Gerwig has won an Oscar nomination in the best director category, becoming only the fifth women ever to do so. Picture / Supplied

"Greta gave me the most extraordinary gift which was a giant box of candid photographs from her high school years. She always described Sacramento as the 'Midwest of California'. It's a bit behind the times being in the Central Valley. So even though it's 2002, stylistically speaking it's more late 90s."

READ: Fashion Designers Who Became Directors

For the costume designer, this meant revisiting a "horrific" time in fashion — think crop tops, bootcut jeans and Juicy Couture tracksuits — but it did escape the advent of smartphones."It was before people were fed information about what they should look like or what was and wasn't cool. People had more freedom and opportunity to be individual," she says.

In evolving Lady Bird through some 96 ensembles, Napier had the challenge of dressing a character struggling to find herself. "Lady Bird wasn't bound by any era — she's the thrift-store, punk rock shopper. I was open to all periods. She has her own voice and exploration."

A lacy "Jackie O" dress was chosen for a conservative Thanksgiving dinner and a rose-coloured one for prom night. A teal blue Western-inspired get-up set the scene for the homecoming dance, while Lady Bird dons a 90s Ian Curtis-esque plaid sweater when she falls for alt-rocker Kyle (Timothee Chalamet).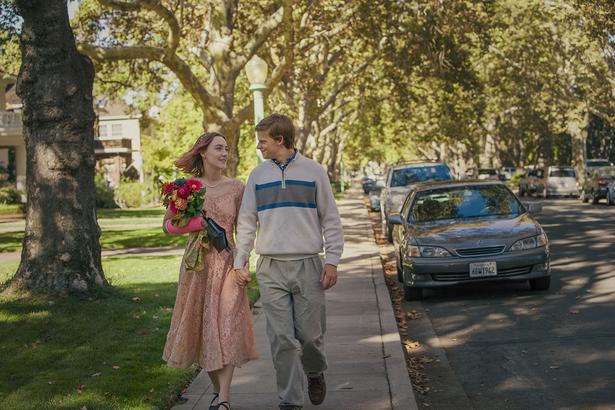 Lady Birds' whimsical thrift shop wardrobe nails late 90s to early 2000s teen style. Picture / Supplied

Napier says her favourite costume is the printed knit minidress Lady Bird wears to her school musical audition. Black, clingy and high-necked, it's a Bob Fosse nod that signals a turning point in the film. "It's the moment she declares her name is Lady Bird: 'the name wasn't given to me, I gave it to myself'."

Napier also paid the same attention to detail with accessories, offering small insights into each character, especially with their school uniforms. "Greta went to Catholic school and was very clear about it from the beginning. You're handed a uniform at the start of the year and the only way you can express yourself is with accessories and how it fits your body," she says.

READ: Fashion Insider Plum Sykes on Her Stylish Murder Mystery Novel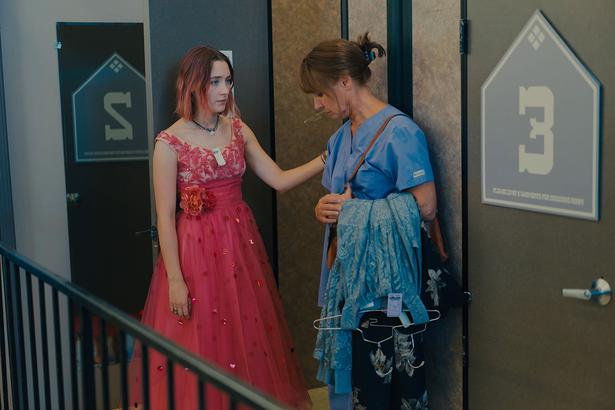 Costume designer April Napier's attention to detail had her scavenging thrift shops, flea markets and costume houses. Picture / Supplied

Lady Bird edges up her "boxy, tomboyish" uniform with layered leather chokers, patterned socks and chunky Doc Martens, while posh Jenna wears hers tightly fitted and short with Tiffany & Co necklaces. As for sweet best friend Beanie, cute hair clips were chosen, along with "tragic" Skechers."I know. It was so painful. I swore I would never do that but it was right for the character," laughs Napier who has an affinity for footwear. "It's all in the shoes. It's the grounding of a character. Once you establish that, the rest can build up from it."

Much of the wardrobe was pulled from thrift shops, flea markets, and costume houses. Interestingly, it was sourcing garments from the 2000s that proved tricky. "You can find a dress from the 50s that's still in great condition because it's constructed properly and made of beautiful material," she says. "But the 2000s stuff that I would find was literally falling off the hangers. Seams were coming apart and it was fading. It dawned on me. This is when fast fashion comes in."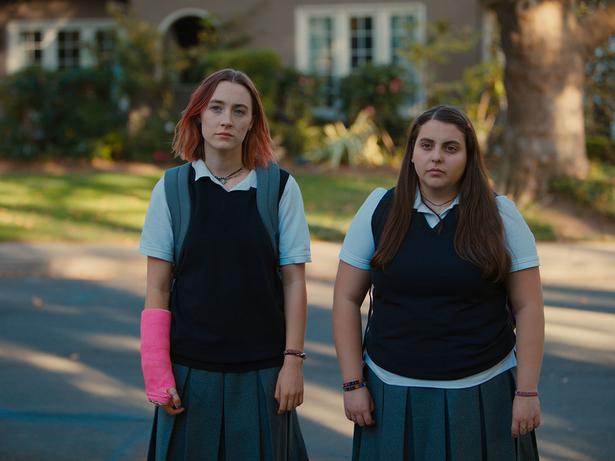 Napier expressed each character's personality by accessorizing the Catholic school uniforms. Picture / Supplied

Originally from San Diego, Napier turned to costume design by "total accident". The arts graduate, enticed by L.A.'s coast and a secure paycheck, relocated in the late 80s to work as a stylist and continue her ceramic practice. She says her screen work is an extension of making, and she remains selective about projects. "I only want to tell a story that is authentic. That's why Lady Bird appealed to me and why it resonates so well with other people too."

READ: Street-style Star Natalie Joos on The Power of Vintage

As the underdog of the awards season, the film has been called this year's Moonlight. "People are hungry for truth and audiences are responding to stories with it," says Napier.

Lady Bird has already received two Golden Globes (Best Motion Picture and Best Actress) as well as being in the running for the five Oscars. Its Best Director nomination for Gerwig is an important moment for all female filmmakers. It is only the fifth time a woman has been nominated in the category since the Academy Awards began, 90 years ago.

Last year marked something of a turning point for women in Hollywood. Box office hits Wonder Woman, Star Wars: The Last Jedi and Beauty and the Beast were all fronted by female leads and filmmakers such as Dee Rees (Mudbound), Patty Jenkins (Wonder Woman) and Kathryn Bigelow (Detroit) emerged as forces in cinema.

Gerwig is a particular standout. "I feel like her voice is so important for a change in narrative right now," says Napier, who has just finished a long run of working with other female directors. The process was an "unplanned" but satisfying synchronism. "I really like it. It's been nothing but a supportive and respectful process."

READ: Great Female Writers to Read

Her work has also included Kelly Reichardt's sixth feature Certain Women, and Coca-Cola's recent Super Bowl ad for director and Free the Bid founder Alma Har'el (an initiative which addresses the gender imbalance in the commercial industry). "The goal though is to not have to say 'female' director," she says. "What we want is an even playing field. You should just be a director."

In the momentum backing the #MeToo and Time's Up movements, there is an optimism that things are changing in the industry. "I feel like I'm watching a paradigm shift," says Napier.

"In order to get there, you have to have some groundbreaking and shake things up. I feel people are activated. Women are standing tall."

• Lady Bird opens in cinemas February 15
Share this: