How Minimalist Fashion Went Full-Throttle Maximalist
Understated design has long been at the heart of Scandi style — so it was overdue a bit of cheering up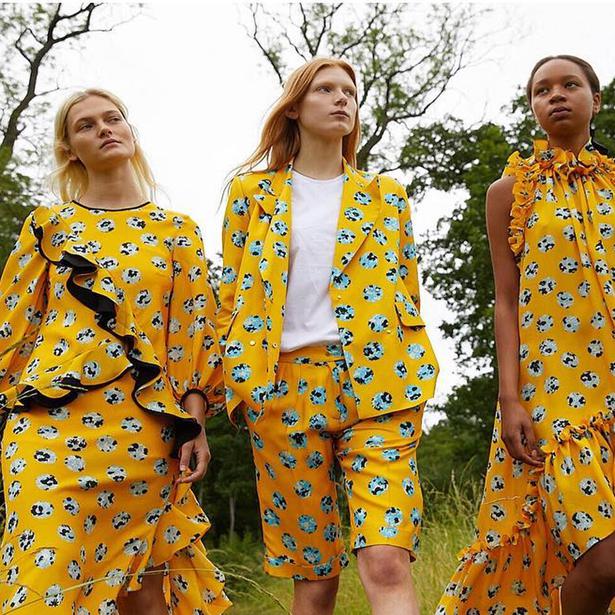 Sunday Aug. 12, 2018
If you took a Google image search as gospel, then everyone in Scandinavia would have a capsule wardrobe filled with grey, navy and camel classics in wool, cotton and cashmere.
The stereotypes of minimalist Scandi style are just as vivid as that effortless Parisian chic touted by Coco Chanel, or la dolce vita glamour that Italian fashion house Dolce & Gabbana has built an empire upon.
And nowhere was that minimalist core of Scandinavian style more apparent than during the Copenhagen and Stockholm fashion weeks, the former of which kicked off yesterday in Denmark's capital. Editors and "influencers" stepping out in artfully layered neutrals, paired with simple, sculptural jewellery in silver or gold, crystallised the Scandi aesthetic.
READ: What Makes Scandi Style So Successful?
Even the lifestyle trends coming out of Scandinavia have reinforced that pared-back aesthetic. First there was hygge ("cosiness"), which conjured up images of cashmere blankets draped over Hans Wegner chairs, and then came lagom, meaning just the right amount.
Agreed, a little more moderation is something we could use in our wardrobes — fast-fashion shopping on the high street means a constant turnaround of disposable pieces that go out of vogue as quickly as they come in. But too much minimalism — well, there's a danger that neutral and classic can look a bit boring. Which is why the latest trends coming out of Scandinavia aren't what you'd expect.
"A couple of years ago, all eyes were on Sweden," says Trine Kjaer, who founded beauty brand Trine's Wardrobe following the success of her blog, "and all the great Swedish brands such as Acne and Filippa K: quite minimalistic. Blue, grey, black, beige, the perfect basic wardrobe. Suddenly everybody talked about Copenhagen. Danish style is not at all like that — it's more versatile, more colourful and more playful than Stockholm."
Leading the charge from Copenhagen is Ganni, which in the last few years has gone from quietly selling cashmere to ranking as the number one bestselling contemporary brand on Net-a-Porter, with a flagship store planned to open in London in the next 18 months. The label is now known for brightly coloured and boldly printed statement pieces: floral and checked ruffled dresses, leopard-print separates, rainbow-striped knits. It's catnip to the Instagram generation, who rush to be the first to post images of themselves wearing the brand's designs.
For the rest of us, the wide offering of dresses-with-sleeves-and-a-below-the-knee-hem means that the brand appeals — there are myriad choices for summer weddings, parties, holidays and, at least on the Telegraph fashion desk, workwear in the heatwave."We've long admired Scandinavian style for its minimal aesthetic, but recently we're very much seeing a shift towards maximalism," says Tiffany Hsu, fashion-buying director at mytheresa.com, "particularly from brands such as Ganni and Saks Potts. There's a new focus on overly bright colours and different prints. We've just picked up Baum und Pferdgarten for next season, who channel this shift perfectly."
READ: The Ugly Fashion Trend: Is Fashion Trolling Us Or What?
Also out of Copenhagen are Stine Goya, whose colourful, unapologetically feminine designs have earned a space in Fenwick but can also be found online, and Cecilie Bahnsen, for sculptural ruffles and tiers that would make dramatic occasionwear (imagine the shorter dresses layered over smart trousers). Danish label By Malene Birger's new creative director, Mathilde Torp Mader, has done stints at Marni and Mulberry, where she honed her eye for colour.
Even in London, new label Brogger actually comes courtesy of two Danish co-founders with a love for vivid shades. Outside the Danish hub, Norwegian label Holzweiler mixes sporty silhouettes with scarf prints and sweetshop colours. And Swedish fashion might be built on those understated wardrobe pillars, but Carin Rodebjer's label Rodebjer sells high-impact prints alongside them.
"I think every Scandinavian woman loves her fitted jeans, knits and all the great basics you can mix and match," says creative consultant and stylist Darja Barannik, "[but] we are more playful and experimental than we like to admit."
It seems that Scandi style does share something with French — an emphasis on appearing effortlessly stylish, rather than intentionally so."If you had asked two or three years ago what Scandi fashion was, the answer would have been minimalistic, clean and 'safe'," says Tine Andrea, author of thefashioneaters.com. "But it's taken a dramatic turn, from simple blazers, jeans and technical jackets, white sneakers and earth-coloured items, to printed maximalism. We're proficient when it comes to layering — probably because of huge variations in weather — and therefore it's nice to have all these elements making everyday style a bit more refreshing than a few years ago."
The shift is most apparent when comparing photographs of Scandinavian showgoers from the past few years. In 2016, a uniform is immediately apparent among the Swedes and Danes as they zip between shows: a neatly tailored blazer, in navy or black, layered over a plain T-shirt tucked into blue jeans. Black sunglasses, black loafers or brogues — Scandi editors have followed the dress code down to even the messy blowdry.
READ: The Viva Guide to Pattern Clashing: How To Mix Patterns Like A Pro
In 2018, those same editors seem to be singing from a very different hymn sheet. Handbags and shoes are candy-coloured, polka-dotted or metallic. In place of navy neutrals are bright checks, florals, animal prints and stripes.
This more-is-more shift doesn't mean retiring classic pieces, nor suddenly stepping out in polka-dot frills if you're usually the navy jumper type. The Duchess of Sussex makes a strong case for minimalism, but it's the occasional jolts of yellow and red that stop her wardrobe from becoming repetitive. And we could all learn something from the use of colour, the brave print pairings, the surprising repurposing of fabrics — satin for day, brocade cut into a sporty bomber jacket — coming out of Scandinavia now.
Getting stuck in a style rut — even a chic Scandinavian — can mean falling out of love with your wardrobe and, at the very least, that bright green skirt will cheer you up far more than a black one first thing in the morning.
— The Daily Telegraph
Share this: