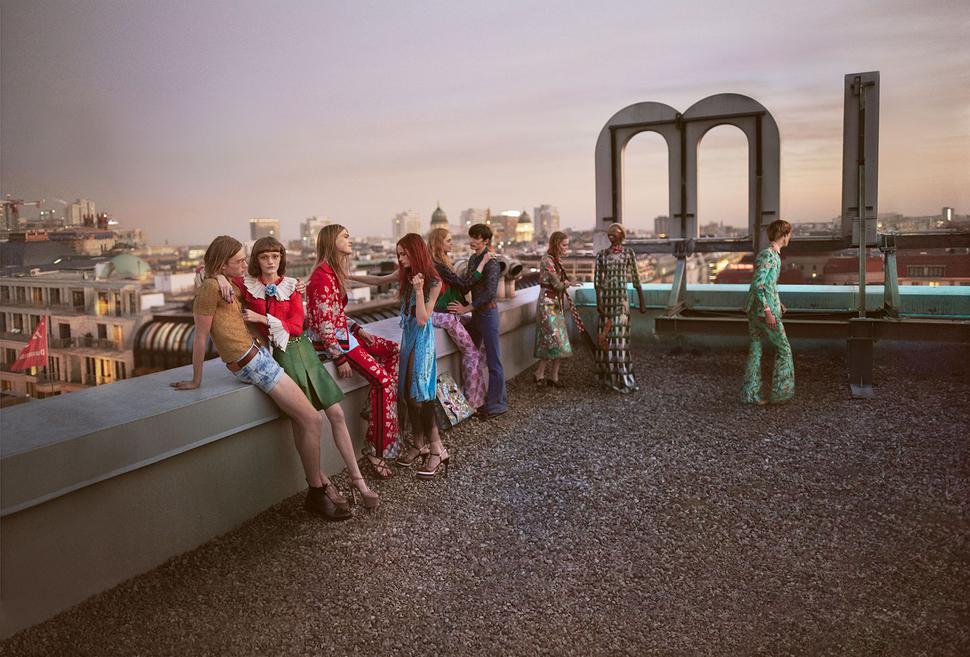 How the Berlin Look Came Back in Fashion
It's high time Germany lost its reputation as an unstylish nation
Tuesday Jan. 19, 2016
When Berlin Fashion Week begins this week, it will have more cachet than usual. All in all, it's been a good month for the city's style credentials. Recently Gucci (currently dominating the mood of fashion) unveiled its spring/summer ad campaign, shot on location in Berlin and taking inspiration "from the aesthetic of German 80s pop culture". That was followed by Givenchy releasing images for its pre-autumn collection, which were also shot in Berlin against a backdrop of brutalist tower blocks.
GALLERY: Gucci at Milan Men's Fashion Week
Meanwhile, Deutschland 83, a thriller set in the divided German capital at the height of the Cold War, has after two episodes become the UK's highest-rated foreign language drama. And part of its appeal lies in the authentic 80s outfits by costume designer Katrin Schafer — a bold mix of retro sportswear and New Romantic glamour that suddenly appears to be cool again.
As a nation, Germany has not enjoyed much of a reputation as a hotbed of fashion — unfairly, given that Karl Lagerfeld, creative director of Chanel and Fendi, is German. As are Jil Sander, the minimalist whose aesthetic has had a vast impact on design since the 90s, and photographer Juergen Teller, whose raw, flash-heavy signature has been a defining look in fashion imagery for the past 20 years.
READ: Zoolander Lands First Vogue Cover
It has taken all the hard work of stylish natives, including supermodel Claudia Schiffer (aged 45 and currently starring alongside Naomi Campbell and Cindy Crawford in the Balmain ad campaign), movie star Diane Kruger, and fashion editor and social media star Veronika Heilbrunner to kick down the stereotype of Germany being a non-fashion nation.
Yet even Germans are reluctant to claim their stake. "Fashion is not really in the German aesthetic," says Roberta Benteler, the Westphalia-born, London-based founder of the (very fashionable) Avenue32.com boutique. "It's not a whimsical country. The German mentality is very direct, very strong, very clean, and we've always stayed true to that."
Ironically, that stereotypical national fondness for trekking sandals and socks has been something of a super-trend over the past few years. Things are definitely on the turn.
"Germany has been historically focused around minimal styling, but there is a new acknowledgement of our Romantic roots," says Dorothee Schumacher, one of Berlin Fashion Week's leading designers. "You can see it in our music, our art, and now it's creeping into our fashion."
Certainly there is an appetite for buying fashion within the country. A recent Euromonitor paper revealed Germany to be the biggest consumer of apparel and footwear in Europe. It is where you will find H&M's largest customer base, one of Net-A-Porter's biggest markets, and Europe's greatest lingerie spend. The Munich-based online luxury retailer, MyTheresa.com, saw a turnover of €82 million in 2014 and privately owned stylebop.com, another Munich e-tailer, has enjoyed a 40-50 per cent growth trajectory for almost a decade.
READ: The People Who Defined Fashion in 2015
Meanwhile, Berlin is basking in its moment in the sun. The past few years have seen major film and TV shows make use of the city as a location — including for Hunger Games: Mockingjay Part 2, The Man from U.N.C.L.E., Bridge of Spies and the latest series of Homeland. Their various stars have been spotted in Soho House, which opened in the Mitte area of the city in 2010 and boasts a rooftop pool and, in its basement, The Store, a fashion and lifestyle shop.
References to the city's 80s look were kicked off by London fashion designer J.W.Anderson. His AW15 womenswear collection paid homage to Eastern Bloc party girls, reviving 80s glitz — all shiny lamé, big-buckled belts, shoulder pads and slouchy boots. While the older audience might have found the references hard to stomach, the city's younger generation had no such prejudice, and where Anderson went, others followed.
"For so long it's been seen as really old-fashioned — the opposite of cool," says Heilbrunner. "But over the past two years there's been a huge retro wave. Sportswear is back — Gucci and Chloe did old-school tracksuits this season. That's the Berlin look." And a moment of acknowledgement from the fashion industry, at last, for Germany.
— The Sunday Telegraph
Share this: