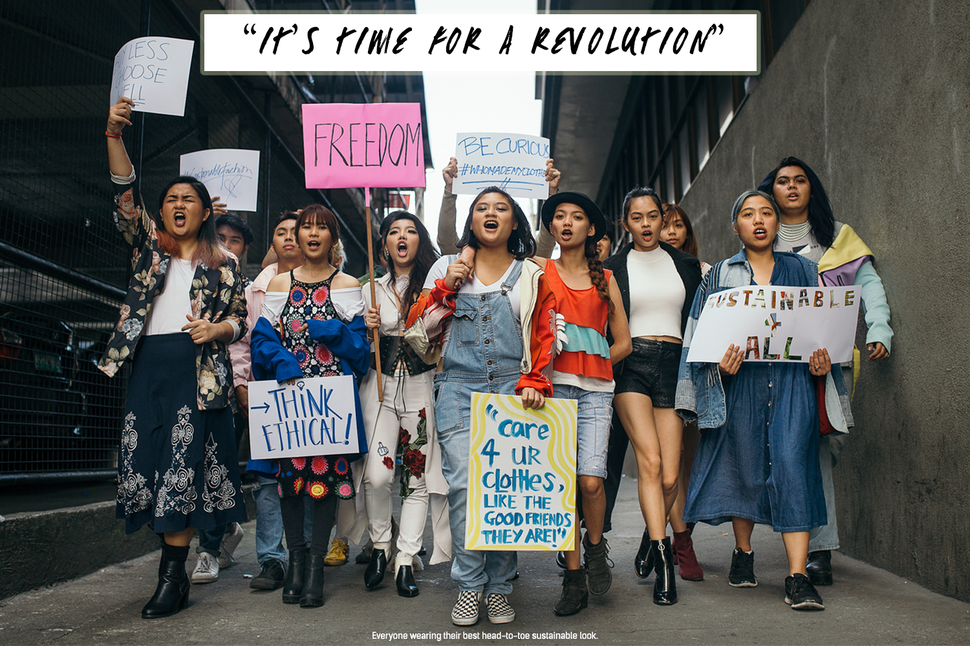 How to be a Conscious Clothing Consumer
Fashion Revolution Week's Melinda Tually shares advice on making conscious decisions for clothing
Wednesday April 25, 2018
Melinda Tually put her hand up to run the Australian and New Zealand branches of Fashion Revolution after meeting the founders at an ethical fashion conference a few months after the Rana Plaza Collapse of 2013.
"I didn't know what I was getting myself into back then," she says. "I said 'yeah I'll run it' because I'm deeply passionate about the cause. Six months later we kicked off with 65 countries around the world, so I've been involved since the very beginning."
Melinda's role is to mobilise the Fashion Revolution movement in Australia and New Zealand. That means "driving the movement and driving the message" of Fashion Revolution, a global movement for change created after the Rana Plaza Collapse of 2013 killed over 1100 factory workers. Its aim is to unite people and organisations to change the way clothing is sourced, produced and consumed.
Part of her role is facilitating and coordinating the events taking place to mark the fifth annual Fashion Revolution Week (April 23-29) of which there are 50, and she does it all pro bono.
READ: Talking About a Fashion Revolution With Theresa Grantham
"Social justice has always been a thread in my life and something that I've been passionate about. My mum did a social work degree late in life and my father had a disability, so growing up with a consciousness of how unfair the world can be to those who are a little bit different always meant I leant to those who are lesser than, or who are doing without," she says.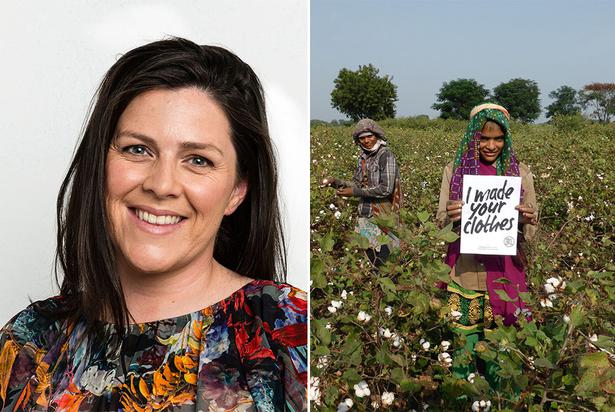 She set up a shop in Sydney's Surrey Hills in 2008 that stocked fair trade items, which became her entry point into fashion.
"I ended up being deputy chair of the Fair Trade Association of NZ and a strong advocate for worker rights and worker voice." It was through this role that she became interested in the fashion.
READ: The Annual Ethical Guide New Zealand 2018 Results
"When I was in my shop I started to see changes in the fashion industry – a focus on sustainability and brands taking action and consumers having a voice. I wanted to be somewhere where change was taking place and to contribute to that change, so that's how I ended up going to the ethical fashion conference and became involved in Fashion Revolution.
Viva: What are the key changes you'd like the fashion sector to make?
Melinda: I think we're seeing them being made. There are definitely wins in the transparency arena. There are 150 brands now publishing their factory lists. Transparency is critical because you can't manage what you can't measure.
Visibility on your supply chain is the first step to being able to address the issues in your supply chain. For example with Rana Plaza, brands didn't even know that their clothes were being made in that factory.
Environmental consciousness has become much more mainstream, so there used to be pioneering brands like Patagonia talking about resource scarcity and material choices and kindness to the environment, water stewardship, and pollution issues.
READ: Sustainable Sneakers to Look Out For
Now those environmental considerations are being taken up in the mainstream, which is really encouraging and really critical because the situation is pretty dire around the world.
It's a high impact industry – it's one of the fifth most polluting industries in the world and people don't really consider that. So that's something we're definitely seeing action on.
Can you highlight any brands that are doing inspiring things in this area?
Patagonia is doing amazing stuff. G-Star has just released a cradle to cradle denim line which looks at the chemical components in the products.
Levis brought out waterless denim, which is jeans that use 90 per cent less water in their production. The brand also made the science behind that open source so other people in the industry can use it.
Brands like Outerknown, Kelly slater's surf brand. They started off being conscious from the get-go. They publish their factories, work with their supplier partners, consider the materials they use, use fair trade certified garment factories. This was a smaller brand kicking off from the get-go considering all the facets like labour rights including environmental issues.
Nudie Denim is 100 per cent organic and has been since day dot. They are probably the most sustainable denim company in the world, which not many people realise. They're also transparent; they list all of their factory partners. They upload their audits. They're someone who has been doing this before it became cool to care.
You also run your own business as well as managing Fashion Revolution. What does a typical day look like for you?
I'm an ethical clothing consultant, so I work with the brands to achieve what the movement is asking them to achieve. Asking the brands to be transparent and asking them to be responsible for their supply chains, to have that visibility.
I work with brands on their ethical sourcing programmes to do exactly that. To achieve what everybody wants to see. So at different times of the year Fashion Revolution is a lot busier for me.
FIVE WAYS TO BE A CONSCIOUS CONSUMER
Fashion Revolution Week is all about asking brands hard questions about how their clothing is made, says Melinda, so ask the question 'Who made my clothes?'. "Every time someone asks on social media 'who made my clothes', those conversations do end up in the boardroom. And if brands aren't able to answer them then, they do start asking those questions internally. The tide is turning. People are looking for information, rather than just what something is made out of or how it looks. That information is available now thanks to social media."
Be a conscious consumer 

—

 "Love your clothes. Commit to them. Be more considered when you buy clothes. Ask yourself 'can I wear this more than 30 times' each time you go to buy something new. Resist impulse shopping," says Melinda.
Choose a #haulternative — swap clothes, repair clothes, buy secondhand, fall back in love with what you already own, re-design or DIY a piece of clothing, buy vintage, hire clothing, embrace slow fashion (woven, knitted, embroidered). Find more ideas at Fashionrevolution.org.
Do your research

 

— If you want to know where your clothes come from and the materials they're made from and the conditions under which they're made, find out.
Create an event in support of Fashion Revolution in your country or attend one that's already organised. Visit Facebook.com/FashionRevolutionDay.
Share this: