How to Dress French, According to Carine Roitfeld
At 61, the Parisian stylist is still the queen of the front row - and now she's sharing her secrets and her wardrobe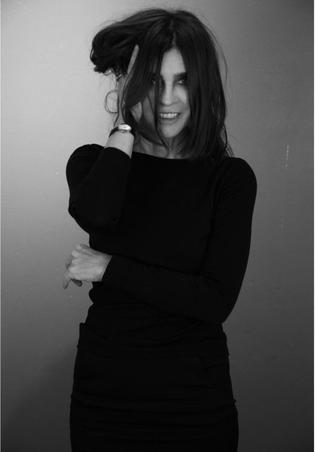 Even in a posh Parisian hotel at 10am on a Tuesday morning, Carine Roitfeld rocks a fierce look. Black pencil skirt, fishnet tights, a white shrunken T-shirt printed with her own image, a leopard-print coat thrown over her shoulders - it's vintage haute-punk Roitfeld, down to the smudgy black eyeliner and mussy brown hair.
Roitfeld's sexy uniform is usually a smattering of luxe, hot labels - Givenchy, Tom Ford or Christopher Kane - but today it's head-to-toe high street. Everything she's wearing she has designed as part of her new collaboration with the Japanese chain Uniqlo. "Honestly, it feels like me. I don't feel different," she says, with a Gallic shrug. "I'm wearing Uniqlo [but] I feel exactly the same."
Roitfeld, 61, who is much softer and warmer in person than her rock'n'roll image might suggest, is the former editor-in-chief of French Vogue who, by the end of her decade-long tenure at the magazine, had become as much renowned for her edgy, sexy personal style as her risque editorials. In the Nineties she had established her name as Tom Ford's stylist during the designer's Gucci years, when the campaign imagery they shot with Mario Testino created the definitive glossy look of that decade and propelled the label to superbrand status. Now the mother of two, and recent grandmother, is editor of her own fashion magazine CR Fashion Book, and global fashion director for Harper's Bazaar.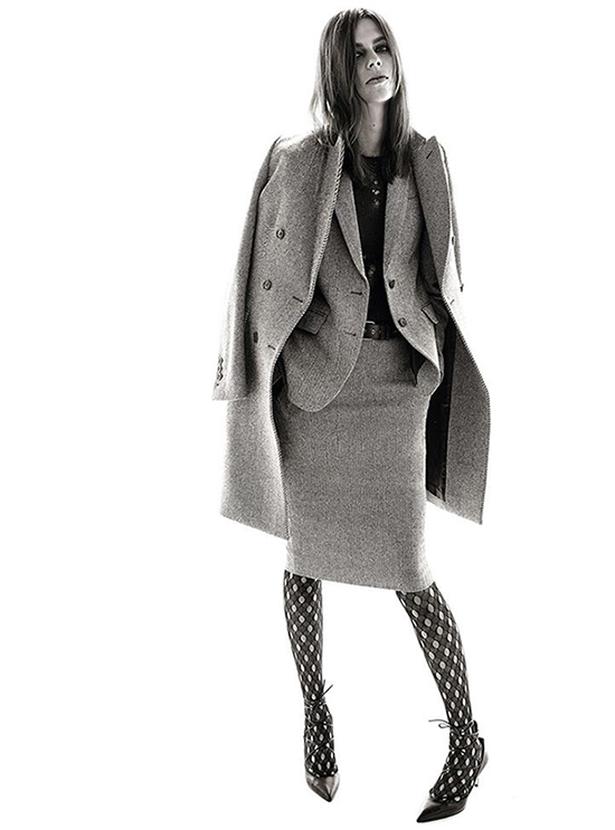 Carine's collection for Uniqlo is based on her individual style. "Most people think I'm very 'night' in the way I dress, but for me it's my uniform for working, and it's also what I wear for going on a plane, for going to dinner - I will not change so much," she says. "I think for Uniqlo it's more feminine, more sexy, than they are used to, so it was challenging for them, but they got it. They understood the little details that were important to me. Because if I come to visit Tom Ford and I'm in my Uniqlo I don't want him to look at me and think, 'Eurgh, what's that? It looks cheap.' No, not at all."
READ: How Kate Middleton Got Her French Style
She's keen to point out that she's not a designer - she came up with the ideas and Uniqlo delivered them. "I'm not in competition with all my friends - not with Riccardo Tisci, Karl Lagerfeld or Tom Ford. I'm not planning to jump on the new look of what Miu Miu did yesterday or Givenchy did last winter, you know. I want to stay friends with them! I'm just a woman with a certain style. To me it's quite a boring style, I'm always the same."
But at a time when creating a "personal brand" appears to be the apex of career success (whether you're six, 16 or 60), and what you look like is so much a part of it, the secret of Roitfeld's "boring style" - so nonchalant, so Parisian - is something we want to be privy to. So here are some of her pointers:
Have attitude
"It's about the French attitude and the French way of wearing. We are very picky. I always have my hand in a pocket. Usually there is no pocket on a pencil skirt, but in this collection there is. It's all little details, nothing revolutionary, you know? It's not a new jacket with four sleeves."
Be the same
"I'm always wearing the same. Even if elements are different, it's always the same silhouette. So the trousers in the collection are a continuation of the pencil skirt, with the pockets and the same silhouette, slim and fitted at the waist, not too long. It's all about length and proportion."
Use your tailor
"I usually spend a lot of time at the tailor's. I get everything altered so the fit is right. It makes all the difference. I always have the coat a little shorter than the skirt [about half an inch]. Although now Uniqlo has made it all perfect for me, so I'll never have to go to the tailor again."
Put some man in your wardrobe
"I'm very ambiguous about women and men. I mean in a fashion sense, of course. So most of the tailoring I like is very 'man': the material, the finishing, the shoulders. The tail of the coats is very man. So it does not look cheap. A man never looks cheap."
Wear a slip dress
"You will see a lot of slip dresses in this collection because this is a very French tradition - although it was quite revolutionary for the Japanese. I love fashion and to mix pieces, but you need to have a base. I will wear this under my 'ladder' sweater or put on a jacket for the evening. Or under a skirt so you see a little bit of the lace at the bottom."
Embrace the animal
"I love leopard print so I made a coat but you know my leopard is very dark, it's not yellow, not aggressive. So even if you're a grandma like me you can wear leopard. My granddaughter always says, 'Oh, Grandma, I love your fur!'?"
Show some skin
"I like to show some skin, it's nice. So the slip dress is good and a camisole top. Also I don't make the neckline of the sweaters too high because I like the collarbone to show. And you can push the sleeves up on your jumper, of course."
Wear fishnets
"I always like tights so for the first time Uniqlo has done fishnets, just for me."
Make it easy for yourself
"I travel a lot, so if I have the same base I make it easy for myself. I wear black because I like it, but also because it's easier - you don't have to match the pink shoes with the pink dress. So black, leopard, camo, a slip dress, tailoring, I can mix it all up. Is there ever a time when black doesn't work? For a wedding. That's a big problem for me. I like white, too, but you cannot wear it to a wedding, so it's a big problem. Although the last time I had to go to a wedding, believe it or not, I was in bright pink."
Only ever pack a carry-on bag
"Because I travel so much, I've decided not to check in my case now. So we're always trying to find the best and cheapest trolley - I think mine is from Muji. But it makes it quite fun to pack. So you just put this slip dress in and a jacket for night and you mix up leopard, lace, black, camouflage - all my key things. You don't have to buy too many things, but the right things. Also, the trousers and the skirt we have made for Uniqlo are polyester, which does not wrinkle, so it's good for travelling. See, we really think about this sort of problem. It's very easy, very washable, but with attitude."
— The Daily Telegraph
Share this: