How to Look Cool in the Snow
Looking good on the slopes is now easier than ever, thanks to a host of labels upping the technical ante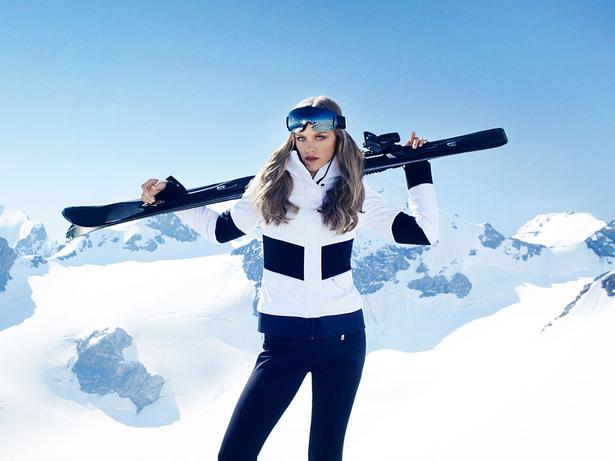 Wednesday July 8, 2015
Winter sports are daunting — and expensive — so all but the most spendthrift novices will beg, borrow or steal as much gear as possible from more experienced friends. But, as the competitive nature of the sport often extends to getting dressed, this tactic won't last long if you're serious about the white stuff. Of course, nobody wants to be chastened by mutters of "all the gear, no idea" as they join the queue for the ski lift, but this is one sport in which hi-tech kit isn't just for poseurs.
"It's vital to have the right clothing and equipment, as conditions can be tough," says Candice Fragis, senior buyer at Net-a-porter.com. Last year, the online retailer launched net-a-sporter to cater to the increasingly active lives of its customers. A ski category was later added, in which brands well known among winter sports aficionados, such as Peak Performance and Oakley, now face stiff competition from fashion-first labels such as Fendi, Lacroix and Pucci which have upped the technical ante.
Like many of the site's six million monthly visitors, Fragis, a keen skier, is excited about this development.
"When I first started skiing, the only product I could find came in a rainbow of colours that I wouldn't ordinarily wear; everything felt too oversized and padded. But, when I found pieces like Lacroix's Aspen monochrome jacket and matching pants, I couldn't wait for the ski season to start. Over the last five years or so, snow gear has been totally reworked and brands now consider different body shapes."
The crossover between fashion and sport has not only influenced the way we dress, but it also seems to have changed how we shop, as fashion retailers increasingly broaden their ranges and challenge traditional department stores.
Autumn also saw Matchesfashion.com launch a ski studio online, inspired by the success of its earlier vacation studio, "an online hub that makes shopping for international travel very easy and has been very popular with clients. This is our first season with a full ski offer and we're looking to grow for the coming seasons due to the high demand and a positive reaction from our customers. We had to re-order multiple brands within the first week," says Natalie Kingham, the buying director of Matchesfashion.com.
Skiing is a difficult and dangerous sport to master — which is no small factor in its appeal. Traditionally, while male shoppers go geeky over gadgets and gizmos that they believe will help improve their performance, women often find confidence through feeling positive about their appearance.
"Women who ski each season are now looking for a fashion element for their ski wardrobe along with the technical specifications required, and brands have recognised the need for a more feminine structure, with colour, prints and products that keep on top of trends," Kingham says.
It seems that technical brands are meeting the challenge of the fashion labels, too; Kingham is excited about Perfect Moment's fashionable approach to function, while major winter sports player Roxy has recruited Henry Holland to create a distinctive capsule collection, which certainly won't get lost on the mountain.
"We designed amazing performance-level ski wear using Roxy expertise, and wanted the suit to look just as good apres-ski as it would on the lift at 15,000m," says Holland. "Winter holidays seem to be having a resurgence. There's nothing chicer than a New Year getaway in Gstaad."
Chic? Undeniably, and expensive to boot, but where more affordable holidays have become available in recent years, so, too, have high street ski offerings from the likes of Topshop, H&M and Uniqlo, which are modern, functional and fuss-free.
Despite fashion's increasing influence, trend turnover is still slow.
"Ski trends tend to stay around for a few seasons," says Fragis. So the only rapid thing should be your journey down the mountain. How freeing.

— The Independent
Share this: