How to Throw An Anna Wintour-Approved Party
As a new film about Anna Wintour's Met Gala reveals, fashion party hosts leave nothing to chance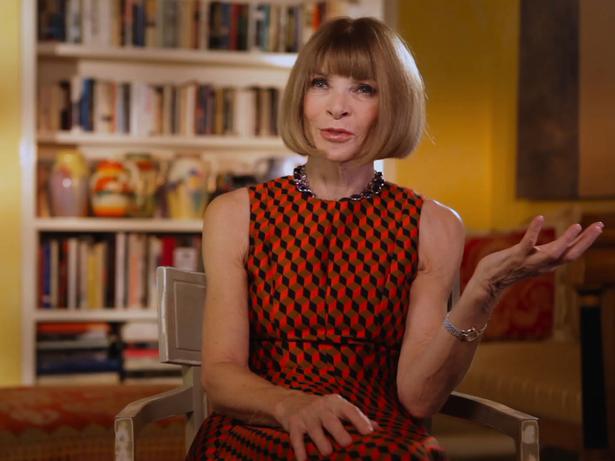 Thursday April 14, 2016
A ban on mobile phones, flowers that take 12 months to plan and canapes that avoid parsley, for fear it gets stuck in guests' teeth ... No, this isn't a list of the most demanding oligarch bride before her wedding, but rather the directives of American Vogue Editor in Chief Anna Wintour to the team she counts on to create the most fashionable party of the year.
The annual Met Gala, held every May, sees the world's most important celebrities, models, socialites and designers descend on New York's Metropolitan Museum of Art for what has become known as the Oscars of the fashion world. The careful negotiations involved in dressing VIPs for the red carpet are notorious (Wintour famously once vetoed Madonna's outfit because it bared her nipples), but the exact nature of the meticulous behind-the-scenes preparations have been a mystery.
Until now. A film directed by Andrew Rossi, The First Monday in May, is premiering in New York next week and will show for the first time how Wintour curates everything from the table-and-chair configurations to the aesthetic of the canapes — even rolling up her Chanel sleeves to pick up litter mere minutes before the ball starts.
According to The New York Post, who spoke to caterers and organisers familiar with the Met Gala, Wintour is as exacting about the food as she is her staff's commitment to the $18.2 million party. She's banished bruschetta from the menu for fear of crumbs landing on a dress; meanwhile, Stephanie Winston Wolkoff, head of events at Vogue until 2009, says she split the stitches from her caesarean section after having to return to work soon after the birth of her daughter to finish the frenzied preparations.
But before you presume finicky food requests and United Nations levels of celebrity diplomacy are confined to the Met Gala alone, think again. Manic attention to detail and perfectionist hysteria are common practice at most big fashion events, including those held in London.
GALLERY: Inside the Met Gala 2015
Bertie de Rougemont, founder of Cellar Society, which catered for Kate Moss's wedding, says that creating the perfect canape is a military-style operation. "If offerings look like they've been titillated with tweezers for 30 minutes, it's usually because they have been," he says. "If I spot one elegant woman after another refusing something then I sense danger."
During the planning, de Rougemont works with his client to create an on-brand menu. "One fashion retailer wanted something really boyish, so we settled on cheese toasties, but then went through countless rounds of road-testing to make sure no bits were going to fall out," he recalls.
Sit-down dinners are even more complex. "For the British Fashion Awards, we made dinner for 500 people, but we had 25 different variations on our menu to satisfy everything from low-carb requests to intolerances and allergies," he says.
After food, seating plans cause the most angst. "Celebrity agents will be on the phone negotiating who their client will be sat next to. They're all aware of being part of the 'money shot' — the image which will be beamed around in the news and on social media," says one fashion PR worker, who has been known to survive on just a couple of hour's sleep perfecting seating charts so that nobody is put next to their husband's mistress or hated former colleague.
If there is one person qualified to instruct on party etiquette, it is Diane von Furstenberg. The fashion designer's fashion party experience extends from Venetian costume balls, where she danced until dawn alongside Liz Taylor and Richard Burton, to Studio 54 extravaganzas. Her simple rule for the ultimate party is: "A great host behaves as a guest, and a great guest acts like a host." The biggest mistake, she adds, is to never stop planning — which is easy to do when, for so many working in fashion, image is everything.
GALLERY: Best Dressed at the Met Gala 2015
Lauren Stevenson, co-founder of PR agency Aisle8, says that image is key for celebrities. "The first question I am asked is, 'Who's your photographer?'" To that end, Stevenson's priority when scouting venues for her events is temperature. "If we can't keep it cool, then it's a no from me. There's nothing worse than shiny, sweaty guests in photos."
"The stress is quite melodramatic — it's only frocks and shoes, after all," says another PR who has been organising big-scale events for years. That's an attitude shared by Mandi Lennard, one of London's most connected party-planners.
"Some of the best parties I've organised have had Jammy Dodgers and Salt'n'Shake crisps on the menu," she says, adding that many A-listers like this low-key approach. "When Elle Macpherson came to a party at a mysterious east London location she loved that it was something different."
Saying that, Lennard will always go the extra mile to make her guests feel comfortable. "I'll often offer to find them a babysitter for the evening," she says. A special touch Wintour might like to offer Beyonce for Blue Ivy at this year's ball perhaps?
How to throw an Anna Wintour-approved party:
• DON'T use paper napkins; they look cheap. Opt for linen instead.
• DO serve ice cream. In a sandwich. It's messy but it's also fashion's most in-demand party food right now.
• DON'T go anywhere near red wine. The possibility of stained teeth, carpets and dresses is too risky.
• DO have raw food. As long as it's not steak tartare. Shallots are notorious at causing bad breath.
• DON'T mention mini burgers. They're impossible to eat and don't look chic, so they're off the menu.
• DO serve bowls of crisps. But only if your party is held somewhere where "gentrification" is a buzzword.
— The Daily Telegraph
Share this: