How to Wear Basics (and Not Look Basic)
In an extract from her new book, British fashion journalist Alyson Walsh shares simple style tips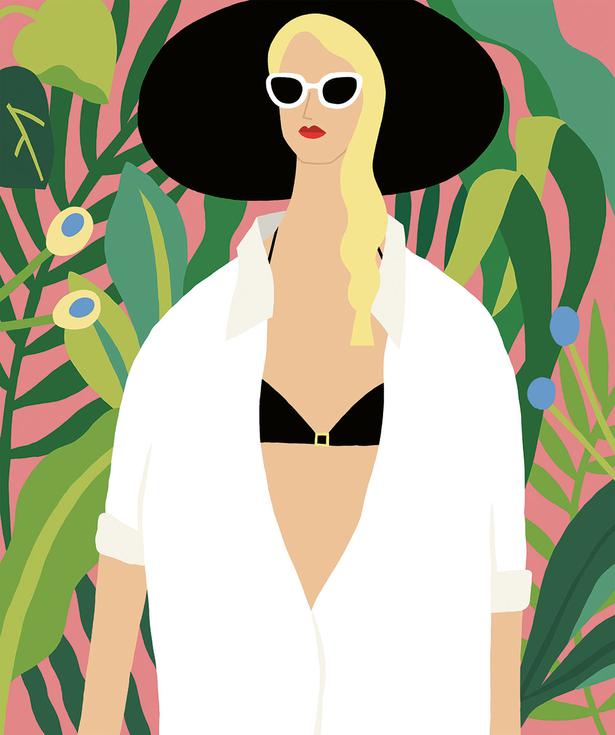 Monday Feb. 5, 2018
Showstopping showbiz items may grab all the attention but it's the versatile, flattering pieces that do all the hard work. These are the everyday essentials that go with everything, act as wardrobe glue and — if they're well-fitting — never look basic.
My favourites are jeans, jackets and shirts (many items I've had for years), but do keep an eye on small but significant changes to silhouette or proportion to avoid getting stuck in a style rut.
Beauty mogul Linda Rodin has a tailor who alters her clothes to improve the fit, while stylist and ex-British Vogue fashion director Lucinda Chambers finds going on a work trip liberating because with fewer clothes she has to stretch the imagination and practise mixing and matching.
Look for colour, texture and print to boost the basics and dress up your daywear.
THE SUPER SHIRT
I've never been able to get excited about the white shirt. It was part of my school uniform and frankly looked best after the class had signed their names all over it on the last day of term (remember that?).
Then, as a fashion editor, the white shirt became one of the items 'every woman should own', and I didn't. Though it looks fantastic on other women, it's just not for me and blue-and-white striped for summer is the closest I get to a total whiteout.
To me, the lovely blue shirt, with its complexion-enhancing properties, has always had the edge. Top of my list is always a beautiful cornflower-blue men's shirt from Margaret Howell that's several years old and looks fantastic with faded jeans.
Other shirt-y stalwarts come in shades of khaki, navy blue and black, and are guaranteed to remain stylish forever.
There are loads of stylish ways to wear the super shirt. Update the classics à la Emmanuelle Alt and wear a white shirt with Levi's 501s and red slingbacks. Or freshen things up by teaming a sky-blue shirt with white jeans and a denim jacket.
Pale suede ankle boots with a mid-heel work well with white-not-quite outfits. Go for modern military, with a khaki shirt and white culottes (or vice versa) and pointed flats; add a neckerchief to whoop things up.
Perk up a navy shirt with a pair of fancy pants (printed trousers) and ballet flats. The best way to wear a white shirt is oversized on the beach, over a bikini. Or make like Patti Smith and add a black tie or bow and mussed-up hair.
Where to find the best shirts: Equipment at Fabric, Workshop, Sherie Muijs, Scotties boutique.
THE JEANS YOU CAN LIVE IN
Often when I'm getting dressed, I start with a pair of jeans. Here are six silhouettes for denim lovers, plus the shoes and tops that go with them:
What goes with flared jeans?
On the top half: a denim shirt (tucked in), a figure-hugging T-shirt, a pull-on-and-go top, a roll-neck sweater, a peasant blouse, a vintage cropped, tailored jacket.
On the feet: lace-ups, brogues, sneakers, clogs, 1970s heeled ankle boots.
What goes with boyfriend jeans?
On the top half: a figure-hugging T-shirt, a military jacket, a tuxedo jacket, a Bella Freud jumper, a silk blouse, a pyjama shirt.
On the feet: hi-tops, loafers, Birkenstocks, flat sandals, heeled pumps, pointed flats, sliced loafers.
What goes with straight-leg jeans?
(I usually wear mine with a small turn-up.)
On the top half: a kimono top or belted jacket, a pussy-bow blouse, a men's shirt, a trench coat, an off-the-shoulder top, a bomber jacket.
On the feet: Chelsea boots, sneakers, hi-tops, heeled ankle boots, platforms/flatforms.
What goes with skinny jeans?
On the top half: a blazer and T-shirt, a voluminous top, a tunic, a cocoon coat, a boyfriend jacket.
On the feet: heeled ankle boots, lace-ups, brogues, flatforms, kitten heels, slingbacks, pointed flats, ballet pumps.
What goes with bootcut jeans?
On the top half: a super shirt, a long-sleeved T-shirt (tucked in) and a skinny scarf, a roll-neck sweater, a silk blouse, a denim jacket, a Chanel-style tweed jacket, a blazer.

On the feet: boots (of course), babouche slippers, pointed flat slingbacks.
What goes with cropped flared jeans?
On the top half: a denim jacket, a Breton top, a biker jacket, a tunic or shirt dress, a duster coat, a cotton shirt.
On the feet: heeled 1970s-style ankle boots, mid-heel pumps, pointed flats, slingbacks, plimsolls, Gucci loafers.
Denim disciples love: Frame, Levi's, Uniqlo, J Brand, J.Crew, Re/Done, Rag & Bone, A.P.C., Mother Denim, AG Jeans, Gap, Paige, M.i.h., Sass & Bide, Topshop.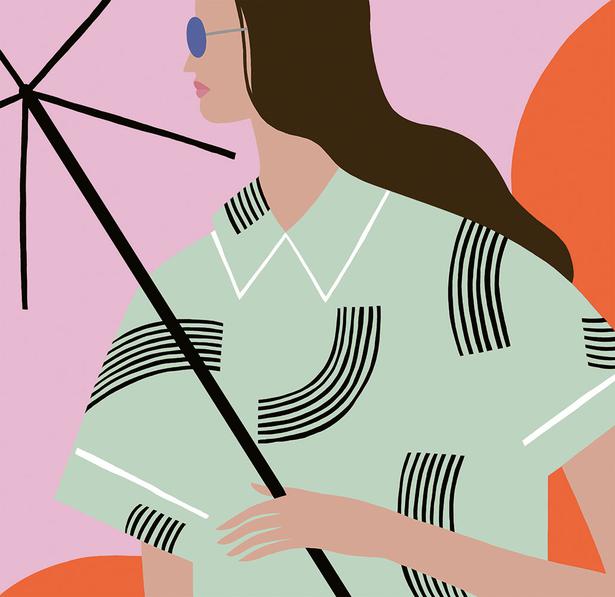 RUN-AROUND PANTS (HOW LEGGINGS HAVE CHANGED)
When I was first asked to write about leggings for the Guardian, I thought the fashion team had lost the plot.
But then I realised that leggings in substantial fabrics are more like stretch trousers than footless tights, and this is what women wear today, particularly in winter with a big coat, black ankle boots or sneakers.
"People are very busy, so clothes have to work even harder," says Donna Ida Thornton, CEO of the Donna Ida boutiques and online store.
"I have a pair of black J Brand leather leggings that are the hardest working item in my wardrobe. They've never been cleaned or washed and they work all year round."
WAYS TO WEAR LEGGINGS
Try wearing them with an oversized white shirt and a neat black jumper over the top. Then add a simple black pump or skate shoe for running around in.
"Leather leggings can look slightly sexy, so style them down with a chunky knit or a classic blazer and white T-shirt," advises Thornton. Or team leggings with a cocoon coat or a sleeveless gilet dress and brogues.
READ: How to Try the Leggings Trend
Remember, leggings come in a range of colours, so forget black and think about navy, forest green and wine-coloured ones, too. Try a duster coat over leggings in tonal colours.
Don't go too dressy. You need a contrast, not two slippery fabrics together. Leather leggings and a silky blouse can feel a bit Jackie Collins.
And beware of flimsy fabrics that are so thin you can see your underwear through them — no-one wants that.
THE PULL-IT-TOGETHER PIECE (A KICK-ASS JACKET)
For a very special occasion (all right, it was for the launch party of my first book Style Forever), I had a blowout on a Celine tuxedo jacket. Ordinarily, I baulk at spending more than a certain amount on an item of clothing (over £200 and I feel sick for days) and this was the most I'd ever splurged.
But quality counts. And I knew investing in le smoking was the right thing to do, so there was no buyer's remorse.
READ: How Alexa Chung Made Her Style Business
This once-in-a-lifetime jacket looked the business; I felt confident and chic and made an understated style statement in jeans and a T-shirt and my pull-it-together piece. Job done. Good tailoring is a smart way to add gravitas to any outfit.
I'll have the Celine tuxedo jacket for the rest of my life (as long as the moths don't get greedy). The superpower jacket also goes with black coated jeans, capri pants, or a pair of stretchy black-and-gold Lurex pants.
I've worn it over a jumpsuit, with boyfriend jeans and one day might even do an 'Olsen Twins' and team a masculine jacket with an evening dress. Perhaps I'll save that for my next book launch…

Jackets that don't all cost a packet: Zara, Karen Walker, Georgia Alice.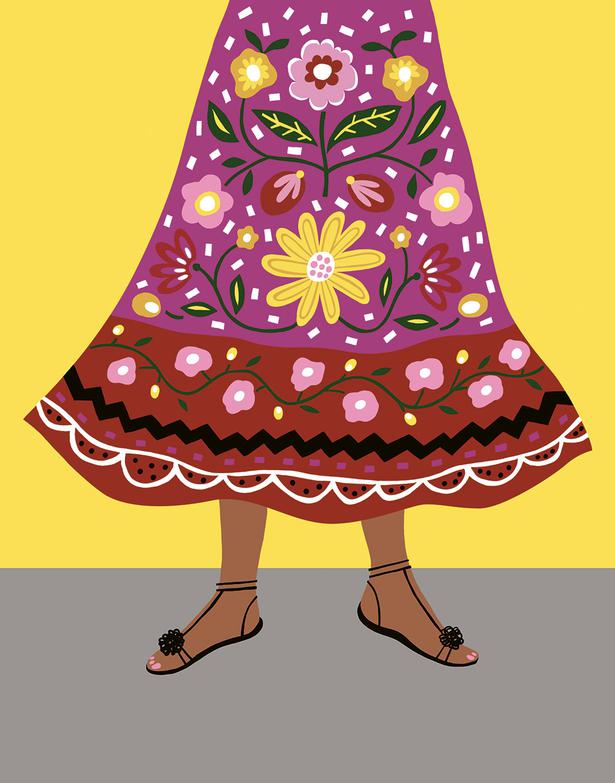 THE STATEMENT SKIRT
The only skirt I ever wear is a maxi skirt. In summer, I break out an indigo jersey version from J.Crew that goes perfectly with a navy silk V-neck top.
This is one of those winning combinations that looks like a very chic maxi dress and can take me from a business meeting to a rooftop bar and beyond. My other maxi skirt is a black sequined number bought on sale and worn on my 50th birthday with a blush-pink silk blouse from Diane von Furstenberg and silver Roger Vivier flats.
It was freezing in New York on New Year's Eve, but this marvellous maxi skirt is a perfectly glamorous way to keep your legs warm when hailing a yellow cab.
Fans of knee-length or midi styles can practise the art of mismatch (contrasting textures or genres adds oomph) by pairing a metallic sunray pleat, the patterned or sequined pencil and the brocade or corduroy A-line with a cashmere sweater, grey sweatshirt or super shirt.
Where to shop for skirts: Diane von Furstenberg at Muse, Zara, Kate Sylvester.
THE PULL-ON-AND-GO TOP
Most of the time I'm in jeans and having a portfolio career means there's a sliding scale of smartness. On the days when I'm working from home, I'm more thrown-together, but I'll often have to nip out to a quick meeting or event — and this is where the pull-on-and-go top comes in.
It's the hot-weather version of the blazer over a T-shirt and smart enough to pass muster with jeans, loafers and a scarf.
In winter, this wardrobe basic becomes an above-the-table, dinner-party top with pattern, embroidery or print that engages guests and perks up the proceedings.
Where to go for pull-on-and go: Kate Sylvester, Juliette Hogan, Helen Cherry, Marni, Sacai and Dries van Noten at Scotties, Velvet by Graham & Spencer at Adorno, Ellery.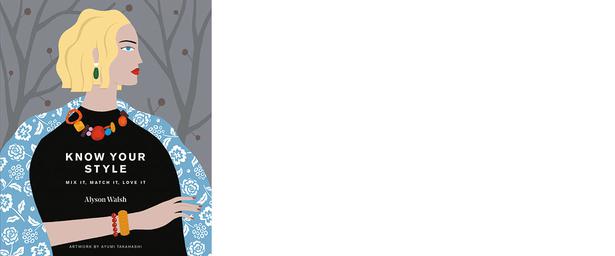 • This is an edited extract from Know Your Style by Alyson Walsh, published by Hardie Grant Books, $28. Artwork by Ayumi Takahashi.
Share this: