Huffer Celebrates 20 Years of Success
Steve Dunstan on how Huffer has become an icon of New Zealand's fashion story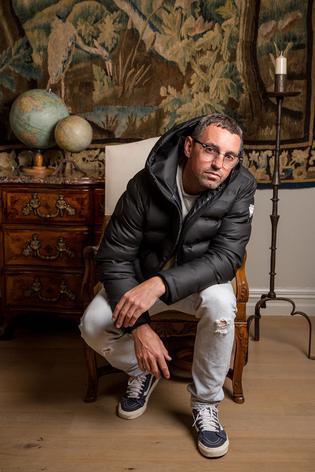 The year is 1997. Tiger Woods is the youngest golfer to win the Masters aged 21; Wannabe by the Spice Girls has shot to the top of the US charts; The English Patient has won the Oscar for best picture and J.K. Rowling has released her first Harry Potter book. In New Zealand, a clothing label called Huffer has made its debut, launching out of its central Auckland headquarters on Greys Ave.
Fast-forward 20 years later, and brand manager and director Steve Dunstan is sitting outside Ponsonby cafe Dizengoff on a crisp autumn morning. We're scheduled to have a coffee here, a place known as a default meeting point for creative types discussing ideas. Dressed in a denim jacket, jeans, pale pink jumper, Chuck Taylors and signature spectacles, Steve looks much younger than his 44 years.
WIN: A $1000 Huffer Shopping Spree!
He stops to chat to fellow Dizengoff regulars Auckland real estate legend Graham Wall and former All White Noah Hickey (whose younger brother Sam was a menswear designer for Huffer in 2011).
When not immersed in the day-to-day business of running a clothing brand, Steve pursues his other passions of music (he's a DJ), surfing ("It's a good way to de-stress") and catching up with friends.
"I like the diversity of my day when I'm surrounded by different people. The brand is social. I'm social," he explains. "If you're not out of the office enough, then you're not doing your job properly."
WATCH: Behind-the-Scenes At Huffer at NZ Fashion Week 2016
Steve has recently returned from Sydney, where he's been busy establishing Huffer's presence with two new stores — one in the CBD hub of Newtown and one in Bondi. This is on top of the six stores in New Zealand. The brand he co-founded with Dan Buckley in 1997 has certainly grown up.
"We're trying to broaden our horizons and become an Australasian brand. When we started it was about embracing our New Zealand upbringing through our skate and snow communities," recalls Steve. "Everything we do is so tied to home, so we don't need to be as obvious about it anymore. It's about an attitude and harnessing the free-spirited, rebellious youthfulness people associate us with."
Despite the growth from a team of over 20 in its tenth year, to over 60 staff today, the structure emphasises a lack of hierarchy. Yes, they're known for their casual attitude, but when it comes to getting the job done, the team are serious. "The growth has been interesting and learning to have a team behind you, especially going into Australia, is pretty amazing."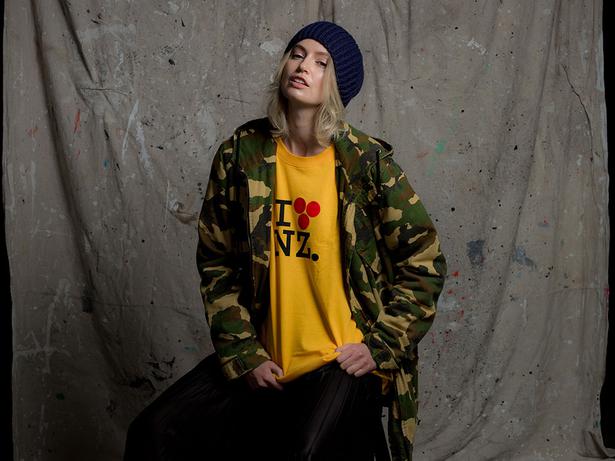 Huffer was probably better known in its early years for producing the now-iconic "I Huff NZ" T-shirt (famously worn by Orlando Bloom to the 2003 premiere of Lord of the Rings: Return of the King in Wellington); the label's Kiwi take on the classic "I Heart NY". Featuring Huffer's three-dot logo in the place of a heart, it was an instigator for the flood of patriotic T-shirt prints during the early 2000s.
For long-standing stockist Area 51, Huffer's popularity comes down to its inclusivity and ability to adapt quickly.
"We've stocked Huffer from when Area 51 opened in 2000," says director Cam Chung. "Huffer was a big break for our store, and by that time it was three years in and gaining momentum as a rising streetwear brand. It has Kiwi ingenuity, relevance and a cool, inclusive aesthetic. Great people make great brands, and on a personal and professional level Steve and I share so much in common."
Brands trying to distil a unique identity are today competing in an oversaturated market, but this is an issue Huffer has managed to navigate consistently over the years — its archive of images proving it hasn't veered far from an ethos to create clothes for men and women based on an equal playing field.
"We sell about 110 units for men and women each season, and over the years we've made a point about the women in our imagery being equal to the men. New Zealand women aren't passive and it's a big part of our story and connecting the brand to our customers."
With its standout shows, Huffer has also been a highlight on the New Zealand Fashion Week calendar over the years, having been involved in the event since its conception (only missing 2015).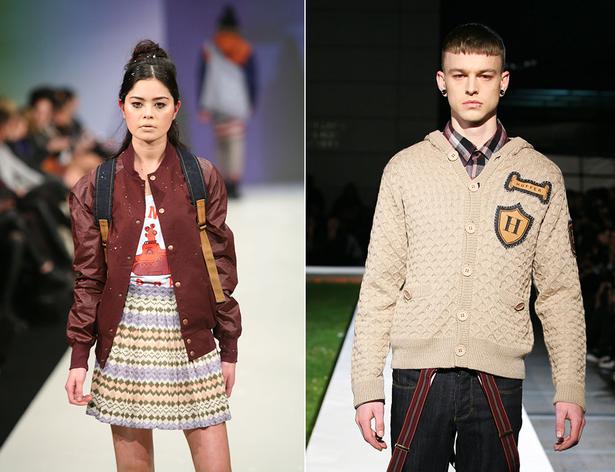 The brand has also fostered some of the best design talent in the country, including Jae Mills (who now designs basics label Commoners), Rachel Sloane (co-founder of jewellery brand Naveya & Sloane) and Lonely alumni Aimee McFarlane, who headed the brand's short-lived boutique label Aim in 2014, and now oversees the design team.
Its collaborative capsule womenswear collection for Fashion Week in 2009 with Kristine Crabb of Miss Crabb was another unique design union that pushed the boundaries.
"With respect to what we did in the beginning, it's important for us to keep the brand fresh and moving forward, and I think we've done this over the years with our different designers," says Steve. "I'm pushing our team really hard now to make sure we invest in the technical aspects of our garments and to challenge ourselves through innovation and design."
WATCH: Lorde Performs at Huffer HQ in 2013:
He's reflective about the brand's evolution, and at times his face rests in boyish contemplation that belies the very serious business decisions and sacrifices he's weathered over the years — including Huffer's entry into the US market in 2008-2009: one of the most challenging experiences for the brand.
"We worked with a production agent who really pushed us to get into the US market, and they expected us to do millions of dollars in sales from the get-go," re-calls Steve. "I had my way of nurturing the brand and getting exposure through key retailers. We did the whole bit — trade shows, selling into boutiques in San Diego, LA and New York and eventually securing a major account with Urban Outfitters."
READ: Celebrating 25 Years of Amazon
The expectations for the US growth from the production agents and Huffer differed, and ultimately they parted ways and leaving Steve and Dan to continue with the US project.
"We were pushing ourselves to try to service the US market without anyone on the ground. We tried to address the production issue too as the agent had taken care of 80 per cent of it up until the time they quit.
"Our first delivery to Urban Outfitters was late, so we were under-resourced for a market we didn't know about. We'd just gotten a taste of it but it was on the cusp of the [financial crisis], so it was like the perfect storm."
The experience was a turning point, prompting Dan's exit in 2010 and challenging Steve to make some tough decisions in the process.
"Dan and I had a mutual respect for each other, but we had experienced crazy growth and suddenly we'd evolved from a skate and snowboard brand to a more contemporary lifestyle brand."
The situation presented an opportunity for Steve to regroup. "I was responsible for a lot of people from staff to shareholders. It was a very stressful time."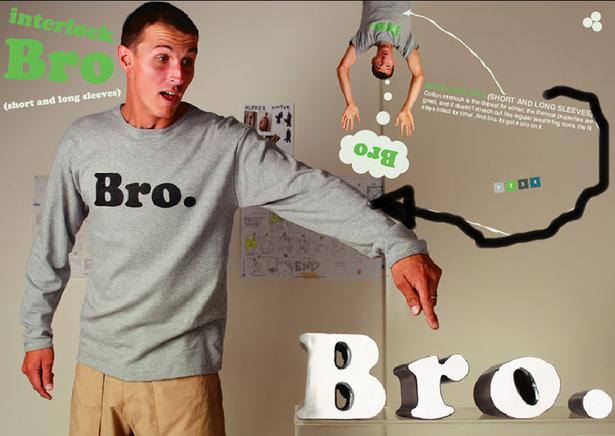 Despite the challenge, Steve surrounded himself with a support network. Enter James and Kate Berry, a husband and wife team who'd shown interest in Huffer after a chance meeting.
"It was around 2006 and I accompanied a friend to the Porsche showroom to get his car checked out," says Steve. "The sales manager comes out and introduces himself as James and recognised me from Huffer. He explained that a lot of their clients wear the brand and he'd been after one of our sold out "Special Tees" — a series of T-shirts we'd produced saluting iconic small New Zealand businesses.
"James, having grown up in Royal Oak, was trying to find the Ollies ice-cream parlour T-shirt we did. I went back to the office, found one in his size and put in a courier.
"Weeks after, I got a phone call asking me to meet him and his boss. They asked if I'd be keen to drive one of their Porsche Cayman cars in return for keeping them in the loop with what the brand was doing — and the relationship started from there."
That relationship turned into friendship and Steve eventually met James' wife Kate who, at the time, was working as the head of marketing at Arnott's. Kate was quick to see the potential for Huffer to go further, stepping in as a shareholder in 2010 and eventually as managing director alongside Steve since 2014.
"I always thought it punched above its weight from a brand perspective, but as a business was still small — and that's not sustainable," she says, in between unpacking boxes at the brand's flagship store on Custom St.
Above the store is the label's new headquarters; an industrial open plan office they moved into after closing the iconic basement space on Greys Ave last year which had been Huffer's home since 1997.
"The business was already doing considerably well when I started," says Kate as she keeps unpacking. "When I had my first meeting as a director, Steve said there were gaps in the collection, and I didn't know what that was. I discovered later a gap is missing a crucial product category in a season — like shorts in summer. Now we have more of a plan."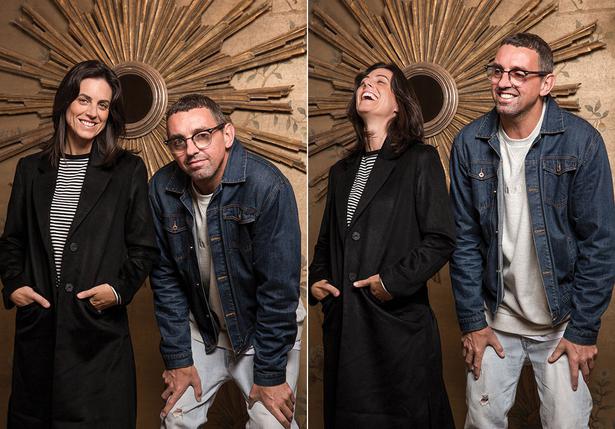 Steve's creative passion and Kate's corporate perspective are well-matched to further Huffer's goals. "I've learned a phenomenal amount from this experience and its hugely changed the way I work. I've definitely chilled out more and Steve's become a lot more commercial."
"Steve's amazing to work with because he naturally knows the brand and has a community which it. At the start I was polarising, so I had to learn quickly the language of the business so I could be respected at the level I needed to be."
Steve agrees. "Kate had this amazing commercial experience, and I saw the benefits of bringing a structure to the business so it was scalable. At first I thought it was going to smother the design, but what it actually does is enables designers to have some structure to work from."
By the end of this month, the brand will have tripled its revenue from eight years ago.
"We started out narrow-minded and really only focused on what we knew back then," says Steve. "As you get older you mature — as did our customers. The other day I went into our Newmarket store and saw 16-year-old girls who just had to have a Huffer T-shirt. I thought to myself, 'You weren't even born when we started!'.
"It was amazing to see and I found it reinvigorating. Knowing that we'd had been through some tough times, but can now move forward.
"Being relevant is important and from a business perspective, engaging with the next generation of Huffer customers and continuing that tradition of inclusiveness and community is what it's all about."
Share this: