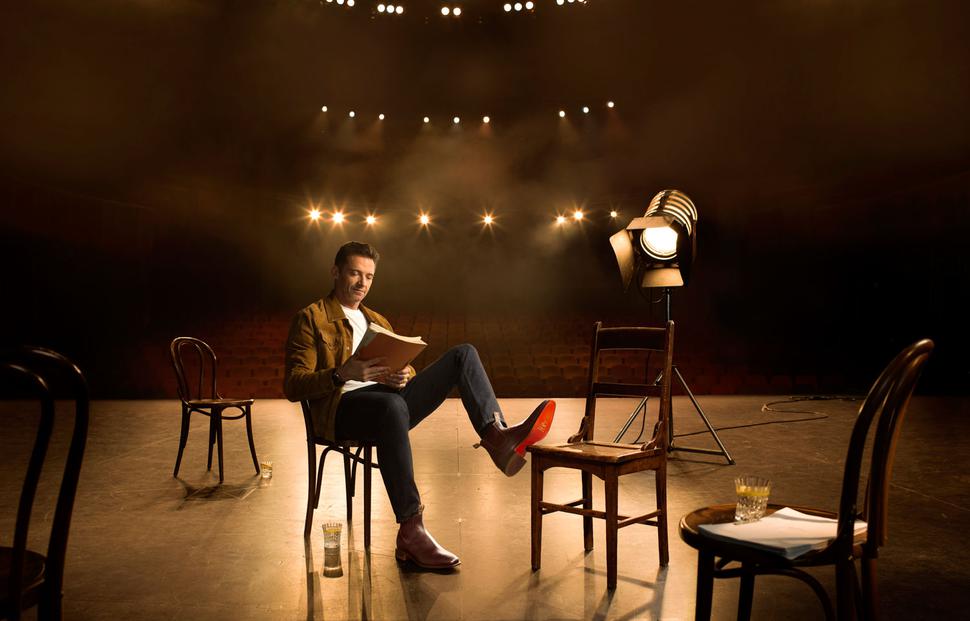 Hugh Jackman's Tongue (And Cheek) Cameo For R.M Williams
We catch up with the ambassador and Tony Award winner about his revealing role for the beloved Australian heritage brand
Wednesday Dec. 2, 2020
Australians and their lovable larrikins.
As R.M Williams continues to showcase its craftsmanship through its new collection of footwear, accessories and apparel, 2020 saw further growth for the Australian brand as it opened two new stores in Auckland - one in Commercial Bay and the other inside Westfield Newmarket - with plans to open more across New Zealand in the near future.
With a sense of optimism in light of Covid-19's impact on the retail scene, to help highlight the brand's tongue-in-cheek spirit, actor, singer and R.M Williams global boot ambassador Hugh Jackman stars in the brand's latest campaign. "R.M.'s have been a part of my life across the entire journey, from my early stage days to where I am today," Jackman said in a statement upon his appointment as ambassador in 2019.
"It's an honour to be a part of the R.M.Williams family and to wear the brand's iconic craftsman boot for the campaign."
Speaking from his base in the U.S, Hugh reflects on the year that was and why his latest role for the heritage brand is his cheekiest turn yet.
WATCH: Hugh Jackman gets comfortable 
Hi Hugh. Thanks for taking the time to talk today. Your new campaign for R.M Williams is a riot. Tell us what that day was like filming and what it represents in terms of the brand and that quintessential Aussie humour?
It was surprisingly not too bad. The production warmed up the set for me! Funny enough, it was an American who came up with the creative. As far as the boots … it's a no brainer. I'm not saying this because they tell me to …
they are really so comfortable - you don't feel like you're wearing anything. So it all worked out.
What does your wife Deborah and your kids think of it?
Deb thought it was funny. She's my best audience. The kids - I actually don't think they've seen it. Let's be honest, whose teenagers really want to see their Dad naked!
Now more than ever, people desire well-made clothes, things that last the distance, and accessories built to last. What about the brand's sustainability message appeals to you?
I made a trip out to the workshop where the boots are made. These folks have been with RM for years. Some Mother/Daughter teams too. I know it's cliché to say but they are all family, literally and figuratively.
I honestly wouldn't have been an ambassador if I didn't truly believe in the brand and wear the boots. I even had taps put on them and danced on tour. The boots made it through the entire World tour without a scratch. The taps cracked twice! That says a great deal about how well made these boots are!
When it comes to style - you are considered to be one of the best-dressed men in the world. What does fashion mean to you in terms of self-representation?
I think fashion can be a form of self-expression. When I'm going out to dinner with friends or promoting a film, I like those occasions to step it up. Put on a suit and tie. Or even a Tux. But on a day to day basis. It's jeans and a t-shirt for me. Classic and easy.
Over lockdown, you hosted a series of web seminars along with your friend, Gus Worland to promote messages of connection and conversation through Gotcha4Life, an organisation you're on the board of. Tell us about some of the connections or fresh learnings you made from this experience.
Gussy and I have been best mates for over 40 years. No matter where either of us is in the world, we speak several times a week. (Thank you to whoever created Facetime!). This year, with the pandemic, it's been super hard because I haven't been able to get to Australia. So, we make an extra effort to communicate. Gussy knows when I'm "phoning it in" and he will call me out … really push me to express something that's bothering me. And vice
versa. Also, it's a bonus that, he's one of the funniest blokes around.
What is your advice for Australian and New Zealand men in particular when it comes to mental health issues, particularly for both nations who have a very similar attitude towards masculinity?
We were raised in a culture where it was unspoken that men shouldn't show emotion. They have to be big and strong and not let anything get to them. I would offer that there is no shame in asking for help. When you ask how another is doing today and they say "fine" … the next question should be "really"? I find that when I do that, the person I'm speaking with opens up a bit and shares their emotions more freely.
During these times especially, it can feel very isolating to be "socially distant". Though it must be said - New Zealand has done an amazing job with keeping the Covid positive numbers way, way down. A job well done by all
New Zealanders!
Last year you embarked on your first world tour, including New Zealand. What was that experience like for you as a performer and what can we expect to see from you soon with regards to this part of your career?
The audience in New Zealand was awesome. I fed off their energy. That stop was at the end of a very long leg of the tour so their enthusiasm picked us all up!
WATCH: Hugh Jackman in Bad Education
Congratulations on the success of Bad Education – critics have touted it as your greatest performance as an actor yet. What was the experience like for you working on this film?
Loved it. Working with Allison Janney is like taking a Master Class in acting. She and Corey (our director) really helped me dig into the role of Dr Frank Tassone. It can be hard to portray someone who's still alive. You're not only doing that but, in this case, telling a story about the worst time in a man's life.
What else are you working on at the moment?
I was supposed to be in The Music Man on Broadway but that's on hold until late next year. I also have a film coming out called Reminisce. It's meant to release in the spring. Here's hoping. In the meantime, I'm taking advantage of the time off to be with my wife and kids. And I'm reading scripts. There's one that I am really excited about so I may be back on a film set sooner rather than later.
Quickfire questions:
-  What are you currently reading? Bluebirds by Malcolm Knox
- What are you currently watching? The Undoing starring Nicole Kidman.
- What are you currently listening to / last song or podcast you downloaded? Wonder by Sean Mendes
- What have you learned about yourself during quarantine? I really love sleeping in my own bed!
Share this: