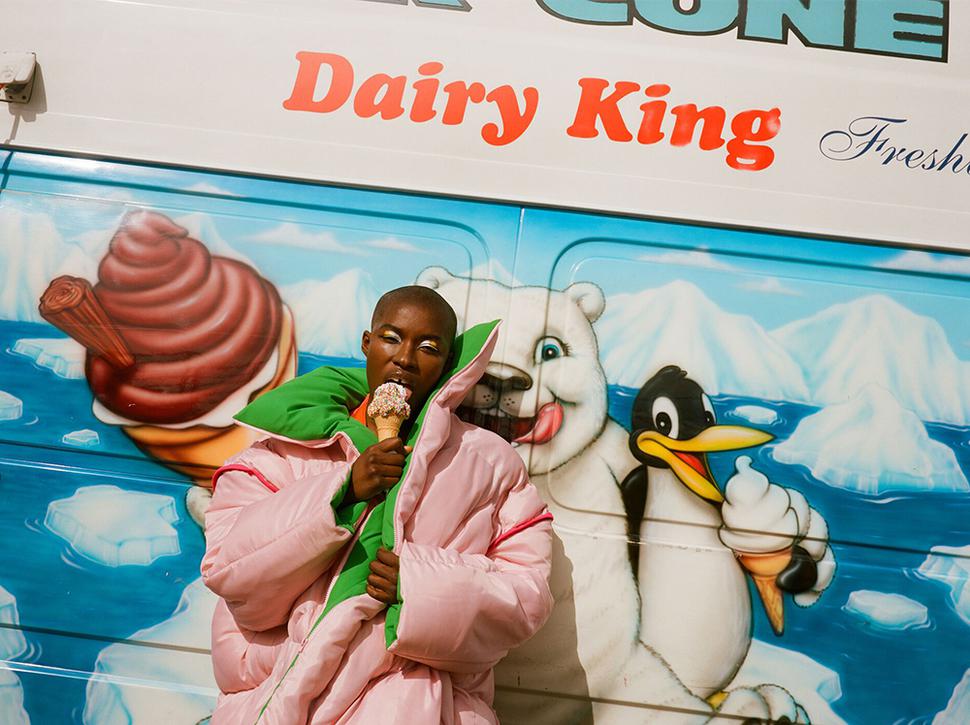 Meet The Next Generation of International Fashion Talent
Innovative young designers are about to hit Dunedin at the iD Emerging Designer Show
Wednesday April 25, 2018
The next generation of fashion talent is about to hit iD Dunedin Fashion Week in May. Diverse, inclusive and political, the iD Emerging Designer Show will showcase collections from 44 global rising stars. We check out six young designers to watch. 
LISA LIU, University of Sydney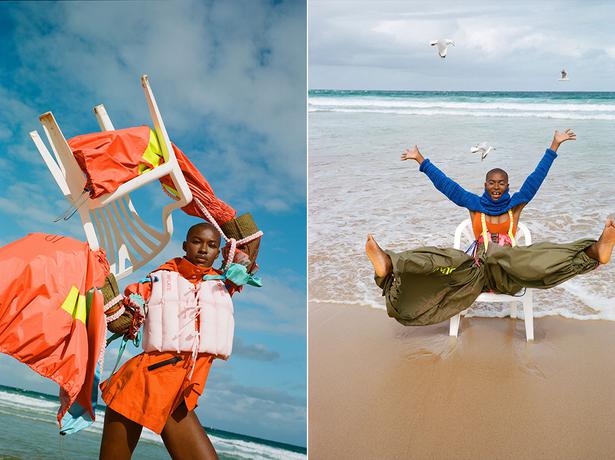 Describe your design aesthetic?
Hyperfeminine, young and colourful. 

What was the inspiration behind your collection Shooting Kites?
It's a response to the representation of male bodies in the military. I wanted to subvert the meaning of masculinity by introducing softness and vulnerability. I was heavily inspired by air force uniforms and looked a lot at archives. Colour was a huge thing for me. It challenged the idea of camouflage, but also reflected a part of my personality.
What ideas are you hoping to explore?
I'm hoping to question our perception of gender. What makes something masculine or feminine? I also want to convey a feeling of optimism. I like how fashion can be serious and light-hearted at the same time.

Where does your fascination with air force uniforms come from?
I spent the break before my honours year binge-watching Air Crash Investigations and got into airplanes. I watched documentaries on military aircraft and ended up in an internet rabbit hole about the air force.

READ: TBT: 15 Years of iD Dunedin
How have you put your spin on these traditional structured garments?
I've introduced a softness to them. I wanted to bring focus to the form by exaggerating it and reversing the idea of function-over-form in uniform design. I also threw tonnes of colour and print at it.
How can your garments be worn?
So many ways! Transformability is cool and something I always think about. You can take the sleeves off the playsuit. There's one jacket you can reconfigure into a backpack. And lots of detachable and adjustable elements.

What materials did you use?
I stayed true to the utilitarian inspiration and mostly used nylon and cotton drill. Small details were important too – hardware, zippers, webbing. For my research, I collected ex-army garments online and from disposal stores. I decided to repurpose them into my work. I liked the idea of an old story continuing into a new one.

How do you want people to feel when wearing your clothes?
Fearless and young.
ARIANE ILAGAN, AUT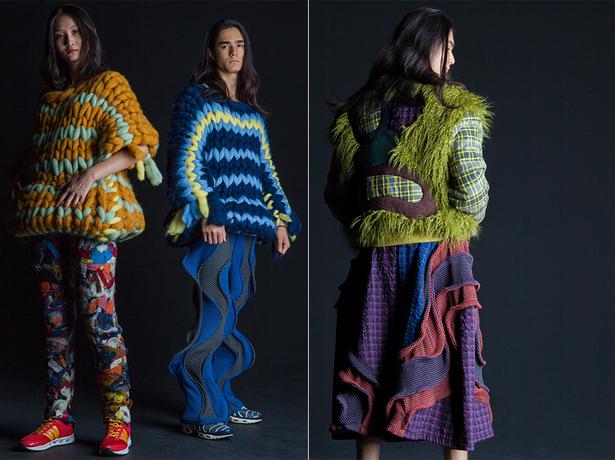 What was the inspiration behind your collection Monsters?
I wanted to create a collection that reflects us and our human experiences — the monsters that ordinarily exist within us. These 'monsters' represent the fears, craziness, imperfections and failures we all have. We shouldn't hide or reject these monsters but instead, wear them out. I want to see the monsters of fashion!

What techniques and materials have you used?
The main processes I used were fabric collaging, felting and giant handknitting. 
What do the garments form reflect?
I wanted the garments to physically reflect internal feelings inspired by our 'monsters'. One of the pants in the collection is shaped to give you "jelly legs," inspired by the inner fear and anxiety that can make your knees weak.
READ: 2017 iD Dunedin Emerging Designer Awards
How did you decide on the colours?
The idea was to create pattern and colour combinations that theoretically wouldn't work. The uglier it seemed in mind, the better it worked out.
How did you learn to knit?
I came across hand-knitting using chunky wool yarn and so I taught myself how to handknit by watching YouTube tutorials. Once I learned the basic hand-knitting process I could knit to how I wanted the garments to be shaped.
What do you enjoy about taking an experimental approach to design? 
The freedom and spontaneity I get to have. There is a sense of uncertainty and failure which is both exciting and terrifying. I think experimental and wearable can co-exist in much the same way the ordinary and the monster can co-exist.
CRISTINA & MARGARITA NG NG, FIT, New York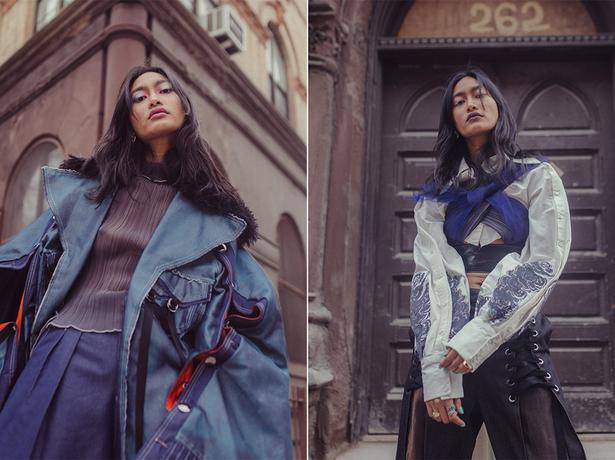 What was the inspiration behind your collection NG2?
The structures, textures and diverse colours of fungi, specifically Trametes versicolor which is a type of mushroom often known as "turkey tail". We sometimes neglect the beauty that mother nature brings into this world, so the collection emphasises those details.

What materials and colour did you use and why?
We used denim, organza, cotton, shearling, and recycle leather in our pieces and vivid colours inspired by the fungi such as blue, orange, copper, black, and white.

Where did your fascination with nature come from?
From our dear Mum who always loves to be around flowers. Her hobby is to sow flower seeds in the garden. Even though we don't share the same liking, we dedicated this collection to her. She is a hard-working person who raised three children.
READ: Touring Dunedin with Slick Willy's
How do you work together as twin sisters?
We are really close and do things together. We help each other in times of struggles. In other words, two heads are better than one. Fun fact: Ng2 comes from our last names Ng Ng.

What was it like studying fashion in NYC?
It was a life-changing. Coming to New York from growing up on a small island called Santo Domingo in the Dominican Republic affected how we view and perceive fashion. We were exposed to different cultures and met people from different backgrounds which now influences how we design.  
APRIL GOURDIE, AUT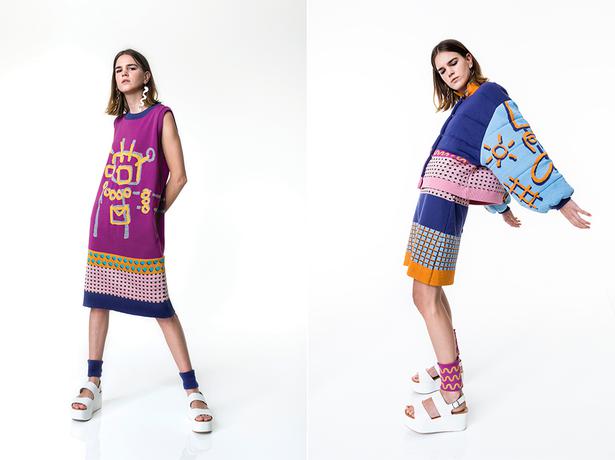 Describe your design aesthetic?
It's colourful, abstract and often nostalgic and childlike. I love to experiment with crazy shapes and volume but the textile is most important so I prefer a simpler silhouette so it acts more like a canvas for it.

What was the inspiration behind your collection Playtime Download?
I worked with the concept of escapism and digital immersion. I looked at childlike drawing styles and a sense of imagination. It draws on fun and oversized forms, quirky doodles and stimulating colours.

How were the garments created?
I used Google Tilt Brush to first create the content in a virtual reality, then drew directly into a digital knitting software called Shima Seiki to make jacquard knits. Allowing me to create pattern directly in the structure of the knit using different yarns and colours. I also experimented with WholeGarment knitting machines which can knit a garment that is almost ready to wear as soon as it comes off the machine. 

WATCH: Nom*D's Definitive 'Red' Show at NZFW 2002
How long have you been using digital knitting software?
I only started at the beginning of my last year at university in 2017. I wanted to learn because the creative possibilities are endless for creating textiles from scratch.
How do you want people to feel wearing the collection?
The collection allows for a sense of nostalgia and playfulness in its colours and forms. I want each garment to encourage the sense of reliving the feeling of playing dress ups as a child but in a more sophisticated way.
WADE O'BRIEN, Whitecliff College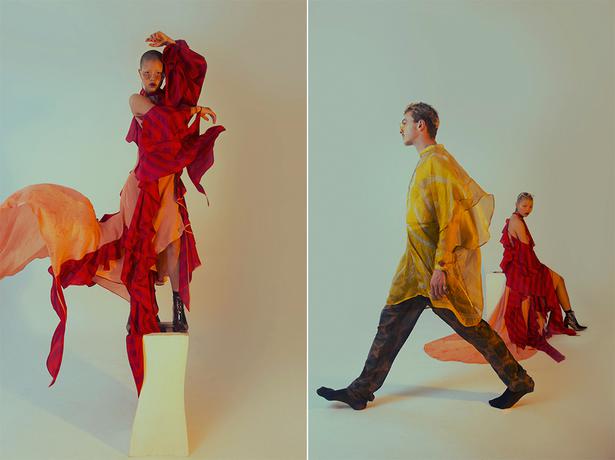 What was the inspiration behind your collection This Is The Colour Of My Dreams?
It explores the complexities of body image and identity, through the incorporation of surrealist ideals. As well as the distortion of colours, shapes and textures of human physicality. 

What fabric and techniques were used?
I place great importance on the ethical environmental sustainability of textiles, which is why I have sourced the majority of my fabrics from establishments in NZ and India that prioritise similar values. I have also hand-dyed some of my own textiles using natural pigments and experimental shibori techniques. 

READ: Looking At Fashion Shaped By The South
What colours did you use?
I used pink and red tones to represent scar tissue, eczema and skin pigmentation irregularities. I have broken up this tonality with deep navy blue and turmeric yellow in reference to surrealist dreamscapes.

Your collection reads as deeply personal. How have you incorporated your life and those close to you into the garments?
This collection comes from a desire to turn insecurities into beautiful, liberating garments. The shapes, lines, colours and textures of these garments were established by exaggerating and abstracting features such as eczema, acne, self-harm scarring, skin pigmentation and a disparity of body proportions, features that have induced insecurities in myself and those close to me.

Why is this important to you?
I am determined to make people love themselves and their body, and I believe being genuinely personal is the only way my clothing will be able to manifest such a positive emotional response. I am also well aware of how urgently the fashion industry needs to embrace the beauty of individuality and difference, and creating clothing allows me to express my own discontent for current beauty standards and expectations.
ANNAISS YUCRA MANCILLA, Nottingham Trent University, England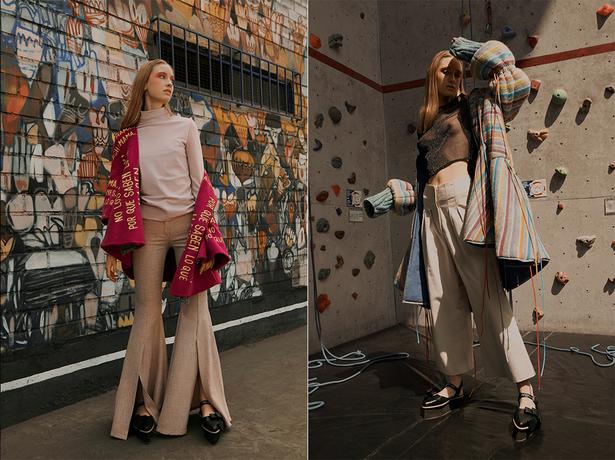 Your collection is called Willkas. What does this mean? ­
Willkas in Quechua (the indigenous native language of Inca time in Peru) means duality and is represented in the twins of the Peruvian cosmovision creators (Pachama and Pachacamac). 
What was the inspiration behind it?
It starts with the myth of Pachamama and Pachamac and their twins the willkas on their journey on earth and the adversities they faced. This myth is taken to reality in a contemporary Peru where the willkas of the present (children of low resources) have to face the same struggles but also, how they embrace their culture and traditions in modern times.
What techniques were used to create the garments?
I used digital printing on Peruvian cotton and digital embroidery on my knitted garments. 
READ: Best Dressed at iD Dunedin Fashion Week 2016 
What materials were used and why?
100 per cent Peruvian, from my Pima cotton digital prints to my baby alpaca yarns. All put together combining tradition and technology. 
What influence does your heritage have on your designs?
My biggest muse is my country. I have indigenous heritage, so my background is a big part of how I define myself and my garments. As the third generation of a Peruvian immigrant to the capital, I always lived with this problem in Peru of racism against their own for their skin or heritage. Growing up I had to go through feelings of shame and lack of identity to now embracing it and capturing this beautiful part of myself in my pieces.

• iD Emerging Designer Show, May 3-4, Dunedin Town Hall. Tickets from Ticketmaster.co.nz. 

Share this: