Creative Integrity Steals the Show at iD Dunedin Emerging Designer Awards
Diverse perspectives were showcased by young designers from around the globe at last night's iD International Emerging Designer Awards in Dunedin
Friday March 24, 2017
Last night 30 young designers from across the globe showed at the iD International Emerging Designer Awards – a runway complete with psychedelia, human sponges and a jacket made of rubbery fishing tackle. The result was a spectacular mash-up of viewpoints stretching from Argentina to Austria and back again.
As is to be expected with graduate collections, silhouettes veered on giant, fabrics were highly manipulated and there was no shortage of punchy colours – but this bunch weren't just exploring form, the collections touching heavily on wider issues.
"You saw really intense levels of research and that really showed in the work. We didn't see Vetements, we didn't see Balenciaga, we actually saw overarching themes that we hadn't seen [before]. There was lots to do with conservation of maritime and water which is something. There were sexual politics," said designer Tanya Carlson, who was part of the judging panel that included Margi Robertson of Nom*D, Stolen Girlfriends Club's Marc Moore, Australian fashion editor Georgina Safe and international guest Paulo Melim Andersson.
READ: Five things to know about Paulo Melim.
There was definitely a psychedelic vibe in the air, with lava-lamp looks being offered up in varying forms. Emily Cameron, who took away the Emilia Wickstead Internship prize, created one-shouldered tops by linking candy-coloured perspex shapes, while Megan Stewart showed gooey, rainbow digital prints that illustrated television's mind-numbing effects. This landed her the NZME and Viva Editorial Prize.
Another common thread was gender fluidity, and although this is often explored terrain on the Emerging Designer Awards catwalk, looks from the likes of AUT graduate Phillip Von Fury had a real sense of ease. It was a notion that nicely echoed the increasing move by big fashion houses towards consolidating women's and men's collections at international fashion weeks.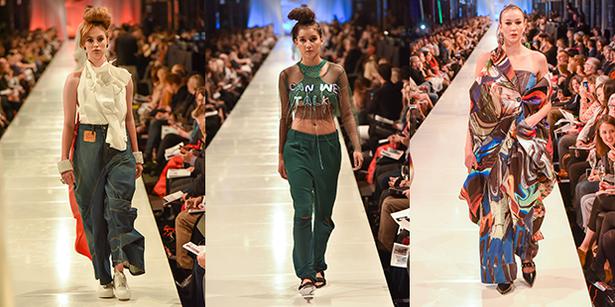 The top spot of the night went to Nehma Vitols of Sydney University of Technology, the judges particularly impressed by her intricate marriage of materials.
"We just wanted to be completely surprised and what we talked about a lot was technological handcraft," says Tanya of their decision. "What we're seeing is people using technology as their jump-off point and their finishing with handwork, so it's not really highly processed. It's gone back to a craft and you see that in the winner tonight."
As finding a place in the market becomes increasingly challenging for new design talent, the message last night was clear - be creative and, most of all, authentic.
 The full list of winners:
The H&J First Prize: Nehma Vitols, University of Technology, Sydney, Australia.
Laffare Second Place: Lila John, University of Applied Arts, Vienna, Austria.
Gallery De Nova Third Place: Paul Castro, Royal Melbourne Institute of Technology, Australia.
The Fabric Store Award for Excellence in Design: Tess Norquay, Massey University, Wellington, NZ.
Dunedin's Golden Centre Mall Most Commercial Collection Prize: Talia Jimenez University of Technology Sydney, Australia.
The NZME and Viva Editorial Prize (awarded to best NZ collection): Megan Stewart, Massey University, Wellington, NZ.
The Emilia Wickstead Internship: Emily Cameron, Royal Melbourne Institute of Technology, Australia.
Be inspired by the good things in life. Sign up now to receive emails from Viva, and twice a week you will be sent the latest news, profiles, videos, fashion shoots, competitions and more.
Share this:
More Fashion / Trends & Shopping