How Megan Stewart Landed an Internship with Proenza Schouler
iD Emerging Designer Awards prizewinner Megan Stewart on pattern-making, Proenza Schouler and surviving on four hours of sleep a night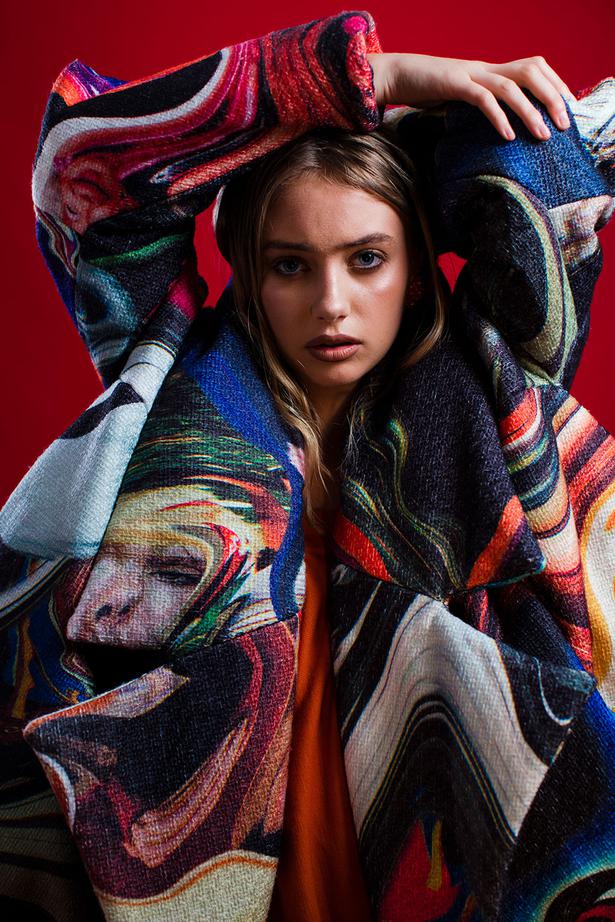 Wednesday June 14, 2017
You can still the excitement in Megan Stewart's eyes as she sits in the cafe of Dunedin's Scenic Hotel on a sunny autumn afternoon, her shiny brown bob grazing her shoulders. The young desiger is still on a high from the night before when, as part of the iD Emerging Designer Awards 2017, she took away the sought-after prize for the best New Zealand collection.
It's something that has been a long time coming, having entered in 2016 but not making the final cut. Determined, she entered again this year with a range called The Daily Show based on the mind-numbing effects of television a concept that is the complete opposite to this switched on 23-year-old who is definitely tuned into the real world.
Gooey, glitch-like, icky and warped, Megan's designs are a physical manifestation of her thoughts on society's over consumption of television. You know, that feeling you get when you and the couch become one and your eyeballs burn? This was a sensation she wanted the clothes to replicate. "Even when you get into the jackets, their arms are quite far back, the pockets are far back. So it's all this discomfort," she says.
"I think it stemmed from David LaChapelle, his images that I loved — very neon, pop art, crazy worlds. And then I [came across] Olivier Culmann, who takes these incredible photographs of people all round the world just watching TV. So they look dead but the only light is on their faces, that falseness, and I kind of thought, that's really sad that we do that to ourselves every evening."
READ: Helmut Newton's Glamorous Images Inspire New M.A.C Collection
A valid concern, considering screentime seems to be overtaking the sunshine in our lives. And it was ideas such as these, linked to wider issues in the world, that determined which of the collections from the 30 finalists in the show stood out to the judges.
"You saw really intense levels of research and that really showed in the work," said designer Tanya Carlson, head judge of the panel. "We didn't see Vetements, we didn't see Balenciaga, we actually saw overarching themes that we hadn't seen before.
There were lots to do with conservation of maritime and water which is something. There were sexual politics." Also on the judging panel were Margi Robertson of Nom*D, Stolen Girlfriends Club's Marc Moore, Australian fashion editor Georgina Safe and international guest designer Paulo Melim Andersson.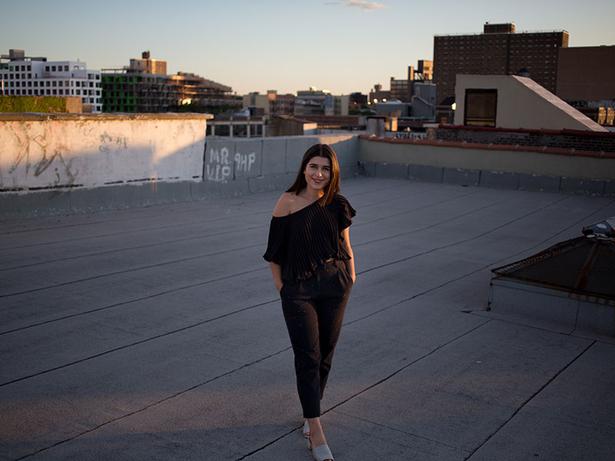 For Megan, there are two key design processes she uses to translate her concepts into clothes. The first is using fabric to drape her bulbous designs in 3D directly on to a mannequin, as opposed to traditional flat pattern-making on a tabletop. And the paper pattern she then takes from the fabric toile?
"It's like this big weird monster-looking thing. I had to name [the edges] 1, 2, 3, 4, 5 to put them all together. I think I'm the only one who could ever decipher them. I don't think I'll make another one because it was hard."
The second process is creating prints from scratch. To do this she takes pop-culture photographs from her laden scrapbook and warps them by opening a photocopier and moving the picture as it is scanning. Look hard enough and you might spot Monica from Friends or Donald Trump.
"I started off just using Photoshop and there wasn't anything random about it, you knew why it was looking that way. But this one was just so beautiful; it looked like liquid, gooey," she says. "A comment that the judges made was they wished the pattern-making was in plain fabric so they could see it more because their eyes were wandering. For me, however, I was like, that's my whole thing. But you never feel satisfied with it."
Her commitment to constantly grow her ideas is perhaps something picked up while studying at Massey University in Wellington, where she graduated with a Bachelor's degree in Fashion Design and Business at the end of 2015. She spent 2016 working for two of the biggest names in New Zealand fashion, Kate Sylvester and Karen Walker.
An internship in Kate's design room taught her about "making it wearable". She then took on a job as a dispatch assistant for Karen and was able to tap into the business side of the industry, while simultaneously developing her graduate collection in order to make the cut for the Emerging Designer Awards.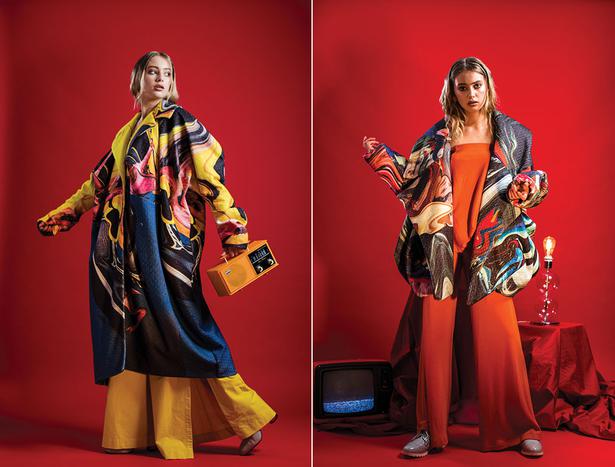 "I was working fulltime for Karen Walker while living an hour out of the city on the North Shore with my parents. So I would bus home at six o'clock at night, sew till about two in the morning and then wake up at 6 o'clock and do it all again. They were very nice about it, I think they understood. A lot of nights sewing, not sleeping."
Fast forward two months to today and Megan is working for the international designer who was number one on her hit list when we first spoke. Like many Kiwi graduates, she's taken full advantage of her J-1 visa and made the jump to New York for a year.
"Before moving to NYC my goal was to intern with Proenza Schouler. I still don't know how I managed to achieve this within a week of landing here. Every day I learn something new. I'm the accessory design intern, a change from my past experience in ready-to-wear. I work on everything from prints, mock-ups and sampling to runway jewellery, plus am seeing up close how global fashion house works. It is truly a dream."
Although she initially saw the move as a chance to take a break creatively and recharge before embarking on her next collection, her location has given her other ideas.
"Within a few days of moving I was so inspired by everything I saw, and was already making a collection of ideas for a new project. I adore what I get to see and live every day in this great city, making it impossible to stop that creative spark."
No TV binge-watching here, just a young gun who is thoroughly tuned in to a city that never sleeps.
Share this:
More Fashion / Features & Profiles