Inside the Prada universe
As Prada opens its first New Zealand store, Zoe Walker looks at the relevance of the Italian brand today.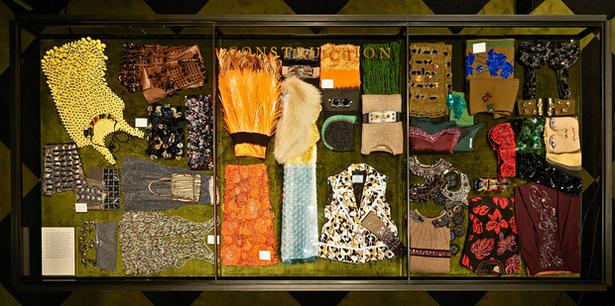 Wednesday Nov. 26, 2014
It is oversized top-stitching on denim and poplin shirts contrasted with crystals hand-embroidered on silk. It is the intellectualism of designer Miuccia Prada, who has no formal design training but a PhD in political science, trained as a mime and was a member of the Communist Party in the 70s (legend has it that she wore Yves Saint Laurent to distribute leaflets). It is the brand's advocacy of the arts, and development of the Fondazione Prada - a museum designed by architect Rem Koolhaas opening in Milan next year. It is Prada's continued focus on subverting fashion codes and pre-conceived notions of good taste and sex appeal: she loves to design skirts because it is a symbol of femininity, and is distinguished for her embrace of what is traditionally considered ugly. Prada has based collections around things that she hates, explaining in an interview last year: "The investigation of ugliness is, to me, more interesting than the bourgeois idea of beauty".
Mrs Prada, as she is known by those who work with her, thinks seriously about fashion and what she puts into the market. She is the thinking woman's designer, the designer's designer; the one that fashion looks to every six months to define the season and what is modern right now.
Her own relationship with fashion is complicated: she has discussed her conflict at being a designer ("To want to be a fashion designer was really the worst thing that could happen to me. I thought it was dumb and conservative") but today uses her position to push the idea of fashion as being about more than just the dress. In an interview with foreign correspondent Christina Lamb earlier this year, she explained, "For so many years I was critical of fashion for its superficial aspect and always felt guilty. But now I respect it, and struggle against the hypocrisy."
The 65-year-old designer, co-CEO of the company (with husband Patrizio Bertelli) and the 75th most powerful woman in the world, according to Forbes, gives few interviews and so a unique sort of mystique and respect surrounds her (rivalled only by Rei Kawakubo of Comme des Garcons). In 1978 she took over the company started by her grandfather in Milan in 1913, developing it with Bertelli into a global and multilayered brand. Today, Prada has stores in 70 countries, with New Zealand the latest marked for expansion. Previously only available through a small store within DFS Galleria, some New Zealanders may likely be more familiar with the brand through its sponsorship and involvement with Luna Rossa and the America's Cup. The team was based in Auckland in the lead-up to the 2013 campaign and during the previous campaigns held here, with the Prada-branded boat a familiar sight on the Waitemata Harbour; Prada and Bertelli visited most recently in 2012 to launch the AC72 catamaran.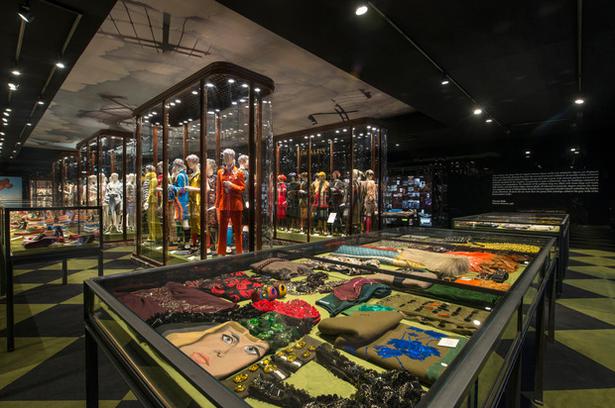 The brand's first New Zealand flagship store is set to open on Auckland's Queen St next week, a two-level space that will offer full collections including clothing. The in-store range examines the concept of "classic", with Prada using words like conservatism and seriousness to describe it - old-fashioned ideas as something new. The most recent show presented at Milan Fashion Week was about the beauty of fabric - especially brocade - and respecting and reviving old skills of production.
See key looks from the in-store collection from Prada here.
The idea that fashion is more than just the dress is key to the brand, and to the Pradasphere exhibition which opened in Hong Kong last week. A showcase of ideas and products from the archive that explore the "universe of Prada", the exhibition debuted in London's Harrods earlier this year and shows in Hong Kong within a temporary structure built on top of Central Ferry Pier 4. Curated by Prada creative director Fabio Zambernardi and graphic designer and writer Michael Rock and his studio, 2x4, the exhibition is a sort of fashion heaven for Prada obsessives and fans, with one wall dedicated to shoes and bags, and the opposite to a "timeline of overlapping interests" with collections, art ventures and projects beyond fashion in film, architecture and sport. There's a screening room of short films from Wes Anderson, Ridley Scott, Roman Polanski (a Prada ad is always more than just an ad), and two large tables display garments to allow a closer look at fabrication and craftsmanship.
"Mrs Prada said very explicitly that she didn't want to make a retrospective of her time at Prada," explains Rock, who has worked frequently with the brand. During a tour of the exhibition, he explained that the goal was to do something that was not historical. "Our idea was to think about a museum of Prada: not a history museum but more a natural history museum. Prescribing the eco-system of Prada rather than the historical trajectory of the company.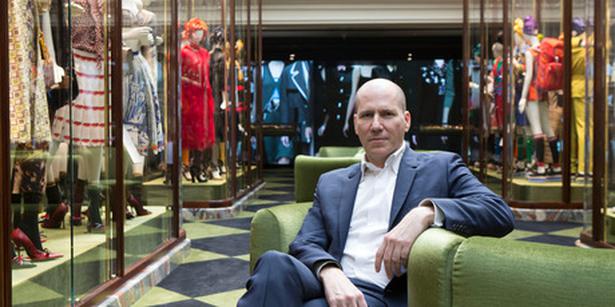 Six glass cases in the centre of the exhibition reference that museum-like feel, presenting themes that Prada has examined throughout her career - modernism (classic minimalism), figuration (prints), continentalism ("homage to European history"), excessivity ("testing the limits of extravagance"), animality (natural inspirations) and femasculinity ("the crossover of the sexes"). Mannequins wearing garments from 25 years ago stand next to those in pieces from recent seasons; all look like they could be presented anew on a runway today.
"I think that belies the fact that often Prada is seen as having a radical new thing each season, but when you look at it this way you realise that, sometimes formally it may be radical shifts, but there is always a strong consistency to the work," says Rock. "Really it was an opportunity to break Prada down into its component pieces, and talk a little bit about the way that Mrs Prada has a unique approach to designing clothes."
It is that unique approach that continues to captivate the fashion industry and consumers. For Rock, it is down to Mrs Prada's dedication to always pushing her work beyond what is expected, "and constantly upsetting conventional notions of taste, beauty, value, and luxury.
"She is able to pull off the most difficult act of design: to create objects that are once highly pleasurable and also critical or theoretical. I think this is why she is so influential because she brings an uncommon level of intelligence to her work - and I believe you can feel that intelligence in the products themselves."
• The Prada Auckland store is set to open on Queen St next week.
See inside the Pradasphere exhibition here:
Share this:
More Fashion / The Latest