Harman Grubisa Nominated for the International Woolmark Prize 2017
Auckland label Harman Grubisa is the only New Zealand-based brand up for this year's Woolmark Prize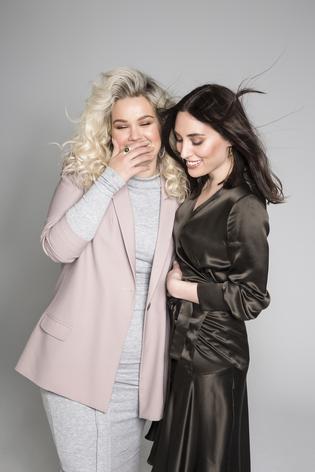 Harman Grubisa has been nominated for this year's International Woolmark Prize, the only New Zealand-based brand acknowledged for the prestigious fashion award.
Jessica Grubisa and Madeleine Harman, the Auckland-based designers behind the brand, were nominated by New Zealand Fashion Week founder and director Dame Pieter Stewart, and are one of 65 global nominees.
The pair will now design a six-piece collection with a look made from merino wool, receiving A$2000 ($2170) to assist in the development of the submission piece.
They will compete and present the piece to a panel of local and international fashion industry insiders at the Australia/New Zealand regional event in Sydney in July. (Last year's international guest judge was New York-based designer Jason Wu)
The winner from that round will win A$70,000, and compete against other regional winners from Dubai, London, Milan, New York and Seoul, at the international finals in Paris in January 2018.
READ: Why Harman Grubisa Is the Hottest Label in NZ
The other 2017 nominees for the Australia and New Zealand region are Elissa McGowan and Thomas Puttick for womenswear, and Chris Ran Lin and Amxander for menswear. Melbourne-based Kiwi Blair Archibald is also nominated for menswear.
The aim of the longstanding awards is to promote the use of Australian merino wool, with past winners including everyone from Yves Saint Laurent to Karl Lagerfeld (who both won in 1954), Christian Wijnants to Dion Lee.
The Australian reports that the total prize pool comes in at A$1.47 million, "making it the largest overall investment in emerging talent globally".
This year also sees the introduction of the Innovation Award, to acknowledge creative fabric or yarn development, with the winner receiving A$100,000.
"It's really exciting – especially because we're the only New Zealand-based brand with the nomination," said Jessica of the news. "Holding it down for a whole country!"
The nomination follows on from last year's nod, which saw the brand nominated alongside New Zealand labels Lucilla Gray and Georgia Alice – the first time in the International Woolmark Prize's history that entry was open to New Zealand designers.
WATCH: Harman Grubisa NZ Fashion Week Beauty How-To
The overall 2016 winners for the region were Sydney-based womenswear label Macgraw and menswear label Ex Finitas.
Jessica and Madeleine, who designed a striking look using merino wool woven with ground-down, fine pounamu particles, say that they gained so much from last year's nod.
They were partnered with Australian 10 Magazine's associate editor Alison Veness-McGourty and digital editor Rebecca Khoury, whose insider knowledge and advice proved invaluable; they have since become mentors.
The Woolmark nomination is another significant acknowledgement for the brand, which launched in 2014 and was last year named as the Mercedes-Benz Presents designer showing at New Zealand Fashion Week.
Share this: