Is Prince Harry Set To Follow In The Footsteps Of His Stylish Forebears?
The Duke and Duchess of Sussex's first royal tour has drawn comparisons in the style stakes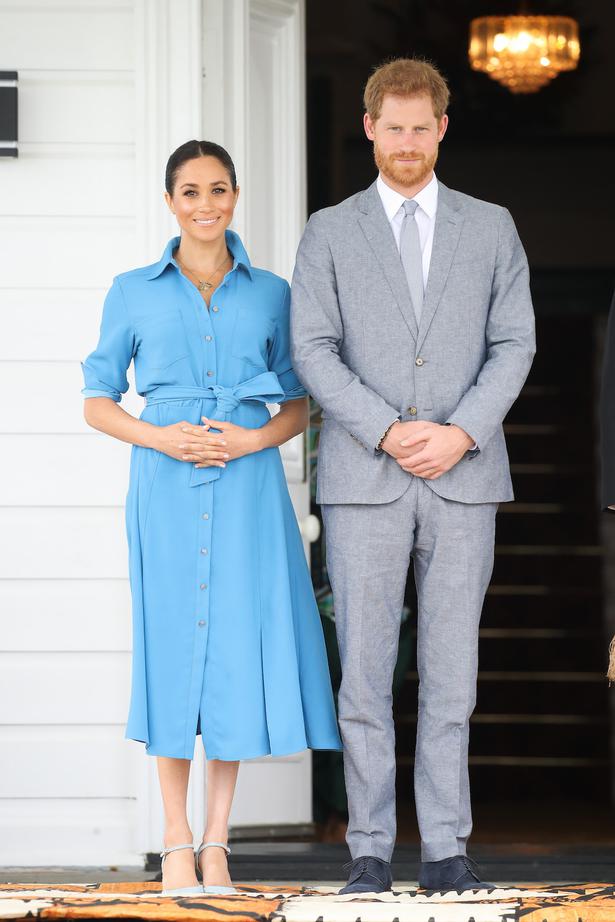 Monday Oct. 29, 2018
While all eyes have been firmly trained on the Duchess of Sussex and her emerging baby bump you may not have noticed that the fellow beside her has been busy, too. On Harry and Meghan's first official tour, spanning Australia, New Zealand and Fiji, it took an eagle-eyed Instagram user to note one remarkable point about the Duke's look.
SEE: Meghan Markle's Most Stylish Moments During The Royal Tour
The post, which swiftly went viral, highlighted the astonishing similarity between Prince Harry in his tropical dress of the Blues & Royals regiment, and his grandfather Prince Philip from 1957 on the cover of Paris Match magazine in that same uniform, their ginger beards and grins almost identical. Will he one day inherit the Duke of Edinburgh's sense of style?
The patriarch of The Firm has always looked appropriate and pin sharp, but never at the expense of the main attraction, the Queen. His wardrobe — still polished as he approaches 100 — melds handsome Savile Row tailoring with sportsman vigour. It's a lesson that Harry might look to; like the Duke of Cambridge's total tour of India in 2016, Harry unerringly plays it safe in the style stakes.
Which is entirely the point; as a royal on a taxpayer-funded tour of duty he can't break out the camp collar shirts and micro shorts as if he's posturing for Instagram in #Positano. His easy "nothing to see here" style — navy chinos, linen shirts, desert boots — are all well and good (actually, the desert boots are a little bit too rustic to wear with smart tailoring, but let's revisit) but perhaps the stylish influence of Meghan Markle has led to a few style adjustments along the way.
READ: Meghan Markle Wears Karen Walker & Jessica McCormack In NZ
First, the introduction of workwear into his wardrobe, by way of a chambray, button-down shirt. British men in hot climates can find themselves cast adrift, style wise, particularly if they spend much of their time in office attire, but a utilitarian chambray shirt is a halfway point between casual and smart. And it seems Harry's taken some tips from BFF Barack Obama, with smart tailoring in a light dove grey shade to suit the tropical climes.
And in Fiji last week, the prince donned a jolly blue Hawaiian shirt. He perhaps has a way to go until he grows into his style legacy and follows in the footsteps of Prince Charles and the Duke of Edinburgh; the desert boots are best for summer BBQs, not meetings with heads of state; the Hawaiian shirt with smart trousers is a curious mishmash; and he'd do well to crop his beard short and trim his hair to disguise his thinning patch — but the Duke's wardrobe while on tour is a welcome respite from the restraints of the (albeit beautifully cut) blue navy suit he's usually so fond of.
And as we eye up summer, the workwear, jaunty shirting (worn with casual chinos, not formal trousers) and lightweight, pale tailoring isn't a bad formula to work from. Just opt for some deck shoes next time, Your Highness.
— The Daily Telegraph
Share this: