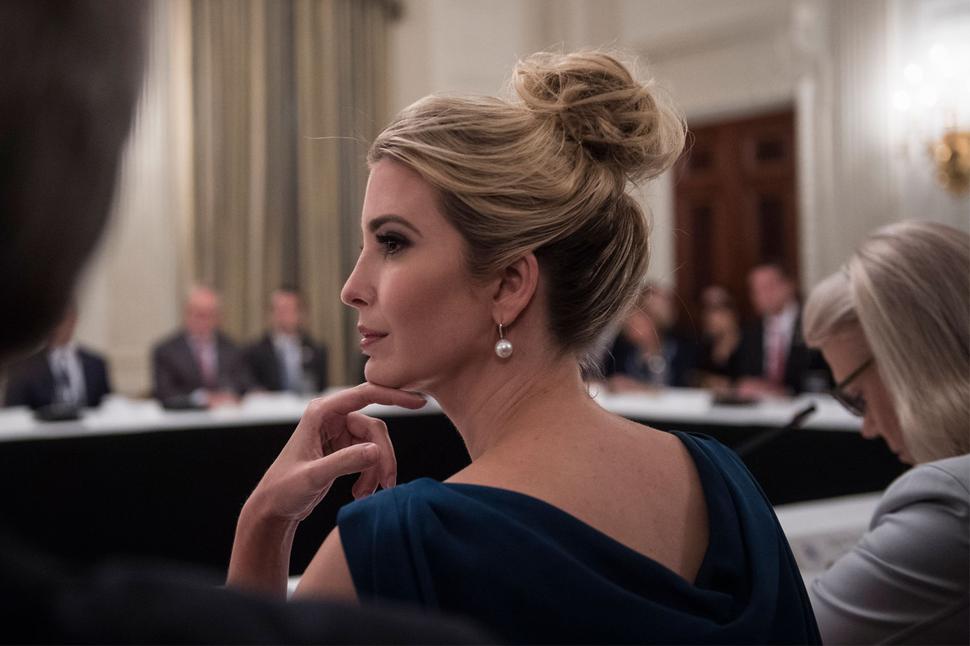 Ivanka Trump's Fashion Lie Is Finished
A lot of brands can be rightfully accused of hypocrisy. But only the Ivanka Trump brand has Ivanka
Thursday July 26, 2018
The Ivanka Trump fashion brand is shutting down. Its death was pronounced Tuesday afternoon.
In the past two years, the brand has been pummeled for business practices at odds with its namesake's political rhetoric. Employees will lose their jobs. Ivanka Trump, the woman, will focus on her work in Washington. Partisan politics will roar on. The fashion world will survive.
The womenswear brand, founded in 2011, was built around the public persona of Ivanka: the tall, blonde corporate executive with the famous last name, a mother of three with a lifestyle glamorously - no, adorably — curated for Instagram. The label was aimed at young, white-collar working women, and so the collections were filled with sheath dresses, simple silhouettes in feminine floral prints and office-ready shoes.
READ: Nothing Else Melania Trump Wears Will Ever Matter Again
There was nothing particularly unique about the products. Indeed, the company was accused of knocking off other brands. But there was nothing wrong with the clothes, either. And that, along with the price and the marketing, was what made them sell. The company aimed to dress a group of women that much of Seventh Avenue has shunned, because designers like to make clothes for daring hipsters and wealthy CEOs. The on-a-budget middle goes wanting. The Ivanka Trump fashion brand catered to managers, bureaucrats, assistants, junior executives and the like. For about $150 USD, a woman could buy a perfectly appropriate work dress that made her look a little bit stylish. It gave her an alternative to the Ann Taylor ghetto, a break from the self-consciously trendy J. Crew, a reprieve from mass-market bland.
The Ivanka Trump label sold a narrative focused on professional glamour and mothers who have-it-all — preferably in an Upper East Side co-op. The story it told was of an idealised working woman whose light and airy home was always filled with fresh peonies and hydrangeas and whose daily schedule was a colour-coded symphony of organization: morning run, board meeting, parent-teacher conference, date night. The brand was Ivanka. Or at least the flawlessly coiffed version of herself that she presented to the world.
READ: Melania Trump and The Politics of Airbrushing
The gloss peeled away when Ivanka, the daughter, came to Washington as an adviser to her father, the president, who said he wanted to put America first and who touted the importance of manufacturing in the United States. Because her brand was no mere vanity project, and making money was the point, her name was licensed to manufacturers, who did the work overseas, where labour was cheap. Business wasn't pretty, but it was profitable. In 2017, she published a book offering women advice on how to be their own best advocates and fight for their interests in the workplace, while the company that bore her name failed to offer the kind of work-life benefits that her book was telling women that they deserved.
Politics, with all of its hot air and bluster, made Ivanka Trump a walking contradiction. By extension it made her company's sins plain. Shoppers boycotted it. Social media trolls attacked it. Department stores dropped the brand.
In truth, none of these business practices are especially unusual in the fashion industry, even if they have increasingly been recognised as flawed, unsustainable and even immoral. Consumers are also skilled at ignoring fashion's dark underbelly when it benefits them. Most sneakers are manufactured overseas. Fast fashion thrives on depressed wages. Landfills are stuffed with our cast-offs.
READ: The Designer Behind Michelle Obama's Official Portrait Dress
What made the ire over this brand notable is not the nature of its business practices. It was the hypocrisy that outraged critics. Still, there's plenty of that in fashion, too. An awful lot of brands that exploit Americana are manufactured overseas. Plenty of brands are accused of copying. But only the Ivanka Trump brand has Ivanka.
Intertwined with the fashion narrative of tasteful work attire, accessible pricing and woman-friendly rhetoric was the political storyline. She was supposed to be the gleaming beacon for women in the new administration, the voice of the family, the Trump-whisperer. It's hard to say which made people angrier: the fashion company that shunned American workers or the company's founder who disappointed a contingent of American voters.
Ultimately, the two grievances became one. And a fashion lie became a political one.
— The Washington Post
Share this: