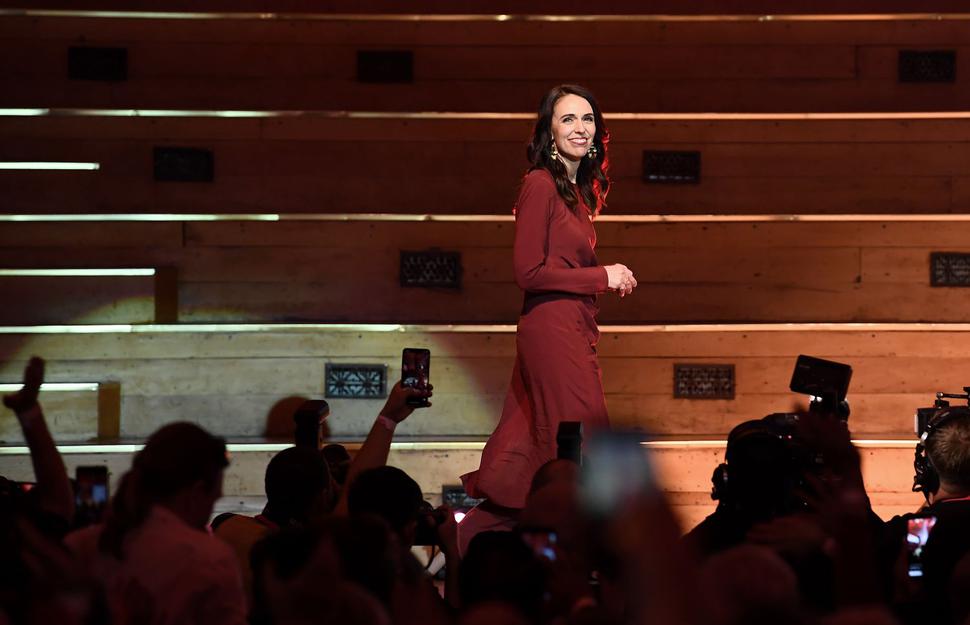 Jacinda Ardern's Election Night Outfit Displays Ongoing Support Of Local Fashion Businesses
There's nothing frivolous about the thoughtful choices our Prime Minster makes when it comes to the significance of her wardrobe
Monday Oct. 19, 2020
On Saturday night, Jacinda Ardern secured her second term as Prime Minister, making history with a landslide win with  49.1 percent of the overall vote  - the largest share since MMP began. The numbers reflect a surge in voter turnout, the highest for 20 years.
As she walked on stage at the Auckland Town Hall to address the nation and her supporters, the PM also displayed her increasing confidence at selecting fashion that showcases her ongoing support of our local fashion industry and retail industries by wearing a burgundy dress layered over trousers, designed by Auckland-based fashion brand Maaike, founded by designers Emilie Pullar and Abby van Schreven.
Speaking with Viva in 2019, the Prime Minister, who shows a keen appreciation for good design, discussed her understanding and support of our local fashion and retail industries.
"When I'm away my focus is always obviously on the work in front of me, but I'm also mindful I should represent New Zealand in every respect. Ultimately though I think the New Zealand fashion industry stands on its own, we have so many successful, incredibly creative designers that make us all proud when they take their work overseas.
READ: he Politics Of Fashion: How Whetu Tirikatene-Sullivan's Pioneering Style Paved The Way For Politicians Today
Her outfit on Saturday night was a throwback to her 2017 election night look in a similar hue, also from Maaike. As Ensemble's Zoe Walker Ahwa notes, the significance of what a politician wears - whatever their gender - is worth discussing. 
"Politicians across the spectrum are aware of the power and symbolism of clothing. Following the much closer 2017 election results, Winston Peters used a well-placed accessory to send a message and make a little joke - with an appearance after drawn-out coalition negotiations while wearing a tie emblazoned with the acronym 'TGIF'. 
And it's 2020: a person can be a respected politician and world leader and value good design and creativity."
Sharing their proud moment on their Instagram account today, Maaike's Emilie and Abby say they were honoured to create another look for the major event.
READ: Prime Minister Jacinda Ardern Reflects On The Unprecedented Year That Was
"The colour is a connection for sure and definitely a nod to our past election look for her but more than anything we are quite limited for colour on election night - no blues or greens and patterns are too busy," says Emilie. "She looks sensational in burgundy so it's an easy job for us."
The Karangahape Road-based pair have worked with the prime minister for a number of years, but Emilie was quick to stress that they feel what she wears shouldn't be of importance.
"We almost feel slightly uncomfortable discussing it as we feel it is often unfair on women in power to have to deal with people discussing their clothes, as men's suits are rarely mentioned. That is why we opted for simple and clean lines so it wouldn't be a distraction or huge talking point."
Share this: