Janetta Mackay: Designs On You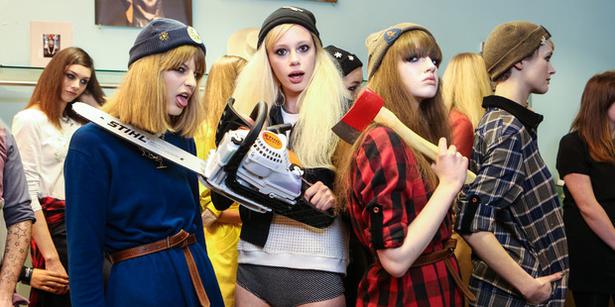 Monday Aug. 25, 2014
I can still remember the first designer garment I bought with the wages from my first proper reporting job. It was a purple silk shirt by then Christchurch designer Rosaria Hall, and I shrank it from careless washing.
The first that I lost was an antique gold textured synthetic jacket by Marilyn Sainty, left behind after too much carousing in a night club.
The first that wore out from too much sitting, shining up the elbows on desks, bars and cafe tables, was a boxy, black wool Zambesi with a fabulous teal paisley lining.
The first that got too tight was a long-line, black equestrian jacket with angled pockets by Barbara Lee.
Somehow, even before then, I'd managed to buy a plaid suit, from Workshop, I think. It had stovepipe pants and a David Byrne proportioned jacket to wear to AUT journalism class. That must have taken a fair few waitressing shifts.
The suit was accessorised with a revolving selection of leather flats found "as new" in an op-shop, before these havens lost their treasures to pricier designer second-hand and specialist vintage stores.
Later, I discovered credit cards and got a bit carried away, especially where shoes and overseas trips were concerned, but the anticipation of seeing and saving was always more satisfying. I'd ask my favourite stores to put items on hold until pay day and like a moth to the flame I'd return. Seldom did I get badly burned, although I may have bought a house sooner without all that shopping.
My wardrobe still contains treasures from decades past, but others I've outgrown in both senses of the word.
These were passed on or sold off without regret, but those most fondly remembered are the ones that simply got away. Lost but not forgotten.
Like the Martin Grant sculpted, patent-look, brown leather jacket he made as a graduate in Melbourne before finding his place in Paris.
In retrospect, deciding it was too expensive feels as smart as the early Shane Cotton painting I've also regretted not shelling out for. Sometimes you should just trust your aesthetics.
With the annual arrival of New Zealand Fashion Week, the Viva team was each asked to say what we hoped for. I said to be surprised. More accurately, I should have said to be delighted.
Having seen hundreds upon hundreds of fashion shows over the years, here and overseas, it's hard not to feel a bit "here we go again".
Fashion Weeks anywhere are a bit of a circus. There's a lot of fuss for precious few minutes to write home about, but, of course, that doesn't stop a lot of words, runway images and, sadly now, endless selfies spewing forth.
As of last Thursday night, I was approaching the event with my usual sense of ennui. Prepared to immerse myself, but not exactly gagging to get there. Knowing there would be good bits, but worrying more about a whole week whooshing by without enough of what the reality shows call the "wow factor".
Kate Sylvester's Marr Factory show reminded me what I love about fashion, that creation of a moment in time that captures and transports; that makes you smile, because you get where this is going and want to be there, wearing that, for the ride. 
Share this:
More Fashion / Street Style