Janetta Mackay: White shoe shuffle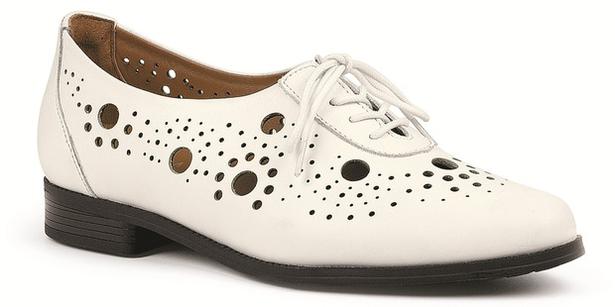 Tuesday Nov. 5, 2013
A month ago, I bought a pair of white punched leather flats, which I fancied were fun. As write this, I haven't worn them, but by the time you read this I may well have succumbed. I'm experimenting by taking these sort-of-sandshoes safely out of the country, to the islands where white is always fashionable.
If I slip my feet into white shoes I will be breaking one of my own little style rules.
Where my self-imposed shackles of supposed good taste come from, I'm not entirely sure. There may have been some childhood conditioning - after I grew out of white toddler sandals - but I think my aversion springs from tribal adolescence. I wore black Dr. Martens and if you were a skanky ho - or worse still, simply had no idea - then you wore fringed white ankle boots. Of course, no one knew what a ho was back then and I hope that nowadays I'm less given to scathing and sweeping wardrobe judgments, but a "f*** me" boot is a no-go zone.
Fashion-forward types will doubtless consider me terribly behind-the-times avoiding white, but before I give up on being judgmental let's just say I don't get how it got "ironic" for stylists to recycle that particular look.
Referential maybe, try-hard tired more like.
I do see the appeal of white summer flats on brown skin. But I don't tan. The lightest shoe I'll wear is nude and, even then, I'd rather not. White heels I struggle with. On me: no thanks; on others: strappy maybe, courts maybe not.
Yes, yes, I know Bianca Jagger looked fabulous in her white wedding trouser suit and matching shoes, but that's her. Hitch down your hemline. I avoided the issue altogether by not marrying in white.
Women who wear white well do impress, although surely they must carry a spare set of everything in their limos. But white - and that includes fashion's so-called essential white shirt - has never washed with me. Partly because white looks unwashed so damn fast. I know this because, truth to tell, I have previously broken my own anti-white rules. There has been numerous unsuccessful attempts to find the perfect white top and a few pairs of pale shoes to ponder upon. First, there was a pair of pointy-toed white leather flats that I admit to being quite fond of until no amount of shoe cream could save them. Then there was the op-shop find of a pair of white 60s stilettos in mint condition, but they soon scuffed their way out of my wardrobe.
I try to avoid trainers, for all sorts of reasons, but at least they can come coloured. The "white" ones are like blobs of blancmange. In defence of my wardrobe foibles, they do help reduce the clutter of choice.
But change is in the air. Those white lace-ups sit upon my shoe rack, waiting. Down the hall, rules are being broken. Last school holidays, on the drive from Melbourne airport to the city, my daughter spotted a giant billboard of a model wearing what looked like a white roman sandal with a platform sole. Turns out these flat-forms are the shoe of the season for young things, and soon we were spotting versions in every chain store all ver 
town. Pester power secured her a pair.
But please, not an ankle boot!
* What is your style pet hate?
Share this: