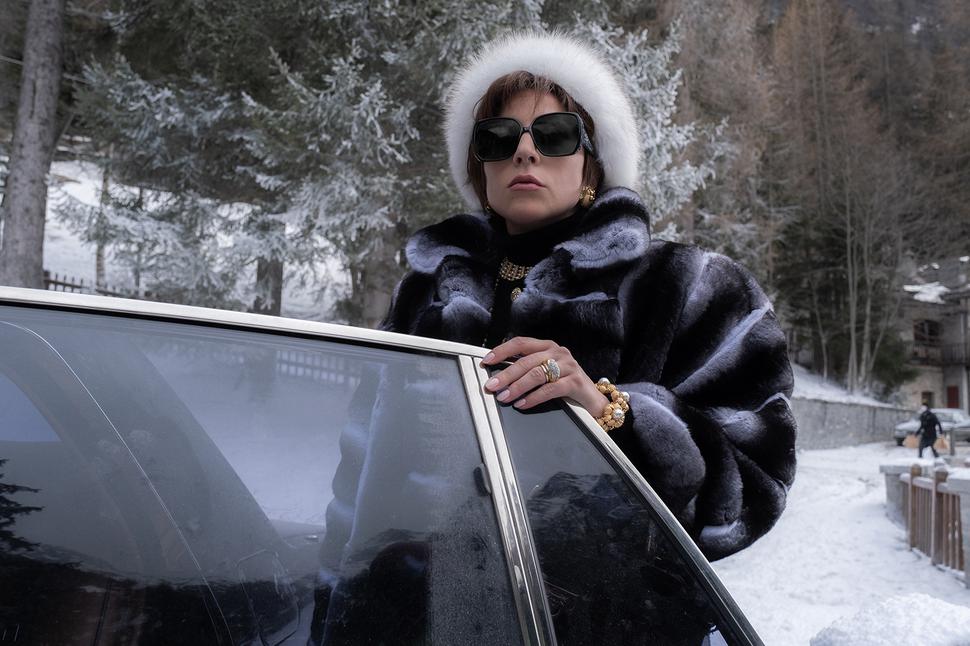 How Costume Designer Janty Yates Crafted The Carefully Dramatic 'House Of Gucci' Wardrobe
The Academy Award-winning costume designer is bringing iconic Italian style to the year's hottest fashion film
Monday Dec. 6, 2021
Costume designers know all the gossip on a film set — and for Janty Yates, dressing Lady Gaga as Patrizia Reggiani, the "Black Widow" wife of murdered fashion heir Maurizio Gucci, and Call My Agent! star Camille Cottin as her love rival Paola Franchi, was a complicated business.
"The amusing thing was that Lady Gaga hated Camille all the way through filming, because she was in character as Patrizia all the time," recalls Janty with a chuckle. "She wouldn't let Camille wear a fur hat — she wanted all the fur hats! It was very, very amusing. I think they bonded after the movie."
That movie, of course, is the much-anticipated House of Gucci, a Ridley Scott-directed drama about the downfall of the Gucci family in the 1980s and 1990s. As the first wife of Maurizio (played by Adam Driver), Patrizia had grand designs for the family business but, when he left her for Paola, she hired a hitman to kill him.
In March 1995, he was shot dead, aged 46. Patrizia was arrested in January 1997 and sentenced to 29 years in jail, but released after 18 for good behaviour.
This personal drama for the Guccis coincided with a tumultuous time for the business, with family feuds seeping from the living room to the boardroom, plunging the company into the red.
The business was sold off to investors in 1993 and its turnaround began only when Tom Ford was promoted to creative director in 1994, finally putting the label back on the fashion map — but without any involvement from the family who had run it since it was established in 1921.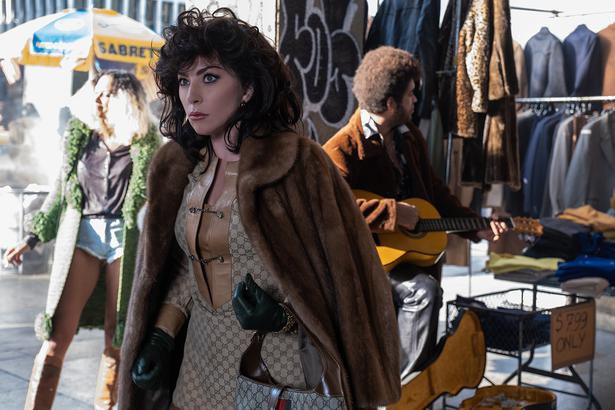 So far, it seems that the Gucci family aren't too happy about the film, as you might expect. "We are truly disappointed," Patrizia Gucci, second cousin of Maurizio, told the Associated Press. "I speak on behalf of the family. They are stealing the identity of our family to make a profit, to increase the income of the Hollywood system."
Their qualms, though, are mostly about the actors chosen to play key family figures — for example, patriarch Aldo Gucci was, Patrizia says, "a very handsome man", unlike how he's portrayed by the "fat, short, with sideburns, really ugly" Al Pacino.
Whatever the behind-the-scenes tensions though, from a costume point of view, it's a high-glamour story that spans 25 years of fashion and, as someone who has followed Gucci's evolution with interest, Janty had been longing to get her teeth into it.
"I had known about the project for a long time, because Sir Ridley's wife [and the film's co-producer], Giannina Facio, had had the script for 15 years or so," she says. "I've just been hanging around in the background, going, 'Don't forget me, don't forget me!'"
READ: 'House Of Gucci': In Conversation With Lady Gaga, Adam Driver, Salma Hayek & Jared Leto
There wasn't much chance Scott would choose anyone else — the pair are long-time collaborators, and Janty won an Oscar for the costumes on Gladiator. She began research on House of Gucci a year before production: "I'd been sent a script and taken myself off to Florence to the Gucci museum — I cannot tell you how wonderful it is. So I was able to do a huge body of research just from the museum alone and I was prepared when Ridley got the green light."
This is the seventh film they've worked on together and, when we speak, she is already preparing for the next: Napoleon.

House of Gucci was also her second time working with Driver, who had recently starred in another Scott movie, The Last Duel. "Adam's like part of the family now," she says. "And he's an absolute clothes horse."
The actor is so in demand these days that Janty's tailor had to travel from location to location to fit him for his costumes. "He flew to New Orleans to fit him there, he fit him twice in New York, and I think he fit him somewhere like Calgary too — he just followed Adam around."
House of Gucci is packed with flamboyant characters, from Gaga's fierce Patrizia to Jared Leto as Maurizio's cousin Paolo, an aspiring designer who, according to the film at least, was the idiot of the family. Driver, however, is a low-key presence on the screen, always chic in immaculate tailoring.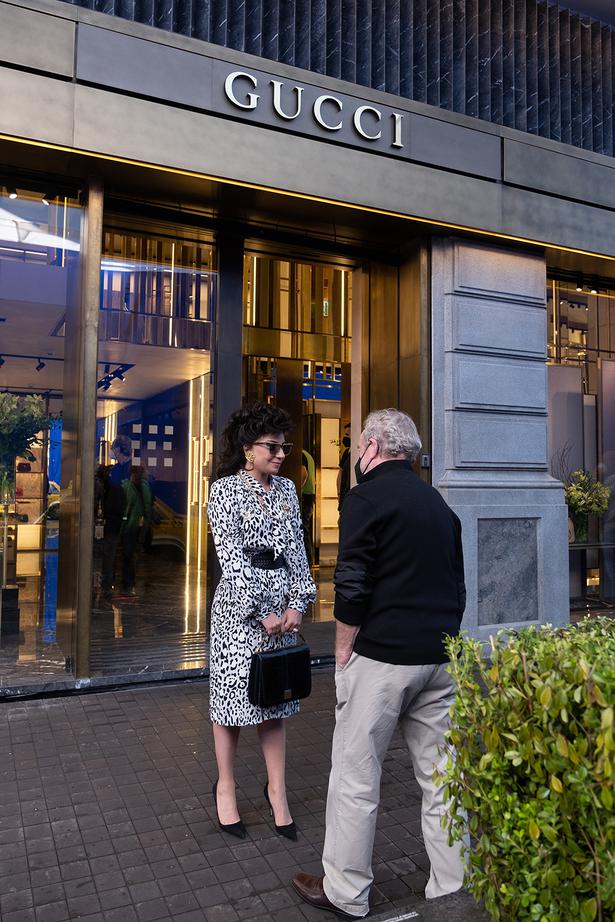 Photo / Supplied

"Maurizio was a beautiful dresser. He wore Savile Row suits and beautiful accessories. In the film, his costume didn't change much with the times — later on, I put him in two or three velvet coats or suits, but we didn't stray much. As every Savile Row tailor will tell you, it's about classic style."

Lady Gaga, or "LG", as Janty affectionately calls her, was a different matter. "Ridley had said, 'I don't want her to be out there. I don't want her to be Lady Gaga — I want her to be Patrizia Reggiani. I want her to be more Gina Lollobrigida than Joan Collins,'" she says.

But while Patrizia may not be "out there", she's certainly no shrinking violet; in Milan these days (she was released in 2016), she is said to tour the city's designer boutiques each weekend with her pet parrot on her shoulder.

Gaga's wardrobe in the film is an orgy of luxurious lace, nipped-in waists and pumped-up shoulders, from a daring Elizabeth Taylor-esque cocktail dress at the beginning to the head-to-toe Gucci monograms she adopts later. During Janty's first Zoom with her, Gaga was already in character and speaking only in an Italian accent.

"I was slightly nervous, but she said, 'I just want to dress like my mother.' And she has an Italian mother, so that was wonderful and gave me a great freedom."

Her costumes were made specially, or borrowed from the Gucci archive, as well as from several other costume stores in Italy. "And then LG opened up her own archive and we were able to take anything from there," says Janty (a chainmail outfit was among the gems found in Gaga's wardrobe).

READ: A First Glimpse At Ridley Scott's Impossibly Alluring Film

Other design houses helped too: "In one scene she's wearing a coat and dress which Alaia sent us. So we really had an exceptional collection of costumes."

It's when Maurizio's old flame Paola arrives on screen that Patrizia's maximalism becomes most obvious. Paola is first seen on the slopes of St Moritz, a fresh-faced blonde in a neat white ski suit. By contrast, Patrizia is heavily made-up and jangling with accessories at all times. Paola is modern and Patrizia, to Maurizio at least, suddenly looks like yesterday's news.

"The whole thing with LG was that she had fairly simple costumes, but she'd always have four bangles on, and two necklaces, and the biggest earrings," says Janty. "That is what Patrizia Reggiani did — so we basically kept her a bit like a Christmas tree."

The film focuses more on family dynamics than the fashion industry, but two catwalk shows stand out: a 1984 Versace show (with a brief glimpse of someone doing an uncanny impression of Gianni Versace) and Tom Ford's headline-grabbing Gucci show in 1995.

"I had nothing to do with that, I give all the credit to my associate designer, Stefano De Nardis," says Janty.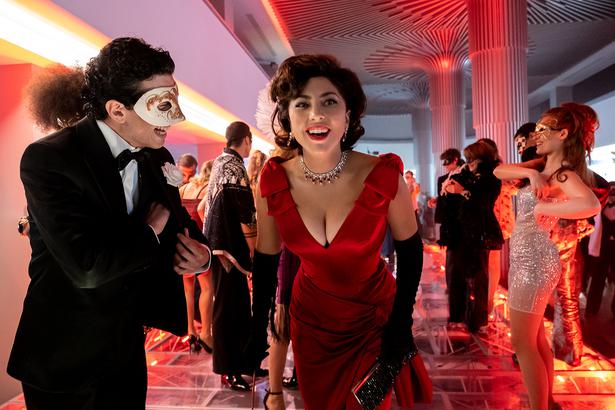 "He reproduced both shows entirely, and all those turquoise, lime-green and acid-yellow velvet suits in Tom Ford's collection were a thing of beauty. And then he created a show for Paolo Gucci, which never really existed; Paolo was supposed to be rather tasteless, but it's quite a tasteful collection. So Stefano did three shows, from top to bottom."
Leto, playing Paolo, is rendered almost unrecognisable by heavy prosthetics; his wardrobe is a riot of colour, with three-piece suits made in bright corduroys and checks, worn with clashing accessories.
Janty singles out his costumes as some of her favourites: "That was the most fun I've ever had dressing a man. I made shoes for him that were yellow and green, though sadly he didn't really get enough screen time to show them to their best advantage. But also Aldo Gucci [Maurizio's uncle and Paolo's father] was a terrific dandy in his way. All of his and Jared's clothes were made specially for them."
So what's the best costume in the film? "'Everything!" she says, laughing, then adds, "No, I love Patrizia's bridal dress." It's a tight-bodiced, strapless gown with a lace overlay and an elegant hem that skims Gaga's calves at the front, then dips to a long train.
It's one of the few areas where Janty stepped away from Patrizia's own wardrobe; her real wedding dress was floor-length and very plain.
"This one was our own design, with all the lace sewn on by hand. At the last minute, we also made up a copy of the dress Reggiani actually wore and we decided on the day. LG put on the original dress, but then she put on the one we'd taken eight weeks to make and it was just an outstanding success."
Sometimes, artifice is more glorious than reality, which seems a fitting philosophy for a fashion drama.
The Telegraph
House of Gucci is in cinemas from January 1, 2022
Share this: