Get to Know Designer Jarrad Godman
This young designer to watch will showcase his new collection at NZFW, in a collaboration with the team at Servilles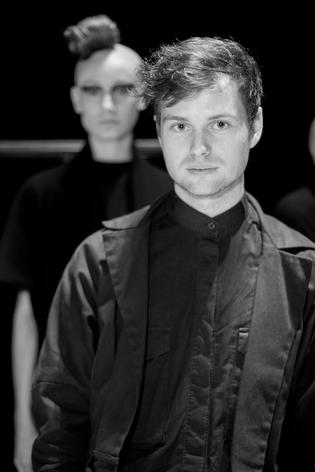 How did you get into fashion?
My first job was at a fashion PR showroom, I was lucky enough to work there while studying fashion at AUT. The job really showed me the ins and outs of the industry, which proved to be very useful when I started my label after graduating.

What's something that people would be surprised to find out about you?
People seem to be surprised when they find out I am colour blind — but I work with a lot of black and clashing colours so they don't seem to notice.
If you weren't a designer, what would you do?
I'd probably look towards pursuing a career in psychology, but let's just hope design works out!
Your three favourite models?
There are so many local models who I adore, and I really can't choose between them, so I've pulled names from a hat: Ashleigh Good, Jade Woods and Jordan Daniels.
SEE: Our Pick of Models to Watch at NZFW 2016
What does your typical day look like?
For the past month, it's been the same routine of patterning, cutting and sewing in to the early hours of the morning. But I've managed to slip in countless coffees as well as the odd gym session, in an attempt to counteract the large quantities of pizza I've been eating whilst making this collection.
The last thing you read and loved?
I recently finished reading Alexander McQueen's biography. It was incredibly upsetting but eye-opening.
Do you think there is a lack of diversity in NZ fashion, in terms of representation of gender, sexuality, race, size?
Definitely! But I guess it's the same across fashion as a whole. I'm proud that I am part of a vocal generation which is proactive when it comes to solving these inequalities. Beauty is so diverse, and I feel in NZ we have woken up to that and are making progress.

If you could spend 10 minutes in a room with anyone, who would it be?
Probably my mother's father. I didn't get to meet him and I'd really like to know if he was bald, seeing that baldness is inherited from the mother's side.

What websites do you frequent?
Tumblr, Instagram, *insert website that makes me look interesting*
Share this: