Jerome Dreyfuss' Practical Bags
Lisa Armstrong gets seduced by the man making handbags sexy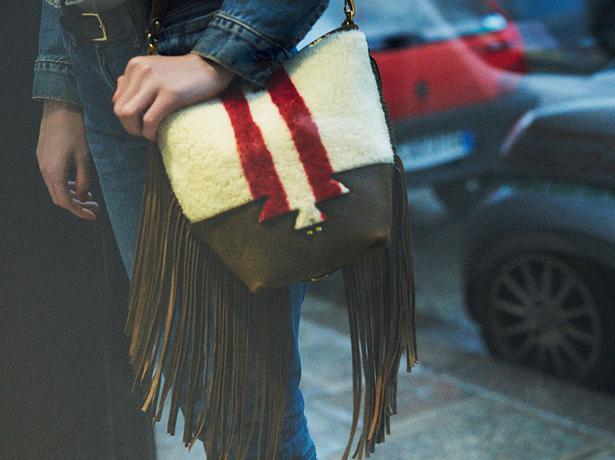 Wednesday Jan. 20, 2016
Could the handbag work as a cypher of feminist history? Jerome Dreyfuss, the man behind one of France's best-loved handbag lines (80,000 sold last year/in 2014), thinks so. "In the 70s women had shoulder bags and they strode through the streets, hands in the pockets of their trousers, looking carefree."
Hmm. On the Left Bank, perhaps. But Dreyfuss has a point about their social significance. In 1975, the year of General Franco's death, Loewe, the esteemed Spanish leather house, introduced the Amazona, a chunky, capacious receptacle based on the lines of a briefcase. Why the departure from the dainty metal-framed bag? Because for the first time in Spain, women were pursuing careers and spending all day out of the house. They needed a bag that would hold more than a coin purse and a lipstick.
As for women today? "All that juggling of mobile phones, iPads, a spare pair of shoes, gym kit," says Dreyfuss ruefully. "Her posture has changed, yet so many bags don't make her life any easier."
Dreyfuss wants to address that — and women respond. The Twee-Mini he designed for his girlfriend ("She was always losing her keys, her money — it drove me crazy") is a stretchy pouch with shoulder straps that would look almost dainty if not for the weathered leathers it comes in. Sarah Jessica Parker took such a liking to it that she bought one in every colour.
Dreyfuss approaches his bags as a product designer might. "I was a boy scout. I like practical solutions." Each one comes with a miniature torch ("it's important that women can see when they're applying makeup in the back of a taxi at night, but also that they can find their keys when they get to their front door"), a mirror and enough compartments so that even if she doesn't carry a purse, a sense of order reigns in her bag.
In effect, they're like extended pockets — for women who don't like bags — nestling comfortably in the nooks and crooks of the female body. On his website, each bag has an illustration outlining the objects that will fit into it.
It was women not liking bags (a French fashion thing) that propelled him into the business in the first place. He noticed his girlfriend and her friends had stopped wearing them, "because they couldn't find any that were cool". The girlfriend in question was (and still is) Isabel Marant, an opinion-former of some note. This is a man who likes a challenge.
Apart from Stella McCartney, he's also the first high fashion accessories designer I've ever heard mention animal welfare high on his list of considerations. "I looked at the hides we were using and realised it was essential that we care about the way these animals are treated. You can tell by the skins what kind of life they've led. If it's bumpy or has spots, that's not a good sign. If it feels tight, then they've been fed too many steroids in order to make them grow fast."
Dreyfuss's bags are not cheap, but he hasn't hiked his prices just because he can. "Some bags cost the same as when we launched 10 years ago — partly through economy of scale, but also because I don't want to be part of the bullshit fashion attitude that raises its prices 30 per cent each year."
— The Daily Telegraph

• Jerome Dreyfuss bags are available to buy from Net-a-Porter.com
Share this: