Jessica Gomes' Beauty Routine
Australian model and actress Jessica Gomes shares some of her beauty and style favourites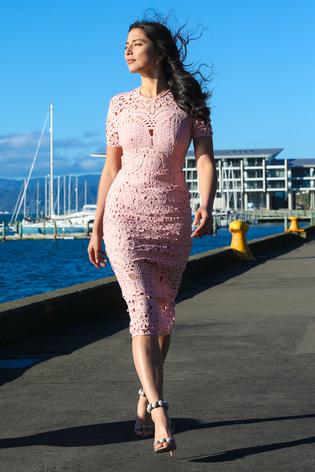 Australian model and actress Jessica Gomes flew into Wellington on Wednesday, her first time in the city for the official opening of David Jones' first international store. An ambassador for the iconic Australian department store, Jessica was on hand to cut the ribbon on opening morning and add some glamour to the previous evening's cocktail party in a metallic dress by Camilla and Marc. "I think it's one of the best stores I've seen," she said the day before opening, catching up over a cup of tea after an afternoon of fashion shoots.
The 31-year-old, wearing a khaki green coat by Australian designer Dion Lee and Gucci fur-lined slides, is now based in Los Angeles where she has been working on films. This weekend she's shooting with Elle Australia in Wellington, before heading to Sydney for David Jones' glitzy new season showcase next week – where she'll open the show.
Shooting the latest David Jones campaign
The campaign was amazing. We shot on the rooftops of New York with Emma Summerton, an incredible photographer, and Jill Davison, a huge stylist from Australia. It's all about endless possibilities. I lived in New York for six years, so know that anything can happen in the city that never sleeps. That's really where I got to know my style, and what I like. It's such a cool city.
Favourite designers
Internationally it would be Saint Laurent; I'm definitely a Saint Laurent girl. New to David Jones is Balenciaga accessories, which is really exciting. I love Chloe too. Australian designers that I love? Dion Lee, Rebecca Vallance, Ellery, Camilla and Marc, KITX. Australian designers are really what I grew up with; I have a strong connection with them.
Beauty philosophy
It's really just to keep it simple. I'm really into using cleansers. I love Sisley, which is available at David Jones. I always use the Floral Spray Mist because I find that I tend to get on the dryer side. I use a M.A.C makeup remover. I'm really big on having clean, hydrated skin all the time, because I wear a lot of makeup. Especially when I'm travelling – it can really take it out of you, so I'm all about hydration. I love the Chanel 10 ingredient moisturiser; Chanel La Solution 10 de Chanel. It's very simple and fragrance free.
Earliest beauty memory
Slathering Nivea all over my body, because my mum told me to! The big pot of Nivea. My mum used to tell me too, 'always take off your makeup or you'll turn into a cat!'
Skincare
I've been really lucky with my skin. For me the more simple I keep it the better; otherwise I tend to break out with a lot of stuff on my skin.
Signature beauty look day vs. night
I'm pretty simple during the day; I'll do a tinted moisturiser, a bit of blush, curl my eyelashes, mascara. At night I'll do a smoky eye. I love Tom Ford's eyeshadow quads; they're really amazing. And usually with a nude lip.
Best beauty trick
Always having really beautiful skin. I love contouring, and for me, because I have the Asian eye, I love a bit of smoky. I'm also really into texture spray, and texturizing my hair and making it really voluminous. I love that beachy look: undone and effortless. I use Oribe and Aveda.
Travel beauty routine
I love face masks. I'll always do a hydrating face mask and under eye mask. I try and get a massage in; lymphatic drainage. I find that as long as I keep myself hydrated I'll feel good. I'm actually curating my own skincare range, which I'm going to launch into David Jones next year, and it's all for travel, and hydration.
Getting ready for a big event
I love to put on music and relax. The David Jones opening party is a big event; I have to do a speech. I get nervous sometimes, so I have to gather my thoughts and get grounded again. Sometimes I have some funny days and get back to the room, and get back to myself – so I like to put on some music and be silent; do a bit of meditation. Preserve some energy!
Staying balanced, fit and healthy
I don't drink; that's a huge one. It's really helped me to not get too stressed out – travelling so much can be very stressful. I tend to keep it really simple again, eat really healthy, have early nights and get lots of sleep. Have moments to myself. Getting older, it's so important to look after yourself: I take my vitamins, I have my calcium and magnesium; my vitamin C powders. I really do want to feel like I'm switched on and sharp.
Early nights are really important too - I'm in bed by 9.30-10pm now. Sleep is so important to me when I'm working! L.A. is such a healthy lifestyle; you're meeting up with people for green juices and hikes or yoga. It's very different to New York, where everyone is meeting up for cocktails and going to new bars or events. I lead a very healthy lifestyle.
On Australian success in film and fashion
Australians, more and more, are becoming noticed, especially in L.A. where I live. The Hemsworths, Margot Robbie. Obviously, Christine Centenera and a lot of fashion people are making a name for themselves. Kym Ellery just had one of her shows in Paris which is amazing, and Christine has been working with Kim and Kanye. It's great. I just think Australian people are really driven. It's all very close knit. I'm very proud to be Australian and to be a part of this new time and wave. It's fun!
Share this: