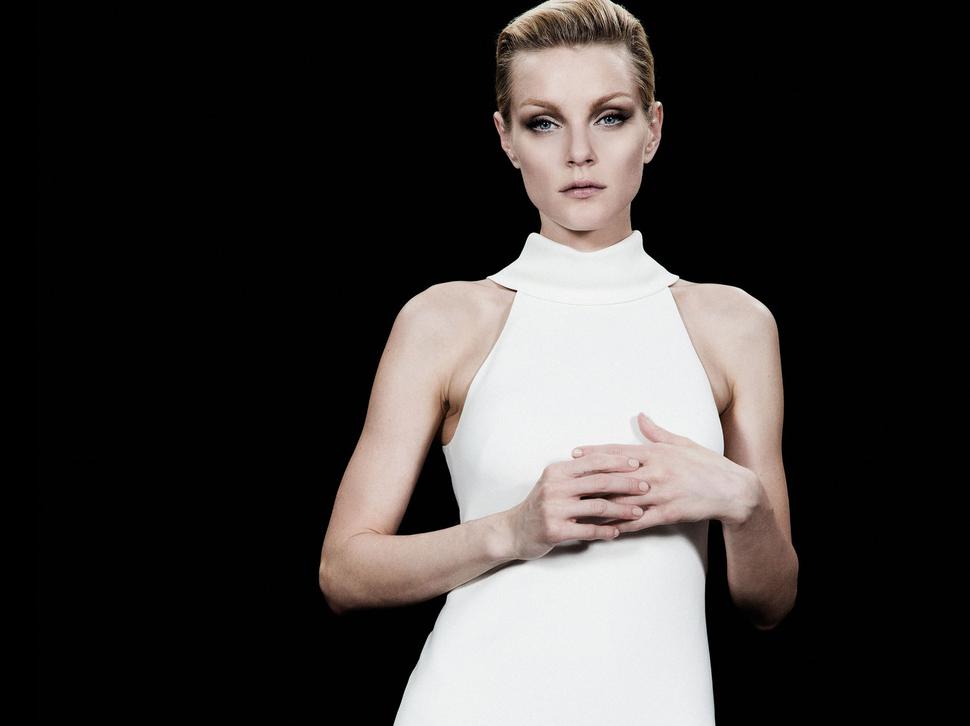 Why Jessica Stam is a Model Muse
Jessica Stam on working with one of Australia's much loved labels, Camilla & Marc
Tuesday Oct. 6, 2015
She's the model with a signature gait, a strut that only a handful can lay claim to. Canadian-born Jessica Stam began modeling in an era where a return to personality and individuality was welcome, a concept that hadn't been seen since the supermodel set of the 90s. With piercing blue-grey eyes, porcelain skin and a doll face, Jessica was in good company. She was photographed on an iconic American Vogue cover in May 2007 announcing the world's next top models — Raquel Zimmerman, Lily Donaldson, Sasha Pivovarova, Agyness Deyn, Caroline Trentini, Coco Rocha, Chanel Iman, Doutzen Kroes and Hilary Rhoda. These mid to late noughties models are still in demand today, testament to their professionalism and reaching icon status in the process, going against the industry's often fickle tastes.
It's an industry that Jessica says has presented her with plenty of opportunities. "I love working with diverse and interesting people. Recently, I have been doing more work in commercials, and have discovered just how much work goes on behind the scenes." Australian label Camilla & Marc selected Jessica to front its new Resort 2016 collection, released last week. Jessica shares with Viva memories of her first experience in Australia with the designer duo, what styling tricks she's learnt over the years and why this business woman/model is at the top of her game after all these years.
There's a distinctive design element to the Camilla & Marc brand that's modern and sharp. Tell us about some of your favourite pieces from the collection.
I genuinely loved all the pieces I wore for this campaign and would happily add all of them to my wardrobe. They certainly know how to cut a sharp blazer but, then, create such feminine dresses, too.
What did you love about your first visit to Australia?
I actually love that Australia is so far from any other place I have travelled. There is an indescribable feeling you have when you travel so far from your home. I found the Australian culture to be amazing and the food is incredible because it's all locally grown. I can't wait to visit again!
Would you ever visit New Zealand?
I would love to take a trip to New Zealand. Some friends of mine took a girls' trip to New Zealand a couple of years ago but I had to pass on the opportunity - a decision I still regret. Discovering New Zealand is high on my bucket list!
There's a strong focus on models having a large social media following. What are your thoughts on this and what advice would you give to younger models coming through?
It is so important to feel connected to people and social media is a new means to achieving this.
What does fashion mean to you now from when you first began in the industry?
I definitely express myself through my fashion choices and it largely revolves around how I'm feeling at that moment. Most days you'll find me in a tank top and jeans or, just as often, I'll wear an old tee with a long black skirt and Converse sneakers. Other days, I'll feel like wearing one specific colour, like a deep red, and will build my look around that. On set, I'm very lucky to work with very creative stylists who inspire me to convey a specific vision.
You've been involved in the design process with successful collaborations with brands such as Rachel Roy, Rag & Bone and Repetto. What about that process do you enjoy the most and are there any other design projects on the horizon for you?
I learned so much working on the other side of the fashion industry with those labels and the designers. Having had that opportunity to design with them has given me even greater respect for the hard work that goes into the entire process. Collaborating is something I would love the chance to do again.
What are some of the styling tricks you have learnt over the years and apply to your everyday wardrobe?
- Wear clothes that make you happy.
- Do not belt that dress.
- Leggings are not pants.
- Don't drink red wine when wearing white.
Your success as a model comes through not only through your work but also your ability to be a spokesperson for various causes and your philanthropy. Why is this important to you and how has the role of the fashion model changed from when you first started out?
The industry has changed and models have more of a direct voice through social media platforms like Instagram and Twitter. It makes it that much easier to stand up for what you believe in and raise awareness and funds for worthy charitable foundations.
I am currently reading... The Soul of an Octopus by Sy Montgomery.
The last song I downloaded was... Dodge and Burn by The Dead Weather.
Beauty to me means… A feeling of confidence and inner peace.
The best advice I have ever been given is… "Be kind" - my mother.
Share this: