Contemporary Jeweller Vanessa Arthur Takes Inspiration From Her New Home
Preparations are afoot for Hawke's Bay artist Vanessa Arthur's upcoming exhibition at the Hastings City Art Gallery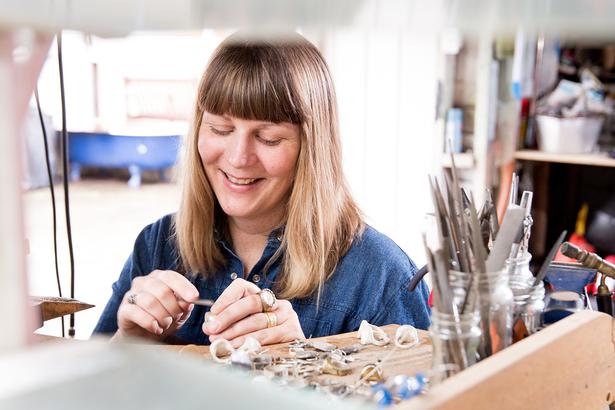 Thursday Oct. 19, 2017
Contemporary jeweller Vanessa Arthur is busy in her home studio preparing work for an exhibition which will open at the Hastings City Art Gallery in January.
Having exhibited all around the world — including Munich Jewellery Week in 2016 and, more recently, in Cagnes-sur-Mer, France, where she was part of an exhibition curated by eight contemporary jewellers — she is now hard at work on a series of gold rings which have been plated in fine silver.
"The intention," she explains, "is that when they are worn they will gradually wear back to reveal the gold underneath."
Vanessa is also busy building larger wall pieces from both concrete and metal. "I recently held an exhibition at Napier's Spa_ce Gallery which focused on the exploration and excavation of unnamed spaces within the built urban environment and the marks we make. This included jewellery, vessels and objects. So these bigger pieces are an extension of that, evolving my practice through other materials."
Having moved to Hawke's Bay four years ago from Wellington, Vanessa says her new home has a very supportive community for artists, and local galleries have allowed her to develop and present her work to new audiences. Plus, she laughs, there are fewer distractions living out of the city, allowing her more time to focus on her practice.
"My colour palette has definitely changed. My work is influenced by urban landscapes so it's inevitable that I should start to take on the Art Deco hues you find here."
• Vanessa is represented by Spa_ce Gallery, 16 Tennyson St, Napier. Visit Thisisspace.co.nz
Share this: