"Creative Freedom Allows Truth": Joshiua Venus Blacklaws On The Power Of Visual Authorship
The Mother of Aotearoa's newest ballroom house, Murder Haus, has built a community where ambition is limitless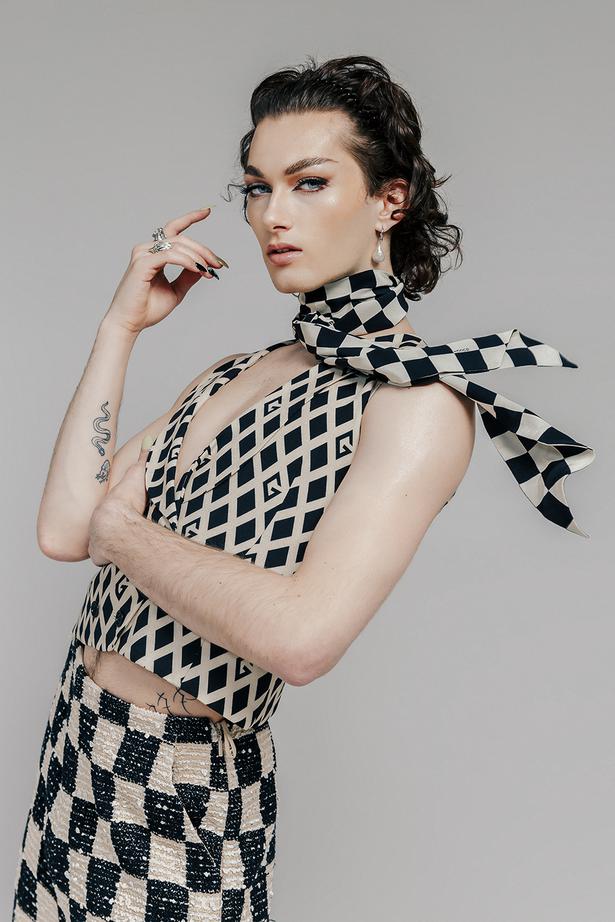 Friday Oct. 8, 2021
Tenacity, creativity and a maternal instinct are just a few key values that Joshiua Venus Blacklaws holds close as one of the rising faces of our unique ballroom scene.
As the House Mother of Aotearoa's newest ballroom house, Murder Haus, their focus is on building a strong collective that honours the fundamentals of ballroom culture.
They take time to share their pearls of wisdom with us on the power of personal creative self-expression and what it takes to raise the collective consciousness through their practice.
As the Mother of Murder Haus, what are some of the key components of being a creative person part of a collective? What are the attributes that make a true creative collaborator in your opinion?
Being a part of a collective means learning that collective comfort and input means collective success. I love to conceptualise and take the lead on things but I also do my best to make sure each person has a voice in what we are producing.
Ultimately, as a Mother, my goal isn't necessarily any fragile concept of success or social gratification but rather the growth and confidence of each individual. A true creative collaborator will be creating not for themselves but for the benefit of the whole. Most times that benefit is simply just the experience or growth that comes with making.
In my opinion, you have to be understanding, passionate, committed and ambitious. There should never be a limit to what you think you or others are capable of.
Tell us about the key ball categories you compete in — what about these art forms do you love the most and how do they represent you?
In Aotearoa ballroom, I've walked runway the most. I have always been drawn to runway because I'm so obsessed with fashion and style — in runway, we can push everything from the hair down to the shoes and be seen and celebrated. But as I have found my bearings in the space and become a part of the community, every category seems to call to me for different reasons, it's just about finding the right time and learning.
[Dressing as a] non-binary sex siren was perhaps the most liberating and challenging experience I've had. Unlike runway, I wasn't hiding under garments and shaping myself with fabric; I was near-naked, presenting my body in its feminine respects for the first time in front of anyone. Ballroom categories often call for butch queens or fem queens and, as a young person, I found it challenging to find where I fitted. I made mistakes and I grew.
OTA categories and non-binary specific categories are where I have found the most liberation as a gender non-conforming person, and I'm grateful to the pioneers of Tamaki Makaurau ballroom for creating those categories and spaces.
What does the power of creative freedom mean to you?
It means agency. Agency in how you move, how you speak, how or what you present. Without creative freedom I don't know if you could ever really have truth — any boundaries imposed on someone (an artist) will always reflect in the work, even if covertly.
Creative freedom allows truth, and is, in my opinion, owed to artists, especially queer and BIPOC artists. Navigating the world at large, we have standards and rules superimposed on us constantly.
READ: The House Of Iman's Fashionable Roots & Understanding Our Vibrant Voguing Scene
As someone who self-teaches and directs their own creative output, having creative freedom is the most liberating thing because I feel no boundaries to what I can create. I never underestimate myself and always try to learn something new with each project or process.
What is the best piece of creative advice anyone has ever given to you?
My high school art teacher used to ban erasers. She said that when you erase something you'll just repeat a variation of what you already attempted. Most people hated that idea but it really stuck with me throughout my art practice, embracing mistakes and challenges and allowing them to be truthful parts of the work.
Rather than being a perfectionist, I try to focus on process and production, not sticking to one thing or idea for too long.
That advice made me the kind of artist who jumps around conceptually and can never stay in one place for too long, which can be to a fault sometimes, but I have taught myself so much on the way because of that.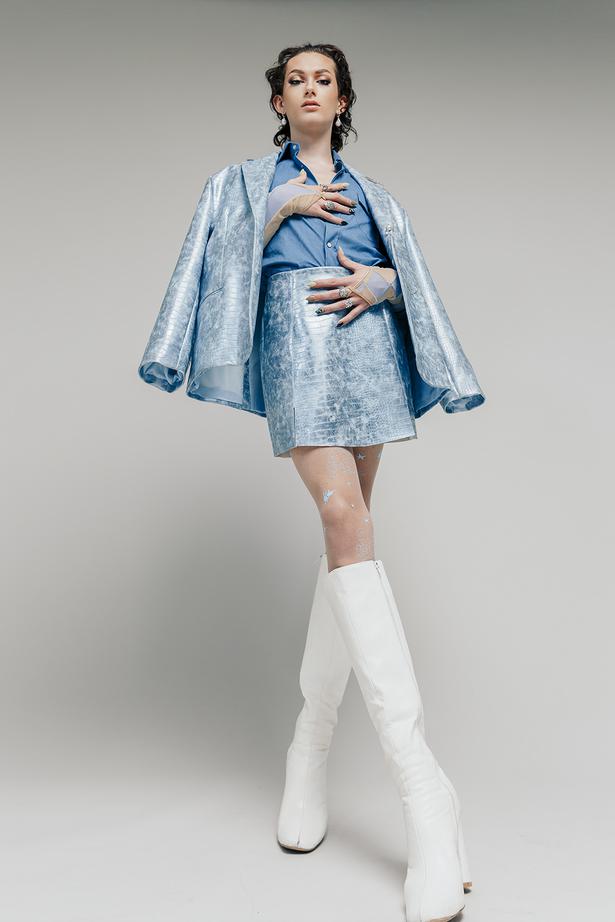 Joshiua wears Tax Evasioan Studio blazer and skirt (POA). Crane Brothers shirt, Boddypart gloves from Sabotage MFG, Joshiua's own boots. Photo / Hohua Ropate Kurene

Fashion is also a key form of expression for you as both someone who wears fashion and creates fashion. What do you love about the power of fashion to harness and support your identity?

Fashion is the first and most powerful way that we may distinguish ourselves visually. And my experience with fashion has been a journey to say the least.

Fashion allows us a power of visual authorship that is unparalleled, and when you are broke you start to get resourceful and creative in how you approach it. For me, fashion has this sense of fantasy, but also of survival. Through clothing I can be feminine and masculine, I can be extravagant and over the top and feel like a star.

READ: Meet King Princess, Pop Music's New Queer Icon

But when you don't have expendable income, you end up making essentially everything that you wear yourself. That in itself is a labour of love, really. And it's a mode of survival for me, as someone who is in a state of transition. Sometimes clothing is all I have to feel affirmed in my identity and feel seen.

As I came into my identity, fashion became a lifeline for me, and that's how it took over my creative practice.

Who are some of your personal creative idols, or people you admire for their creativity?

Of course, I have 'celebrity' idols like Willow Smith, Arca, FKA twigs, but I find the most inspiration here at home.

Ego/Tristan Bloemstein, who started Murder Haus with me and is light years ahead of the world. Minsoh Choi, who is an incredible, resourceful and talented artist in Murder Haus. P.A., one of my dear friends who is making waves as a queer indigenous contemporary artist. Zeki, the most phenomenal DJ, sonic artist and illustrator. Jermaine Dee, whose photography practice has entirely influenced my art practice in so many ways. Half Queen, who is truly my idol in terms of the way she carries herself, creates spaces and shapes entire communities to be inclusive, artistic and loving and queer.

I have so many idols in this city who I look up to and honestly try to make proud.
Your face is always flawless. Describe your go-to makeup look. What do you love about makeup's power to transform?
My go-to look took a long time to find but it's always about well-placed neutrals — to reshape my face to be more feminine. Makeup works for me the same way fashion does — it's a creative outlet but it's also entirely about agency and self-authorship.
For me, the process of putting on makeup is spiritual and transformative. It's a ritual. It's hard to describe what it feels like to only 'become' yourself after sitting in a mirror for an hour carving that person out, but that is entirely how it feels.
I've been filling my brows since I was 14 years old because, even then, the face that I woke up to was never truly mine. Makeup gives me that power to create myself in an image of my own desires and that's what I love about it.
What legacy do you want to leave behind the most in the world through the work you are doing?
When I think of legacy, I find that question so daunting. I'm only 21, I feel like a baby. I don't know where I'll be in two, five,10 years, but I do know I'll be creating. I want the work I make to speak to queer people, gender non-conforming people, people who haven't yet seen themselves represented with the sense of agency and self-assurance and divinity they are looking for.
I always struggled with my identity, with money and resources, but I look back on what I have achieved and created in the past three years of moving to Auckland and I feel a sense of pride, and also hunger. I think it's important for young queer people to know that they can absolutely achieve anything they desire, and that they deserve to do so.
Money and resources should never hold us back from being the divine spirits we are destined to be, however that may look for every individual. Wear Look Sharp tights as an outfit, spray paint your heels every weekend for new shoes, do whatever you need to do to feel divine and beautiful. We owe it to ourselves to do so.
Photographer / Hohua Ropate Kurene. Fashion director / Dan Ahwa. Hair and make-up support / Katherine Melody Rogers. Styling assistant / Franca Chase. 
A shorter version of this interview was published in Viva Magazine – Volume Five

Share this: