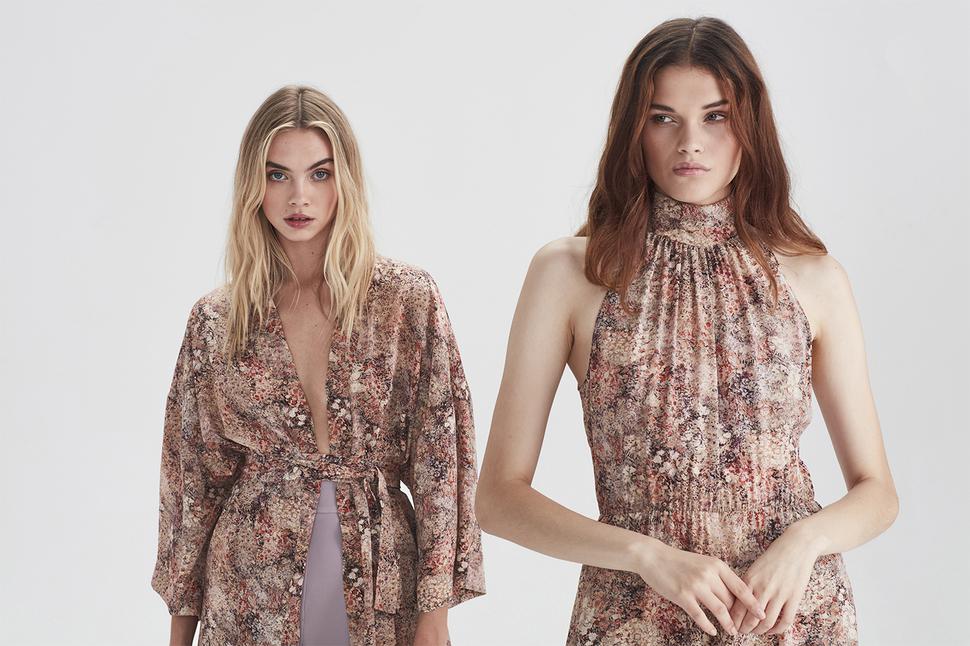 Juliette Hogan's Latest Collaboration With Artist Carmen Van der Hoeven Is Dreamy
The fashion designer and artist discuss the process behind their pretty collaboration
Wednesday Sept. 2, 2020
Some might feel a little non-plussed about what to wear as we gingerly navigate alert level 2.5 status, so consider something fresh and failsafe like a crisp linen dress or a whimsical floral print from designer Juliette Hogan's latest spring/summer 2020 collection, officially launching today.
Featuring all the hallmarks of a classic Juliette Hogan range — languid suiting, billowing skirts, and versatile knitwear, we always look forward to the designer's thoughtful, bespoke prints. 'Floral Graden' was created in collaboration with New Zealand artist Carmel Van der Hoeven, who captivated Juliette with her large-scale floral paintings on display at the Auckland Art Gallery.
READ: At Home with Juliette Hogan
The resulting print is featured on a floor-length halter neck dress, an easy day dress and a versatile belted jacket, the perfect complement to the rest of the collection's fresh palette of mint, lavender and pink. To mark the new collection, Carmel's artwork will be displayed in store.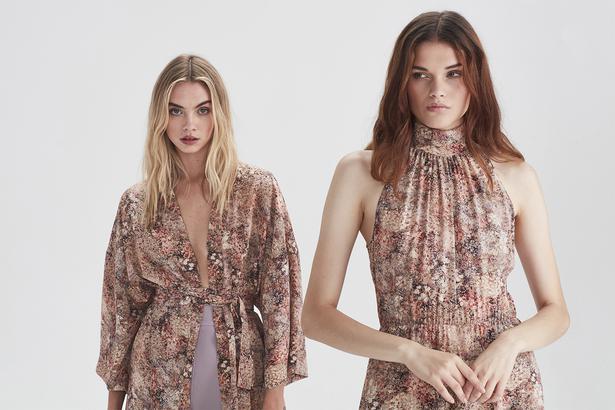 Juliette asked Carmel a few questions about her career, what inspires her and their collaboration together.
Juliette: We understand you are quite the multi talented artist. We would love to know a little bit of background about your artistic career to date and where you find inspiration?
Carmel: I have always been creative but never considered it could be a career choice until i had my second child about 7 years ago.
I was feeling pretty lost to be honest so I started drawing animals for baby rooms and that got picked up and stocked by endemic world.
After that I began my love hate relationship with ceramics, it took me a few years to realise that making ceramics actually really stressed me out so i returned to painting, a medium i had not worked with for over 10 years.
Inspiration tends to come from my surroundings, i started off painting domestic scenes as i was in the home with little kids and the bush which our house backed onto.
Then my very talented sister decided to create a flower growing farm, this opened up a whole new world really and i used the concept of gardens to better understand and communicate thoughts i had about life.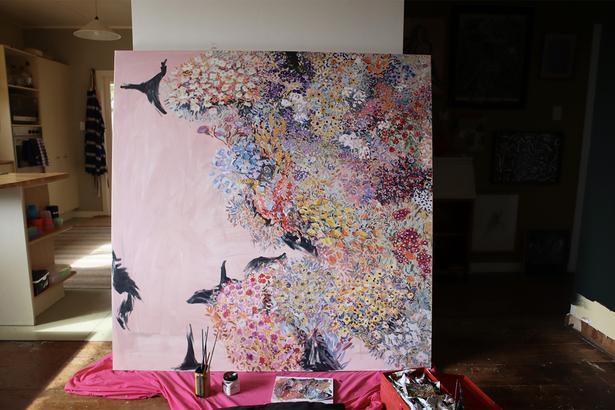 J: At Juliette Hogan, our fabric prints are our most highly anticipated pieces each season, and for me the most important piece of the collection to get right, and then everything seems to fall in place around them. We first spied your stunning large scale floral artworks at a gallery in East Auckland, and instantly imagined how beautifully they would translate to fabric. Is this your first textile collaboration / something you had ever imagined for your designs?
C: Yes it is my first textile collaboration! I had never considered turning my art into anything else, there had been passing comments by friends mentioning fabric or wallpaper but i had not given it serious thought.
When i was approached with the brief by Juliette I got to do some daydreaming and it was very exciting.
READ: Juliette Hogan Announces The Closure Of Her Bridalwear Service
J: Did you enjoy the process? Any differences to how you approached this project compared to a usual commission?
C: It was a fantastic experience, I had yet to create that style of work on that scale so it presented a wonderful challenge.
The mood board gave me colour combinations I had never considered using before which definitely expanded my approach compared to other commissions.
I knew some part of the painting was going to be used as a textile so i tried to incorporate many elements and floral diversity, while still making it a stand alone work.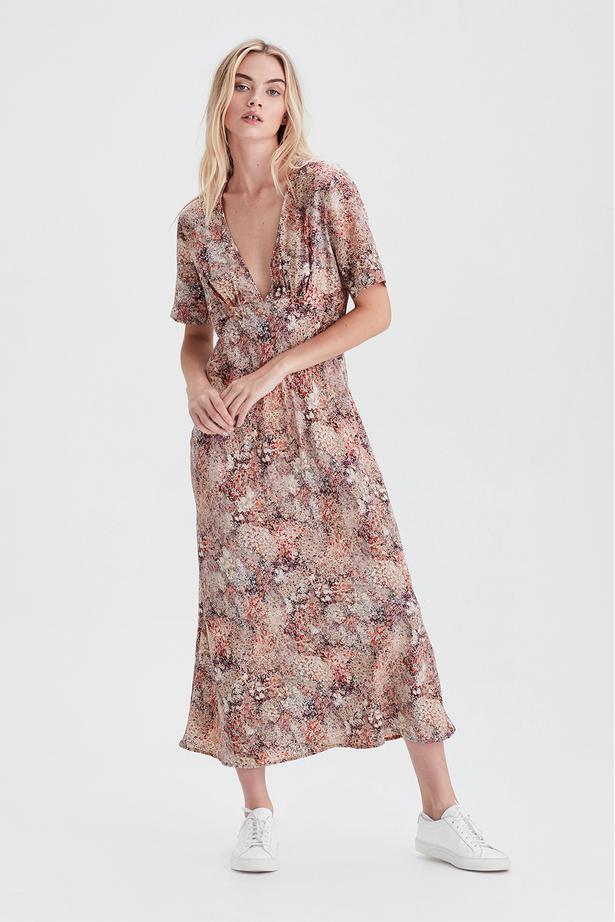 J: Your favourite piece in the Floral Garden story?
C: The Carmel Dress!
J: Any upcoming exhibitions we can let our customers know about?
C: My first solo Australian exhibition is in November 2020 and i will be having another NZ solo exhibition mid 2021
J: Anything you'd like to add?
C: It was an incredibly experience to be part of NZ fashion and to see my artwork become such a lovely textile design.
I would like to thank Juliette and her team for giving me this wonderful opportunity and i can't wait to see people dressed in the floral garden story print this summer!
J: Thank you so much Carmel. It has been so wonderful to work with you, and hope we get the chance to again.
Share this: