Just Good Friends
Artist Richard Orjis and designer Kristine Crabb front the latest Miss Crabb campaign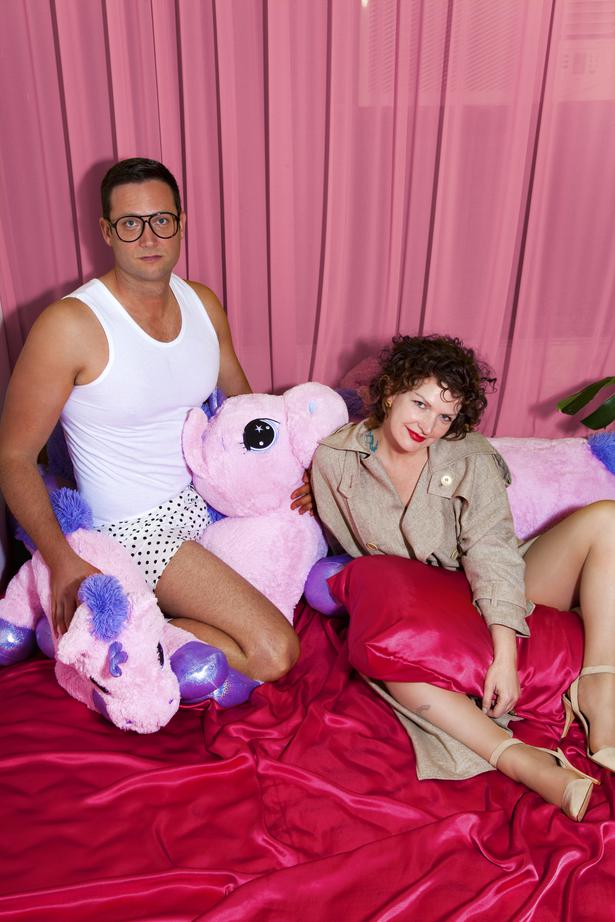 Wednesday Aug. 26, 2015
The team spirit of artist Richard Orjis and designer Kristine Crabb has shone through their distinctive bourgeois punk aesthetic over the years. The pair have collaborated on Miss Crabb campaigns since 2004 and now are coming out from behind the scenes to front the latest. The results are quintessentially riotous...
How did you meet?
Richard: My first memory of Kristine was of this beautiful and reserved woman who would always be wearing something amazing at Rip Shit and Bust. Our friendship grew from a series of shy yet enthusiastic encounters as I borrowed clothes for my photography and gave her prints in return. I just loved what she was doing from the start, it was an aesthetic sensibility that spoke to the work I wanted to produce.
Kristine: Back in 2002, when I had Rip Shit and Bust on K' Rd, Richard came up to visit and borrowed some of the pieces for his work at the time. I knew that he was really special right away. He's very captivating, and I need to mention, very, very handsome. His work early on was a standout, alluring. It captured a very modern and subversive feeling so maybe that's why we clicked creatively and professionally early on. I think we channelled each other's vibe right away. I always loved his work and the man himself. He's a genius, obviously. His early work — as now — always had the most amazing models as subjects, normal beautiful people, friends; and captured this kind of maximum subverted glamour, heavy in ritualistic symbolism and the beauty of nature.
When did you start working together?
Kristine: Richard shot my very first collection's campaign, featuring artists Nick Austin and Jennifer Mason in the Auckland Domain in 2002. It was a night-time dream sequence in the forest. I thought he was the best and I still do, so it's a major honour to work with him on our campaigns — then and now.
What do you love most about the other?
Richard: Kristine is a treasured friend and inspiration. I just love being with her, talking about possibilities and creative ideas. On a professional level, her work shows a confident and unique vision, beautiful fabrics, colours with mesmerising patterns that seem effortless but are often structural feats. She never seems swayed by trend and just does her own thing. Her work is smart and pushes at the boundaries of the expected. On a personal level, she's a kind and caring friend and wonderful mother to her kids. I've never seen her engage in gossip or put other people down. She's sort of a roll-with-the-punches, get-on-with-it and don't-go-judging-others-while-you're-at-it kinda gal.
Kristine: I consider Richard one of my best friends. He's probably the most curious person I know with a serious appetite for life and love and I love that about him. I always feel so energised after seeing him and I think everyone who knows him would say that. He sees and reflects all the good things in a person, which speaks volumes about the kind of person he is. He's very generous creatively, also personally, and has the best ideas in the world — ones that make you want to look again and delve much deeper. I love his work. You look at it and it resonates on many levels. Mostly because it's aesthetically beautiful and simple, but there's this darkness and kind of nihilistic threads (read: beauty, decay, sex, violence, death) running through which I actually think is pretty New Zealand and universal at the same time. He's an art gardener too, magnificent cook and host, party animal and a major crack-up. Among so many other great things.
What's a favourite Miss Crabb campaign you have worked on together?
Kristine: In the early days we worked on really special and creatively deep campaigns, so it's hard to pick just one. Also there are so many. A bit of a heady time for us both back in 05 and 06, when I had just opened Miss Crabb on Ponsonby Rd. Richard, and the campaigns we did, were probably the most important factors in establishing Miss Crabb as it is today. He's a total creative force. My whole style of clothing and the way I run my business is pretty singular and different to anything else, so communicating that was pretty important early on. I think maybe my favourite was with the one and only girl about town, Lorna Storm, wearing only traditional Japanese bondage ropes known as Kinbaku, which literally means "the beauty of tight binding". It was very dense with symbolism for my work, then and now, as my clothes are very fluid, draped and poetic ... with the idea of tying and binding to achieve the desired (sexual) look.
Richard: The Lorna Storm campaign is absolutely my favourite. The image was so beautiful. The infamous Lorna Storm tied up and draped on a mirrored surface with a powdered white camellia in the foreground. The shot was pretty loose and we had to work with some speed as Lorna was pretty much naked and tied up on the cold workroom floor; that, and the Lindi [Lindauer] was flowing amongst a riot of laughs. For me, the image is striking in its simplicity but captures that potent tension between beauty, sexuality and subversion.
Tell me about this one — featuring the two of you!
Kristine: We wanted to revisit, very loosely, the bed-in idea, channelling John and Yoko's 1969 bed peace protest piece that we did in 2008, with Erica van Zon and featuring my baby girl, Frances. It's just a cute symbol of us working together again. I think the pic speaks volumes for itself. Mostly that we are just having fun with our work. We have a king-size bed at my studio so we draped it with new season pink satin and unicorns. Disclaimer: we are having a lol.
How does fashion influence your work?
Richard: There are as many fashion worlds as there are art worlds. I love the fashion that Kristine makes. Her clothes are beautiful objects in themselves. Fashion is the true marriage of art and commerce. I find the history of fashion so interesting as it's been a wonderful tool for subverting patriarchy. Fashion has given a space for women and gay men to have a voice and influence culture. Fashion is powerful because it is both practical and political. It plays to the highest and lowest of the human conditions. It can be wrapped up in greed and insecurity but, then again, it can celebrate unity or individuality and creative expression. It's complicated, like good art.
How does art influence your work?
Kristine: I'm pretty much done with art/artists these days. I'm more into having fun and discovering music again and letting that influence my life and work.
How does New Zealand influence your work?
Richard: I don't know if I can talk about New Zealand but I love Auckland. There's so much movement and optimism in the city at the moment and it's hard not to feel positive about it. There are so many talented creative people involved in the arts, architecture, fashion and food, it's sort of electric. There's something about everyone coming from pioneer stock from early Maori onwards. There's a sense of movement or discovery in the air. Auckland is this culturally and socially progressive melting pot, from Central to South and West Auckland there is so much inspiration to be had.
Kristine: Very much so. I love New Zealand so much. It's very beautiful and dreamy but our lifestyle here is pretty laid-back for creating a business and raising my three kids. I love the intense aesthetic beauty and also the kind of cultural austerity. I think these two things are what make all the good stuff come out of New Zealand. As I start to grow my business and share Miss Crabb around the world, I love that my clothes come from and are made in this wonderfully exotic place. It's very special and I feel so lucky to be able to do it, and there are so many wonderful people and things happening here.
Richard Orjis' new exhibition Garden Cities of Tomorrow is on at Melanie Roger Gallery, 222 Jervois Rd, Ponsonby, and runs until September 19.
Share this: