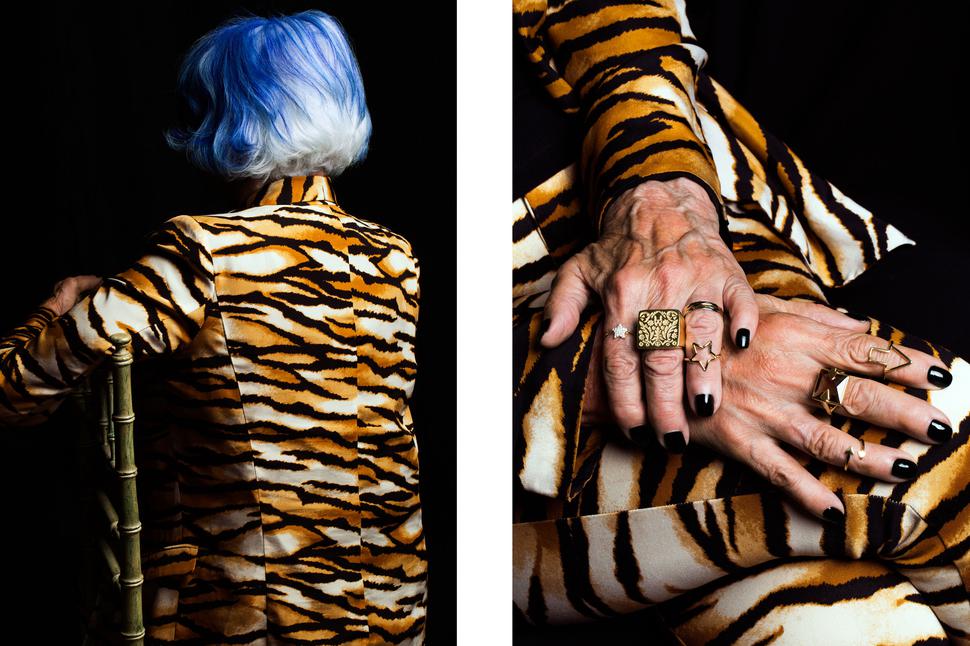 Karen Walker and Ari Seth Cohen's Magic Hands
Advanced Style's Ari Cohen and Karen Walker have teamed up again
Wednesday Aug. 10, 2016
"I like to dress like the morning, full of surprises. I should be what I am, not what others see, but what I feel." So said artist Maria Penn, one of Ari Cohen's photographic muses.
Ari, a photographer and blogger who celebrates the fashion and style of elderly folk, has become a household name in fashion and film circles. There's the Advanced Style blog, where flamboyantly dressed dames and dapper fellows share their thoughts on ageing, the two Advanced Style books, which feature fashion photographs of his colourful elderly subjects, and the Advanced Style film — a documentary starring his favourite muses.
READ: Meet the over 80-year-old style stars in Ari's Advanced Style film
His Karen Walker eyewear campaign in 2013 went viral and there's no doubt their latest collaboration, called Magic Hands, will provoke the same interest. The campaign shows us very mature hands, one pair in their 90s, looking every bit their age — gnarled, veiny and delicate, modelling piles of rings amid moody backdrops. What are the viewers to make of it? We talked to Ari and Karen about the process behind the campaign, and why we should be viewing aging through rosier glasses.

ARI SETH COHEN
Your blog and Instagram feed is inspiring to young and old. What gave you the idea of celebrating mature women's fashion?
My grandma Bluma was my best friend. She studied at Columbia University in New York City and always told me that I should move there someday to explore my creativity. When I was a child, I started to draw pictures of Bluma and her friends all dressed up. I continued to have a deep respect and appreciation for older people. After spending several years helping my mom take care of my grandmother, I was filled with a profound sense of loss when she passed. I knew that I had to finally follow her advice and move to New York.
As soon as I arrived I noticed so many incredibly dressed, vital, vibrant and spirited older people. One day I borrowed my room-mate's camera and started to photograph and interview men and women over the age of 60 on the streets. I started a blog to share images I hoped would not only shift people's perspectives and fears about aging, but also to celebrate a demographic that is so ignored by fashion and lifestyle media outlets. Advanced Style is more about personal style, spirit, and vitality than fashion.
Where do you find your muses?
The men and women that I photograph are all people that I have encountered on the streets of various cities throughout the world. My latest book Advanced Style: Older and Wiser includes senior street style from Japan, Scandinavia, Argentina, London, Italy and all throughout America.
Read more about Ari Seth Cohen's latest book Advanced Style: Older and Wiser
To focus on hands is challenging in the sense that they age dramatically. Karen's jewellery could be easily overlooked because of the hands. How did you deal with this artistically?
That was the whole point, that hands really show the signs of aging beautifully. I always loved looking at my grandmother's hands and thought about how they were a reflection of the full and rich life that she had led. The models, Phyllis and Roberta, are both dancers who performed for many years in New York City and then settled in Los Angeles. They continue to lead rich, creative lives. Phyllis even jumped out of a plane a few times in her 90s. Their hands are incredibly expressive. Karen, Mikhail [Gherman, Karen's partner] and I all understood that the hands would be the star of the campaign, serving as an energetic and powerful backdrop to the wonderful jewellery.
Age is clearly no hindrance to style so what is the common thread between the women you feature who continue to care about fashion?
I think more than anything it's their spirits, their energy, vitality and optimism, and the fact that they remain curious and determined to live fully and to create. For them each day is a gift and an opportunity for great adventure. I photograph men and women who dress both elegantly and eccentrically. Many lead creative lives but more than anything their style is a reflection of their inner selves. It's not about being over the top, it's about never giving up.
Are there any countries you visit, or cultures where you notice elderly fashion flare more than other places?
I like to find the diamond in the rough. To walk around a city all day and find that one person who stands out from the sea of grey, beige and black. New York is always one of my favourite places to shoot. There is certain freedom in the way that people express themselves that is less self-conscious than many other cities that I have visited.
Grey or dyed dark hair? Should a woman age without too much alteration to her natural state?
I obviously love to look at and photograph men and women who have a lot of character in their faces. My grandmother's face was lined with the most beautiful expressive wrinkles. I don't make judgments when it comes to how people age, as long as they are happy and fulfilled.
What's the most common complaint you hear regarding aging when you interview these women and men?
The men and women I speak to almost always tell me that they still feel as if they are young inside, but that they can no longer do many of the things they did when they were younger. Even if they can't run as fast, or see as well, they continue to grow creatively and spiritually. With ageing comes an increased sense of freedom and a lessening of our feelings of self-doubt and self-consciousness.
When you observe the passage of fashion, it's interesting to note the toning down of sexuality in the way women dress. What's your view on elegance, specifically relating to women in their later years?
The women I photograph continue to express themselves however they please. It's a common misconception that older people no longer care about expressing themselves sexually. I think what shifts as you get older as that you no longer dress to please others, but rather to please yourself. It's not about appearing attractive for other people but enjoying the process of creating and expressing, whether elegantly, provocatively, or colourfully and learning to please yourself first.
There is a woman Sarah who is particularly stunning, who you shot at Joshua Tree. What is her history? How did you meet her?
Sara Jane Adams is one of many muses I have. I was in Australia two years ago for a screening of the Advanced Style documentary. After the festival I headed to Sydney to meet a wonderful woman named Tutti Bennett and her family. They hosted me for a few days and we took some great photographs for my new book.
On my last day in Australia I checked my Instagram account and someone had hash tagged #advancedstyle #mymomiscoolerthanme on a photo of a women dressed in a red and white Adidas jacket with arms crossed with a lot of attitude. I instantly fell in love with the image and commented asking where they were based. As luck would have it they were in Sydney and after some correspondence they agreed to let me come over to their house to photograph Sarah for my blog before heading to the airport back to New York.
Tutti drove me to Sarah's the next day and I took some photos of her in several outfits, including the now famous Adidas jacket. It turns out that Sarah had no idea who I was. She had never really been photographed and had no interest in it before and only let her husband take her photo because people had been commenting on her look all day.
I posted her photo on Instagram and Adidas quickly reposted it a few days later. Sarah started to amass tens of thousands of followers inspired by her youthful spirit, incredible sense of dress and honest and authentic approach to aging. She started to use her Instagram account (which has only been used to post photos for her antique jewelry business) as a daily meditation on her style, musings, travels. She started a hashtag #mywrinklesaremystripes and continues to provoke thoughtful conversations on her page each day. All of the sudden she has become a style icon and model sought out by some of the world's top fashion houses.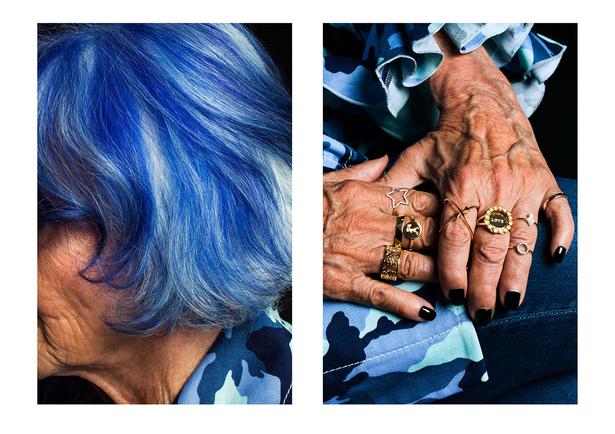 Picture / Supplied

KAREN WALKER

What's the story behind the title Magic Hands?
Hands can be every bit as expressive as faces. These magic hands speak of a life well-lived and they absolutely have their own stories to tell. We are inspired by, and like working with, interesting, talented people and that's what models Phyllis and Roberta, and Ari brought to the project.

Some of the images could be seen to be confronting, specifically the slim hand with prominent veins, thin skin and protruding bones. Are you concerned this might usurp the jewellery you are advertising?
I don't find any of these images confronting. I think they're all very beautiful. Thin skin and prominent veins happen when you're in your 90s — no avoiding it. Phyllis has used these magic hands to play piano, do yoga handstands and express herself in a balletic way. What she can do with these hands well into her 90s is a lot more interesting than taking selfies and scrolling through Instagram and that's why these images and this woman has so much beauty. The end goal here is to present Karen Walker's [the brand] view on modern beauty and I think that Phyllis' hands and what she does with them are as beautiful as you can get.

I like the theme of eternal optimism but some would say agelessness and enduring beauty aren't realistic?
Agelessness and enduring beauty are completely realistic. Agelessness doesn't mean not showing signs of aging, it means, to me, that the signs of ageing are irrelevant. Enduring beauty also is totally realistic, you can be beautiful with thin skin and prominent veins after all. Beauty doesn't require youth and vice versa.

READ: Karen Walker's latest fragrance

What's your view on plastic surgery?
It's just another tool available if you want it. It's on the same stick as anything else people do to change their appearance — colouring your hair, plucking your eyebrows, using makeup, putting a filter on your photo before uploading it. It may be more expensive, extreme, invasive and not everyone's cup of tea, but the principal is the same.

Now people have hands lasered to erase sunspots, perhaps in 50 years there will be fewer women in the western world with extreme signs of ageing. Is acceptance of age the key theme behind your campaign, or are you simply challenging current perceptions of aging?
I expect that in 50 years' time there'll be lots of new things people can access to change their appearance. A 50-year-old 50 years ago looked very different to a 50-year-old today. That will only continue for many reasons — diet, exercise, environment, medical advances — not just because of the latest update to IPL or Botox. This campaign is not about acceptance or challenging the perceptions of ageing, stage two of this campaign stars a 14-year-old who has great talent, it's about celebrating people with talent.

You are no longer showing at New York Fashion Week. Is this form of promotion becoming redundant? Is art a more effective way to promote your brand?
Fashion shows are one of the things in our tool kit but, for us, the model of presenting a collection six months in advance of it being in the store, at a time when it's the end customer seeing the show, is no longer relevant. All our campaigns are expressions of our ideas. We don't work in the field of art, we work in the field of fashion, however fashion and art obviously look to one another. From day one, we never used a generic fashion image to project our ideas. We've always created images that challenge how fashion is presented.
Share this: