Karen Walker at Business of Fashion Voices
Fashion designer Karen Walker shares her experience at the Business of Fashion's "annual global gathering for big thinkers"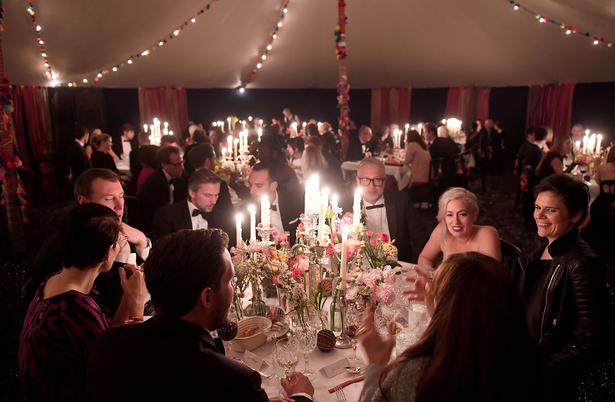 Wednesday Dec. 14, 2016
I've been in business almost 30 years and in all that time have never attended a conference. Name tags, formulaic five-star hotels, buffet breakfasts and PowerPoints have just never seemed that appealing.
So, it was with some surprise that I found myself excited at the prospect of attending one when the Business of Fashion announced BoF Voices for December 2016. I had no idea who would be speaking but I had faith that the Business of Fashion would pull together something extraordinary and worth schlepping around the globe for.
As it turned out, Voices actually felt more like a retreat than a conference. Just 150 or so delegates sharing 48 hours in the cool elegance of Soho Farmhouse, a bubble of relaxed luxury in the Oxfordshire countryside. From the moment we passed through the gatehouse it was clear this would be out of the ordinary.
I've been to many Soho Houses over the years so had some inkling of what their country properties might be like but the Farmhouse exceeded all. Set on more than 40ha of private Oxfordshire countryside, it's no longer a working farm though it does have a lovely kitchen garden, a few chooks and horses galore - what they really farm here is relaxation.
The original stone farmhouse is home to small groups while the 40 cabins, complete with open fires, bicycles and outdoor baths, are the main accommodation. Plus, several bell tents which, charming as they are, did look a tad chilly in the near-zero-degree setting.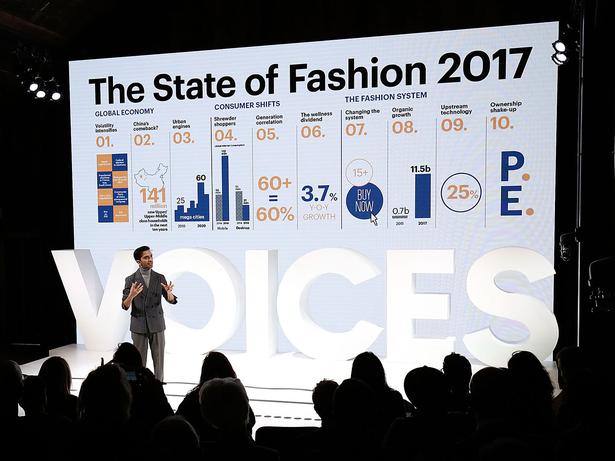 Business of Fashion chief Imran Ahmed addresses the conference. Picture / Getty

The rest of the buildings are made up of original stables, a barn, a heated indoor-outdoor pool and multiple areas for eating, drinking and just hanging out. I could easily stay here for a week and definitely enjoy it at any time of year. The Soho House group are just so darn good at laying on the chic and exclusive vibe and beyond-excellent service without the us-and-them feel you can get in some more traditional, high-end hospitality. Chic and cool.

Enough, however, about the gorgeous farm though. Let's leave it with: it's awesome. You should go.

Voices. Well, to start with, The Business of Fashion and Imran Amed, its main man, have, within a very short time, made themselves the only voice that really matters in the fashion business. They're incredibly smart, in tune with the industry and above the regurgitated press releases that much of the fashion media work with. In short, they have intelligence and gravitas and therefore the respect and ear of the industry as a whole.

At Voices there was plenty of chic socialising - cocktails hosted by Natalie Massenet and Elizabeth Saltzman, a series of intimate dinners scattered about various locations on the farm, nightly, post-dinner bonfires and pre-breakfast yoga, cross training or mediation - I opted for yoga both days with 7am classes with LA yoga super-yogi Kathyrn Budig.

READ: Karen Walker at the Business of Fashion in Sydney

On to the business: Imran welcomed us by telling us that 2016 had been the worst performing year for fashion since the GFC. Awesome! And that the key words BoF heard from a recent industry survey were "uncertain" and "challenging". Double awesome. And then it got worse.

The first speaker, activist and author Maajid Nawaz, shared with us his experience of being an ordinary English lad converted to Islamic extremism, which eventually saw him spend five years in an Egyptian prison before returning to the UK and refocusing his attention on liberal democracy. His hypothesis for the fashion business: Trump and terrorism are the new normal. Great. When do we start talking about handbags?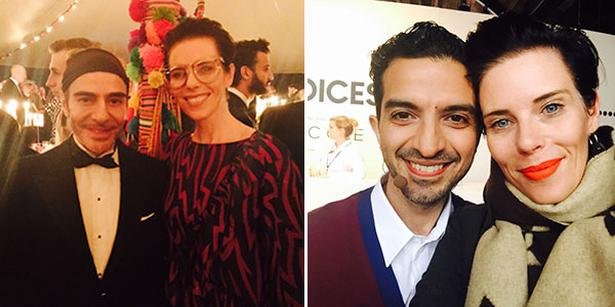 With John Galliano and Business of Fashion editor-in-chief Imran Ahmed. Pictures / Supplied

Professor Alexander Betts, of Oxford University, spoke about his take on asylum, migration and humanitarianism, and a peek at Leonardo DiCaprio's new documentary about global warming, Before The Flood, carried on the not-so-good news.

Richard Dobbs, of McKinsey and Co, shared results from their latest report on the state of the fashion business: in short, the next 30 years will be totally different to, and way tougher than, the past 30 years so your intuition is of no use to you, plus designer Tom Dixon talked about slowing down the design and manufacturing process to disrupt the whole damn machine.

On the surface, rapper will.i.am seemed a surprising addition to a fashion conference but, of course, he's very active in terms of tech and how it fits with fashion, and, frankly, he was hilarious and charming and had an inate understanding that a brand's culture is way more important that its marketing. The chief digital officer for LVMH, Ian Rogers, said more or less the same thing - that the fashion business was a culture business and selling culture was a prerequisite for selling product.

President and CEO of Gucci, Marco Bizzarri, a huge fashion star after re-igniting Gucci in the past couple of years and who, at 2m tall, dominates any room he's in, shared a similar thought: values are more important than strategy.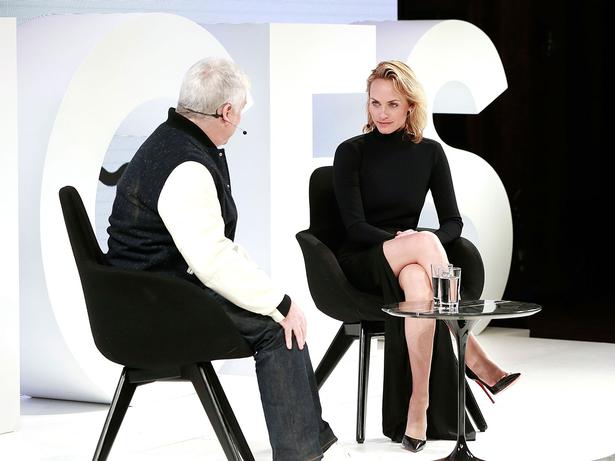 BoF editor-at-large Tim Blanks talks to actor and former model Amber Valletta. Picture / Getty

One of the things that struck me most about the conference was the rawness and the honesty of its speakers. The intense intimacy of the event - full emersion and only 150 or so delegates plus well-trusted hosts - helped create an environment in which the speakers had a startling openness.

Amber Valletta is, of course, a name and a face we all think we know. She shared with honesty her career and her battles with drugs and alcohol. How when she was at the peak of her modelling career she was alone and afraid of dying after a three-day binge while millions of dollars were riding on her and how, after becoming sober at age 25, her sobriety is the single most important thing to her.

She talked about how her career as a model taught her everything - from culture to etiquette to art and how to be professional and shared that the fashion industry has been her PhD, her Masterclass.

Leading casting director James Scully spoke in an astoundingly raw way about the realities of the modelling business: the bullying, abuse, sadism, body shaming and downright meanness he's witnessed and his experience of girls either starving themselves or staving off puberty with Red Bull and the medication Adderall. His end message was that we should treat our models as if they are our children.

John Galliano was in conversation with Tim Blanks and, despite his past peccadilloes, talked openly, truly and completely engagingly about his new role at Maison Margiela, how different it is to his past lives and how much he's enjoying working with students and interns. His stories were honest and real and funny.

Mario Testino was the guest of honour for a sensational, Peruvian themed, black-tie gala dinner, which went on until 3am. He joined Imran on stage to discuss his career in response to 10 of his most iconic photographs.

He talked about letting go and embracing the moment, how, after studying economics and law, he entered fashion photography thinking of it as a business and how he thrives on the combination of art and commerce. He talked about how constant change is key and how his pre-shoot towel photos are so iconic that people get upset if he doesn't ask them to do one.

To have 48 hours in the beautiful English countryside, in a sensational club, with 150 of fashion's movers and shakers was a thrilling way to finish 2016. At the end of it I was exhausted and inspired, I'd loved every minute of the retreat and was honoured to have been up close and personal with people who were so open, honest and giving.

Share this: