Designer Jade Leigh Kelly's Playful Style
Karen Walker designer Jade Leigh Kelly shares the secret to her playful style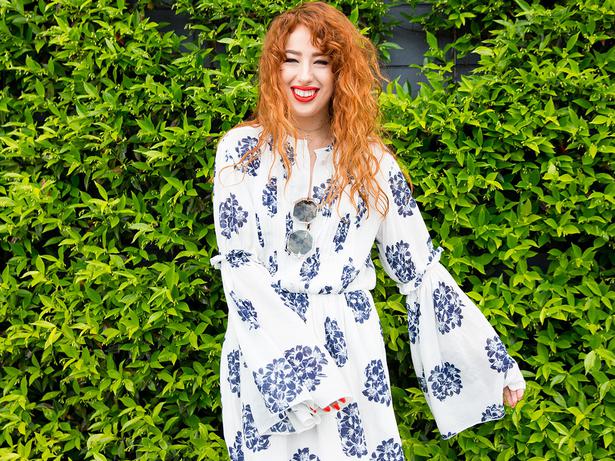 Wednesday Nov. 9, 2016
Is Jade Leigh Kelly the happiest dresser in Auckland? The brand director and head designer for Karen Walker Jewellery is known in the industry for her cheerful style, vibrant red hair and beaming smile, as well as a colour-filled Instagram feed and stand-out approach to fancy dress (past costumes include a play on a Roy Lichtenstein work and Britney and Justin's iconic 2001 double-denim look).
For Jade, who has worked at Karen Walker for eight years, joyful dressing is all about having fun and feeling good. "I wear things that make me happy, things that allow me to express myself and have fun."
Do you deliberately dress each day with a sense of joy or playfulness?
I don't deliberately dress with a sense of joy. I focus on feeling good in what I wear. Do I feel comfortable? Do I feel like me? I guess because I'm a playful person, it comes out in the way I dress.
How do you bring that into your wardrobe?
I'm attracted to things that make me smile, such as beautiful prints, big shiny gold things, jewels, different textures, the old and the new. I find it hard to go with just one thing that I love when I'm getting dressed, and why should I not wear more that one thing that makes me happy? I think the playfulness comes from the fact I follow the philosophy of more is more.
How big a part does colour play and do you believe in its power in influencing your mood?
I love colour and I do believe in its power. It can certainly have an effect on my mood. I'm attached to crisp whites, blues, oranges and definitely gold. I don't have much black in my wardrobe, I feel like a different person when I wear it.
As a designer, you will know how clothing and fashion can be used to express personality, creativity, emotion. But how important is that to you personally?
I'm a happy, joyful person and it's important to me that everything in my life makes me happy. Fashion and other creative things are ways in which I keep myself happy. It's part of my self-care. I don't mean that I shop a lot but more the fact that I love to have a lot of fun with the way I dress. I love putting things together; sometimes it's good and sometimes not so good, I don't take myself too seriously. I guess I'm a big kid at heart and I treat getting ready every day like a game of dress up: what side of myself wants to play the game we call life today?
What happens when you aren't feeling so joyous: does your style change at all?
If I'm not feeling so joyous, sometimes I find the closest thing to pyjamas as possible, silk boat pants and a shirt, in matching print of course. Other times I get dressed to the nines in an attempt to make myself feel better and more often than not, it works a treat. If you think you look good, you feel good.
Is there someone you admire for their own sense of joyful style?
I admire the Advanced Style ladies who were featured in the latest Karen Walker jewellery campaign photographed for us by Ari Seth Cohen. I had the honour of meeting Roberta and Phyllis and it's their strong sense of self that I love. They know who they are, what they love and they don't give a damn what anyone else thinks. They know how to have fun and live life to the fullest and that extends to their personal style. They're very inspiring ladies.
The Karen Walker brand is very much about playfulness and joy. Is there a specific brief around that idea when it comes to design and creating imagery?
We want to create only things that make us feel good. Intrinsically, we're an optimistic team and we want others to feel good, and feel inspired, when they're wearing Karen Walker or are looking at our imagery and the conversations around them. We want to create a little bit of magic for those who believe that magic is for every day.
What are your tips for bringing more fun and playfulness into your wardrobe everyday?
It's all about wearing what makes you feel good. Have fun and don't be afraid to experiment - life's too short not to try new things. Most obviously but most importantly, is wear everything with a smile.
What is something small that is bringing you joy right now?
Spring. I love these longer, sunnier days. I'm starting to wear things from my wardrobe that haven't been worn in months.
Share this: