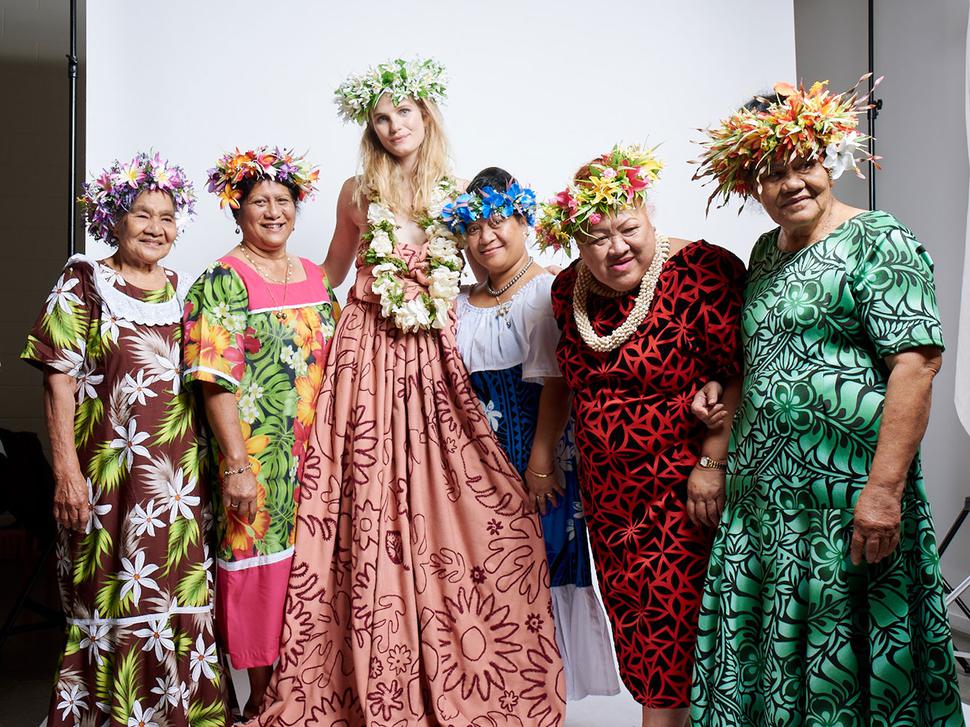 Karen Walker & Tukua Turia Debut at Buckingham Palace
The incredible story behind the dress created for the inaugural Commonwealth Fashion Exchange
Tuesday Feb. 20, 2018
In Karen Walker's slickly furnished Grey Lynn office, we admire a tivaivai she has been gifted by 73-year-old Tukua Turia, an expert maker of the traditional Cook Islands bedspreads.
She spreads it out on a table and falls into a respectful silence, then points admiringly at certain phrases — vivid strands of embroidery that cleverly blend two colours, densely stitched leaves tucked behind lavishly appliqued flowers.
Unlike the embroidered bomber jackets I've seen on fast-fashion sites, this was not created by a computer program and spat out by a machine. It was designed in Turia's mind. The choice of flowers and stitches have personal significance for her. She has taken care to choose thread that does justice to the flowers' real-life colours. And, working intuitively, she has folded, cut and stitched it all herself. "I don't use patterns," she says. "It just comes out."
READ: Karen Walker's Business Tips
Walker and Turia are collaborators. Together, they have produced a one-off, formal gown for the inaugural Commonwealth Fashion Exchange, which pairs designers and artisans from the Commonwealth's 53 countries.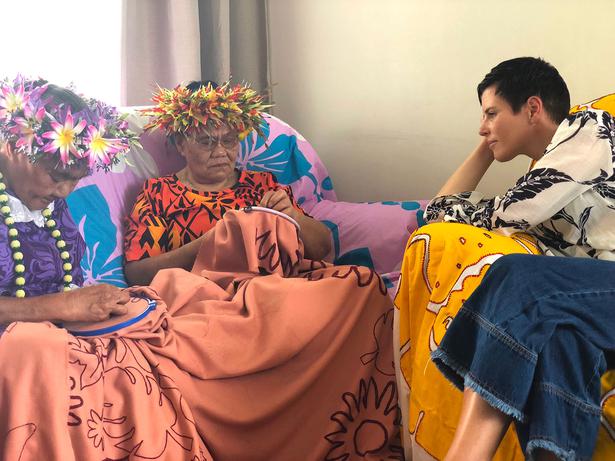 From left, Ana Akatu Taea, Vaine Teiri and Karen Walker took reference from traditional Cook Island tivaivai. Picture / Supplied

Organised by marketing consultancy Eco-Age, in partnership with Swarovski, Woolmark, Matches Fashion, and various government fashion councils, its aim is to promote cross-cultural exchange and raise the profile of "devalued and vulnerable" handwork skills.

The gown, which was blessed by a minister before its trip to London, debuted at Buckingham Palace yesterday, at an event hosted by the Duchess of Cambridge and the Countess of Wessex and attended by fashiony people like Anna Wintour. (Walker and Turia were there, too.) It will be exhibited around London in the lead-up to the Commonwealth Heads of Government Summit, and feature on Google's new Arts and Culture app.

READ: Meet The New Grown-Up Royal Style Stars

"When the project first came across my desk, I was pretty keen to work with the Cook Islands, because I've always loved the tivaivai, with their strong graphics, their colours and beautiful stitching," Walker says. "But if we were to make it happen by the deadline, we had a week to find the people we were going to work with."

Libby Spring, who managed Walker's design room at the time, thought her boyfriend's mother might have a friend who might know someone, and asked her to make the approach.

At the time, Turia, who had never heard of Karen Walker, was busy preparing for an annual exhibition of work by her Vaka Tautua Cook Islands Mangere Older People's Group, and gave the friend short shrift. "She rang me and I said, 'I've got my hands full! Okay, tell that person maybe I've got 20 minutes, because I've got cushion covers to get ready.'" At the show, Turia revealed a sample of her work to Spring, who was sufficiently impressed, then quickly folded it back up to conceal it from prying eyes.

LISTEN: Podcast with Karen Walker

Turia is one of Auckland's foremost experts in tivaivai. Her work has been collected by Te Papa and is routinely commissioned by the Cook Islands Consulate to create gifts for dignitaries. Her talk is an entertaining mix of piety and pride, the plain-spokenness that is earned with age, and a dedication to exacting standards that reminds me of a fearsome celebrity chef. Walker's respect for Turia, and their rapport, is immediately apparent.

"Tukua is a pure creative," Walker says. "Being born in Aitutaki, the natural place for her to put her creative energy was tivaivai. If you'd been born in a different time, or in Paris instead of in the Cook Islands, you probably would have been a fashion designer," she says to Turia.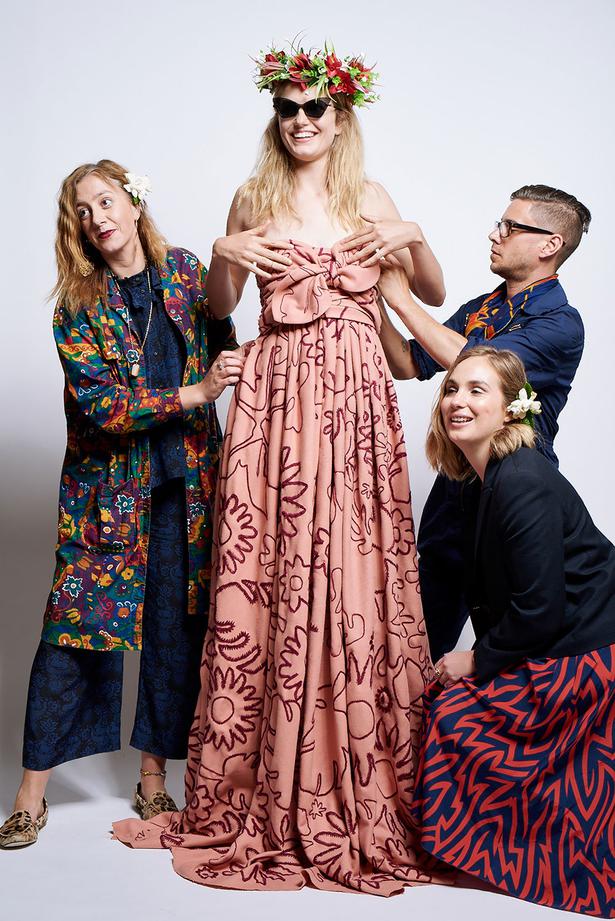 Karen Walker team members Libby Spring (left), Kerry Ranginui and Kelsey Kosoof with model Anmari Botha. Picture / Supplied

Both women were taught to sew by their grandmothers — Walker made a circle skirt for her doll; Turia made a baby doll dress for hers. Turia's grandmother would later show her how to embroider a pillowcase. "It was tiger lilies," Turia recalls, 63 years later.

Her expertise is increasingly rare and although she runs workshops, she says she's one of only a few in her group who can set up a tivaivai, which involves folding fabric several times and cutting out a pattern with a technique that's a bit like making a paper snowflake.

She is not lavish in her praise of her elderly students, who seem to lack the necessary hustle. "I've got one old lady who is about 86," she says, begrudgingly. "She's the only one who got feedback. She cut a cushion cover. Even though it's not straight, it's not perfect, she did it herself."

Turia has even lost patience with the Queen of Rarotonga, for whom she has made tivaivai. "The last time she rang me, I said no. I said, 'You should learn! You're a Cook Islander like me. You should learn how to do your own sewing!'"

READ: Why Royals Have to Be Fashionable

Walker says she was lucky to find a collaborator like Turia, who has an instinct for design as well as technical skills.

"It needed someone who could make the stitching beautiful and perfect, but we also wanted somebody who would have a vision for what the creation would be."

Walker's team began by creating a floor-length gown in a dusky pink Italian wool, then her graphics team experimented on a computer with the placement of various floral motifs from Walker's archive. "Nothing worked," Walker says. Then, with Turia's permission, they swapped in graphics of her tivaivai flowers. Suddenly, it looked good.

They stencilled the flowers on and sent the gown to Turia, who had assembled a team from another sewing group, the Kuki 'Airani Creative Mamas, including 91-year-old Ana Akatu Taea and 75-year-old Vaine Teiri, plus a pit crew of Taitua Petero and Ikiariki Rua, who prepared thread and needles, and cooked.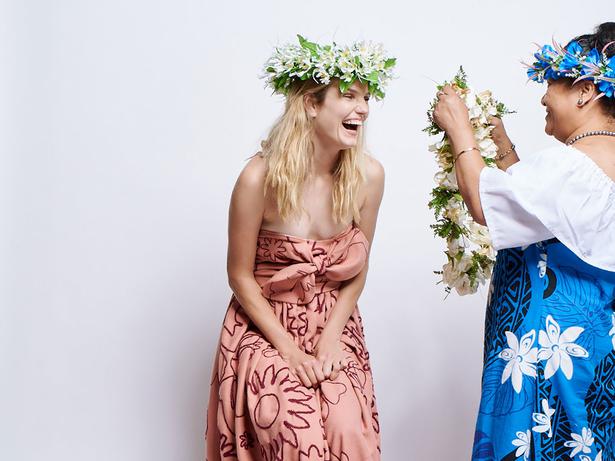 New York-based Kiwi model Anmari Botha with Taitua Petero. Picture / Supplied

It soon became apparent that the wool was too thick to be appliqued, but Walker was delighted by the flowers that had already been stitched. It was decided that they would jettison the usual applique component of tivaivai. "That's the great thing about a collaboration: it changes," Walker says. "We started with this idea over here and worked on it together and we ended up somewhere slightly different and better."

Working from Petero's house, because Turia's was full of visiting great-grandchildren, the team spent more than 1000 hours on the gown. It's a masterclass in stitching, with 12 different kinds used to create a profusion of flowers found all over the Pacific — including jasmine, orchid, hibiscus, frangipani, red ginger and the Cook Islands' tiare maori. A vividly visual thinker, while she stitched, Turia says she saw herself sitting in a pristine forest, surrounded by the redolent greenery that cascades down the gown's hem.

Turia admits it was tough to bend and flex skills that, over decades, have become habitual, translating what's usually a two-dimensional pattern on to a three-dimensional gown. "It was God testing me about the talent he gave me."

READ: How Princess Diana Became Fashion Royalty

For Walker, the project offered a rare chance to indulge in the quiet, meditative gestures of hand sewing, to collaborate without having to think about commercial considerations, and to make something beautiful for its own sake.

"I really loved the slowing down that it required, and just being in the moment. I spent a bit of time with Tukua and her team, just sitting and watching and learning. I love the fact that it's celebrating and passing on a craft that's almost 200 years old in the Cook Islands. It has a long history in that community, but embroidery is in most communities, in some form, so it's kind of a universal language."

While it's true that the making of tivaivai can be a leisurely affair, accompanied by cups of tea, laughter, prayer, a bit of ukulele and a lot of gasbagging, Turia pushed herself hard on this project, and cracked the whip over her elderly friends, demanding they unpick anything sub-par and keep their morning tea break to 10 minutes.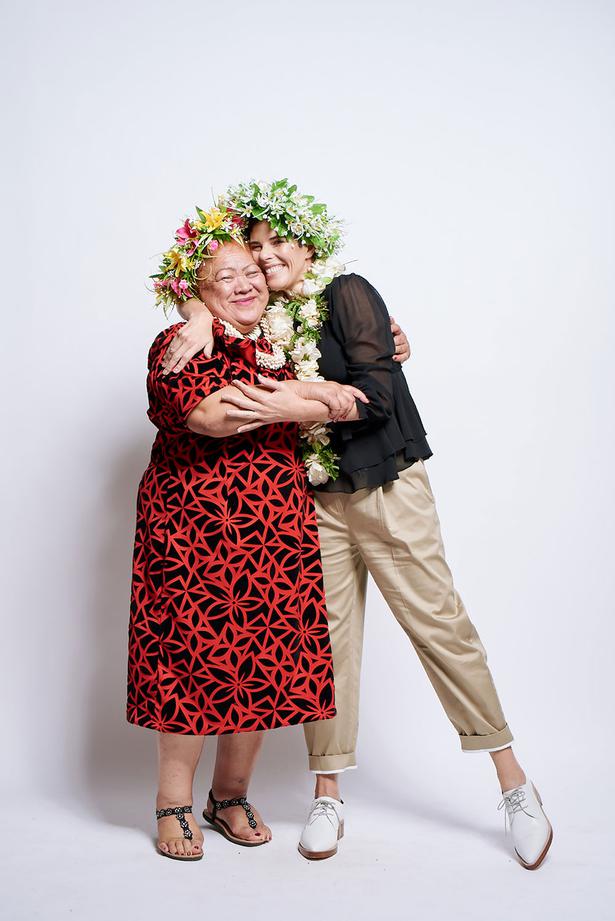 Firm friends: Tukua Turia and Karen Walker. Picture / Supplied

One night, she found herself sitting up late, working alone, as she preferred. "I couldn't lift my eyelids, they were so heavy," she recalls. "So I prayed. I asked the Lord to give me the strength to open my eyes, because I wanted this gown to be done in a good condition."

She told God, still cracking the whip: "You gave me this challenge, you're going to help me and you're going to make sure I finish this dress!

"When I opened my eyes? Man, I tell you: bright. So I sewed the whole night until six in the morning, by myself. No pills! I never even took my medication. See how strong He is?"
Share this: