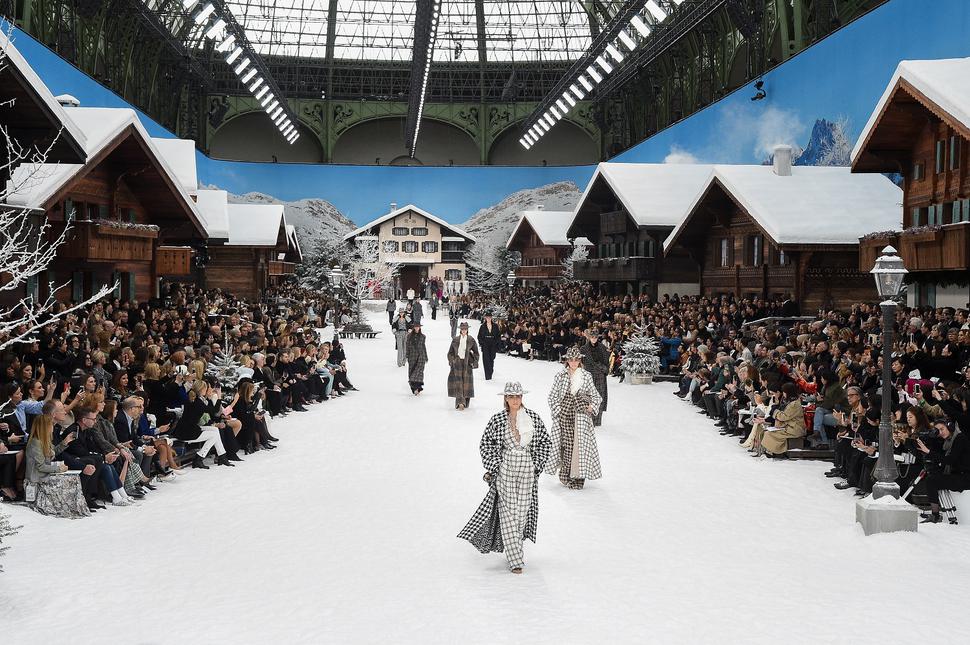 Chanel Bids Farewell To Karl Lagerfeld In Final Snowy Paris Show
The legendary designer's final collection was delivered with a tribute, but without sentimentality — as he would have wanted it, says Lisa Armstrong, head of fashion at The Daily Telegraph
Friday March 8, 2019
Karl Lagerfeld's last, posthumous show for his most famous employers, Chanel, transported the audience somewhere Alpine. Or was it Tyrolean? Those non-specific mountains, with their artificial flakes, Christmas trees, life-size snow-capped chalet fronts, all constructed within the massive entrails of Le Grand Palais (where would that grandiose building be without the regular Chanel shows staged there?) were a classic Lagerfeld tease.
If Tyrolean, they would be a poignant adieu to his native Germany. If Swiss, they would be a sly glance back to one of the more ignominious chapters in Coco Chanel's life, when she was obliged to exile herself in Switzerland following an affair with a Nazi officer that almost got her tarred and feathered as a collaborator in post-war Paris.
READ: Karl Lagerfeld Didn't Have A Signature Design, But He Invented A New Kind Of Designer
But maybe they were merely a grateful acknowledgement of Courchevel, spiritual joy-land of Russian ski bunnies and the site of a regular Chanel pop-up store, one of its most profitable in the world. The clothes played with familiar themes. Twinsets, chunky jumpers and the classic 2.55 flap bag adorned with snowflakes and mountain motifs, brogans (that's a brogue on a chunky white wedge) as well as patterned trouser suits that played on the idea of ski-wear. But, surprise, surprise, this wasn't so much tilted towards the hard-core athlete as the idealised mountain dweller. Part Maria von Trapp — those thick wool dirndls, some in charming patterned knits, with gathered, belted waists — part Baroness Schraeder.
Remember how the poor Baroness Elsa was somewhat traduced in The Sound of Music as a brittle husband stalker (although in reality sounds much nicer than Maria)? Well, here she got to wear some lovely clothes: chic fitted dresses in midnight blue with flared skirts and teeny cropped jackets (and matching wool bags), houndstooth coats and flecked tweed jackets with coordinating Captain von Trapp hats, as well as some sporty tweed biker jackets and matching pencil skirts.
Who knows where the magenta patent flared trousers and parka fitted in, other than as contemporary après-ski wear, but this was less about rigid veracity and more about projecting a sense of continuity.
READ: Lagerfeld Crafts His Own Eulogy & Leaves It On The Fendi Catwalk
The Beat Goes On... was the message in the show notes, accompanying a self-penned illustration of Karl Lagerfeld walking side by side with Coco Chanel. And in this show, it did, with a fondue of familiar Chanel accessories that will become cult buys in the coming months: ropes of pearls layered over silk foulards, knitted scarves and cowl-neck jumpers, hair bows and white camellias and some terrific lace-up sheepskin après-ski boots for which the waiting lists will already be immense. It was all rather delightfully soft and pretty. Penelope Cruz was, somewhat inexplicably, on the catwalk with a single camellia, amid a marked lack of celebrities emoting their loss.
How much was Lagerfeld, who died a fortnight ago, involved with this collection? Hugely, according to insiders. He was in the studio a week before he died. He was in constant contact with Virginie Viard, his right hand and, as of last week, his anointed successor at Chanel.
A Karl-esque figure, embodied by a slight model wearing black patent versions of his habitual drainpipes, white ruffled shirt and black ribbon, wandered down the snowy piste, surrounded by a group in monochrome tailoring — but other than the one-minute silence preceding the show, and a snatched recording of an interview with Lagerfeld in which he reflected on going against everyone's advice to take the Chanel job ("I accepted the job when they offered it to me a second time, even though everyone said it would never work"), there was no looking back. This was an admirably restrained orchestration with a marked absence of maudlin gestures.
The first show after a designer's death is always tonally difficult: how to hit the right note of respect without putting a dampener on what follows? Lagerfeld despised cant, and avoided sentimentality (except, possibly, where his mother was concerned), so he would probably have approved of how this passed off: a few tearful models, who soon perked up once David Bowie's Heroes (one of Lagerfeld's favourites) began bouncing off those chalet roofs, and an audience (some dressed in black, many others in Chanel pastels) that largely, if not entirely, avoided the histrionic outpourings that sometimes mark a fashion loss.
READ: Farewell To Karl Lagerfeld, A True Fashion Superstar
Perhaps it was the hand of Karl or a Pavlovian reaction to mountains, albeit fake ones, but the pay-off to his four decades at Chanel was both touching and dignified. No black armbands, no weeping into their tweed collars. He would have been gratified — and proud too, that Viard pulled it all together. Then again, it's what she's been doing for years.
Viard, now 57, joined Chanel as an intern in haute-couture embroidery in 1987 — four years after Lagerfeld became its creative director. You couldn't exactly call it nepotism — the contact who recommended her was head of the Monégasque royal family's household, and a neighbour of her parents — but it was lucky. Lucky that Lagerfeld, who had a house in Monaco, took a punt on her. Lucky that she turned out to have talent.
"I make the collections come to life with the ateliers and the Métiers d'Art houses based on Karl's sketches," she explained to The Daily Telegraph last year. "I coordinate the teams, liaise with suppliers and choose fabrics. Then, of course, I do fittings with Karl. As soon as I receive his sketches, the process begins. I try to please him, but I like to surprise him too."
With 10 collections a year at Chanel, and all his other work for Fendi and his own label, Lagerfeld relied on Viard completely. "We speak all the time," she said, "he calls me and sends me sketches via his phone — and we see each other every day. The complicity is total."
READ: An Interview with Choupette Lagerfeld
Lagerfeld went further, calling their relationship "one of profound affection and a true friendship". That's probably why Viard's appearance after the show was fleeting; she didn't step onto the catwalk with the models as Karl did, allowing one last moment of glory for her mentor. She may not have that luxury in future. Chanel generated €10 billion (about $16.6 billion) last year, much of it from perfume, makeup... the kind of ephemera that needs myth spinning to keep it aloft.
The transition from right hand to centre stage will be challenging for the self-effacing Viard. Lagerfeld, as well as a polymath, was one of the pre-eminent branding geniuses (both for the houses he headed and himself). Even now, there's still speculation that she is merely a stopgap until Chanel find a starrier replacement for their departed icon.
"Don't tell me that rumour is still doing the rounds," sighed a Chanel insider yesterday, shortly before the house issued an official statement announcing Viard as Lagerfeld's permanent successor. This show, full of Chanel classics at it was, is not the true test of her. That will come as she loosens her ties to Lagerfeld, and his voice grows dimmer. Interesting times ahead.
Share this: